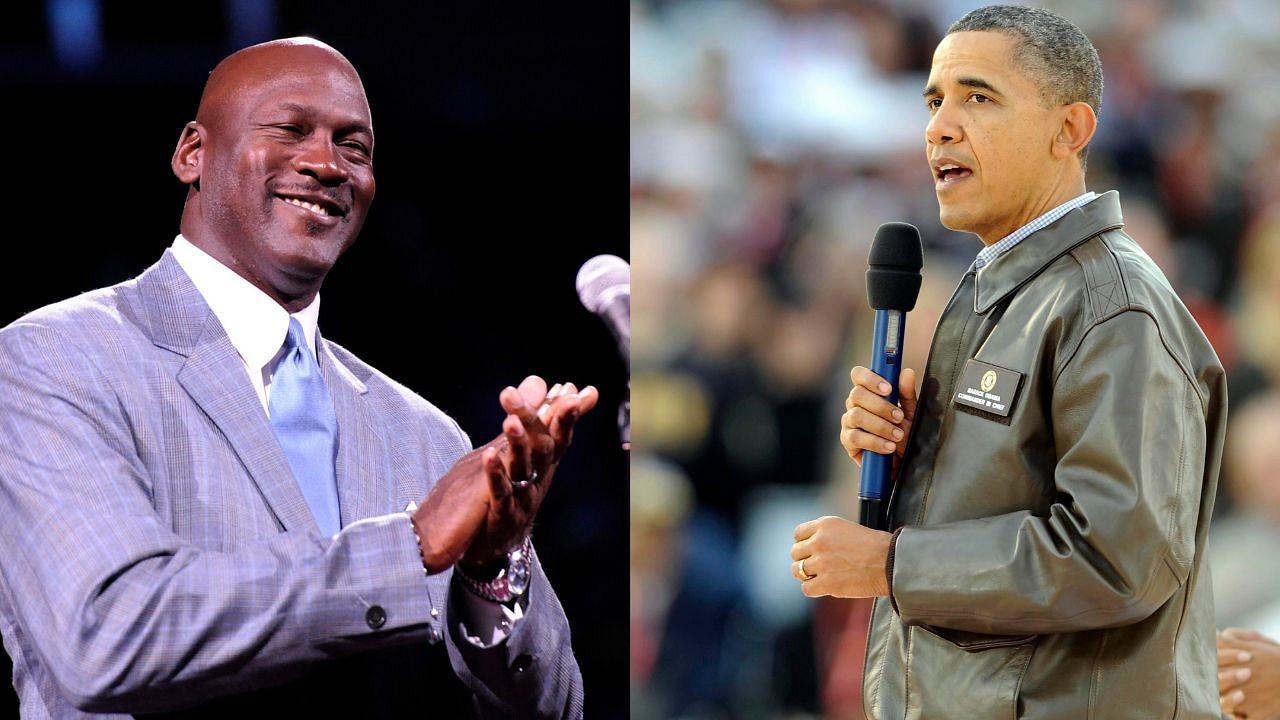 basketball
2 Years Before Hilariously Calling Former President a 'Sh**ty Golfer,' Michael Jordan Hosted a $3,000,000 Event for Barack Obama
Back in 2014, NBA great Michael Jordan had hilariously called former US President Barack Obama a bad golfer. According to USA Today, MJ had claimed that he would take Obama out in golf rather easily, although he had never played against him. The incident came despite, and perhaps due to the two previously having a friendly relationship. As a matter of fact, MJ hosted a fundraiser that raised $3,000,000 two years before this incident on a re-election fundraiser for Obama, in 2012, according to Forbes.
Michael Jordan, apart from being known to be a spendthrift, is also known for his philanthropy. The Chicago Bulls legend regularly donates to charity and is renowned for his winning mentality. MJ was also known for his incessant trash-talking back during his professional days. Regardless, it was surprisingly Barack Obama who ended up experiencing both sides of his personality.
Michael Jordan spent $3 million on a fundraiser for Barack Obama
MJ silenced those who claim that he is not charitable or more involved in proceedings of society when he hosted the fundraiser for Barack Obama. Spending a whopping $3 million, MJ played his part in getting the historic re-election for Colombia University graduate.
The fundraiser in itself was attended by a range of NBA superstars and other celebrities and cost MJ $20,000 per plate. Regardless, the event ended up being a huge success and raised $3 million for Obama's campaign.
A range of current and former NBA superstars including Carmelo Anthony, Paul Pierce, Chris Bosh, and Patrick Ewing attended the event. The New York-based event assumedly led to Obama and MJ developing an actual friendship.
The former US president is known to be a fan of Michael Jordan. Their friendship eventually led to Jordan calling and questioning his golf skills:
"I never played with Obama, But I would. But nah, that's okay, I'd take him out, he's a hack/ I never said he wasn't a great politician. I just said he was a sh*tty golfer."
Of course, as MJ pointed out, he was simply talking about his golf skills. The Chicago Bulls legend was highly respectful of the politician, despite deciding to troll him over his skills.
Barack Obama honored Jordan with the Presidential Medal of Freedom
Michael Jordan has a long-term relationship with Barack Obama, who also presented him his Presidential Medal of Freedom Award, back in 2016. The event saw a total of 21 celebrities being felicitated, including the likes of Ellen DeGeneres and Kareem Abdul-Jabbar.
Regardless, the event saw Obama praise MJ's NBA exploits. He claimed that it was his excellence that had seen his name being used to denote the epitome of any category.
Hence, while Jordan might have gotten away with mocking his golf skills, there seems to be considerable respect between the two personalities. While MJ did his bit in order to get Obama re-elected, the former President's words at the event prove just how highly he rates the former Bulls players.