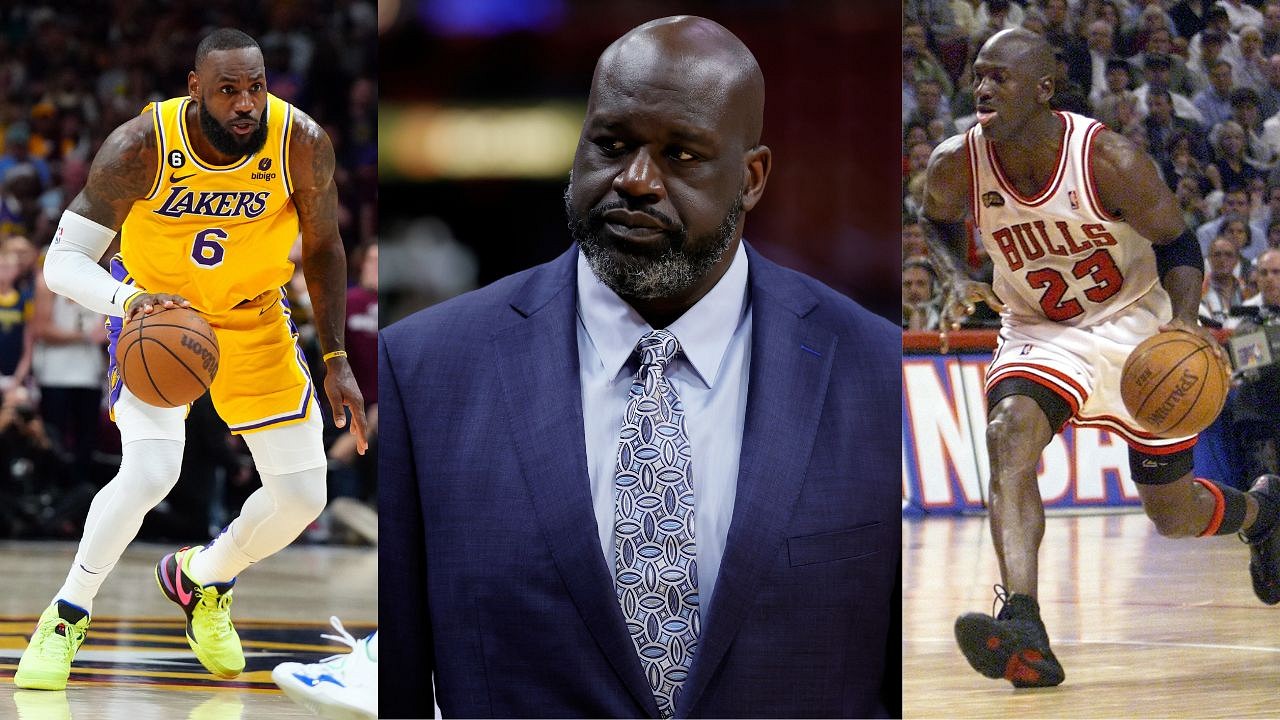 basketball
27 Days After Giving 21 Reasons Why Michael Jordan Is GOAT, Shaquille O'Neal Brings Back LeBron James Endorsement
Shaquille O'Neal is considered to be one of the top 10 players of all time. However, over the years, Shaq has conceded that he will never be the greatest. In his eyes, Michael Jordan is the GOAT and no one else comes close. But, his stance has faltered in recent times, as he had a phase where he advocated for LeBron James. Nevertheless, he recently gave 21 reasons why His Airness is the greatest of all time. But, in true Shaq fashion, he took to Instagram today, to share an old statement of his referring to The King as the "best ever".
Just 27 days ago, Shaq was raving about MJ. Using Instagram as his platform once again, Big Diesel shared a list of 21 reasons why Jordan is the GOAT. The list included a variety of reasons, from his Finals MVPs to his performances in the Playoffs. It even went in-depth into some of his incredible records, which include having the third most regular-season steals. But, that hasn't stopped Shaq from changing his tune now.
Shaquille O'Neal digs up an old statement calling LBJ the "best ever"
A few months back, Shaquille O'Neal gave his two cents about LeBron James and his claim to the title of GOAT. Sharing his thoughts, prior to LeBron's historic game against the OKC Thunder, where he broke the scoring record, Shaq stated that if he does surpass Kareem Abdul-Jabbar, he will be the best ever. A big statement from The Big Aristotle.
Fast forward to today, and Shaq has dug up those statements and shared them on social media. This comes 27 days after he promoted Michael Jordan as the greatest of all time. As such, it has many wondering why O'Neal seems to be on the fence when it comes to choosing between The King and His Airness.
Perhaps, over the last few days, Shaq has found a new appreciation for LeBron and his contributions to the game. After all, his longevity is to be marveled at, and if he were to pick up another ring or two in the coming seasons, Shaq's statement would be more than accurate.
Loading embed tweet https://twitter.com/NBACelebsUpdate/status/1694984004293030053?ref_src=twsrc%5Etfw
Either way, O'Neal clearly hasn't made up his mind regarding who is the GOAT of the NBA. Hopefully, once The King's reign in the league is over, he will have a clearer answer for us. One that will finally put to bed the debate that has been raging on for decades now between Jordan and LeBron. However, it's only natural, being a legend himself, Shaq is surely jealous of all the attention they get and he accepted that openly.
Shaq admitted that he is jealous of MJ and Bron's heated GOAT debates
There can be no denying that Shaquille O'Neal had an exemplary career. However, it just does not compare to that of Michael Jordan and LeBron James'. As such, whenever the topic of the GOAT comes up, their names are the first out of everyone's mouths. This is something that Shaq himself has admitted he is incredibly jealous of.
The four-time NBA Champion has accepted the fact that he will never be the GOAT, nor does he want his name to be considered. He has stated that if he isn't the No.1 option, he does not want to be named. Therefore, he is completely fine with settling for the title of most dominant player in NBA history.
Loading embed tweet https://twitter.com/extratv/status/1625155680599703554?ref_src=twsrc%5Etfw
At the end of the day, both Mike and Bron are incredible players, and so is Shaq. No matter what anyone says, all three men will go down in history as legends of the game. Three players who inspired thousands of individuals to take up the sport of basketball.