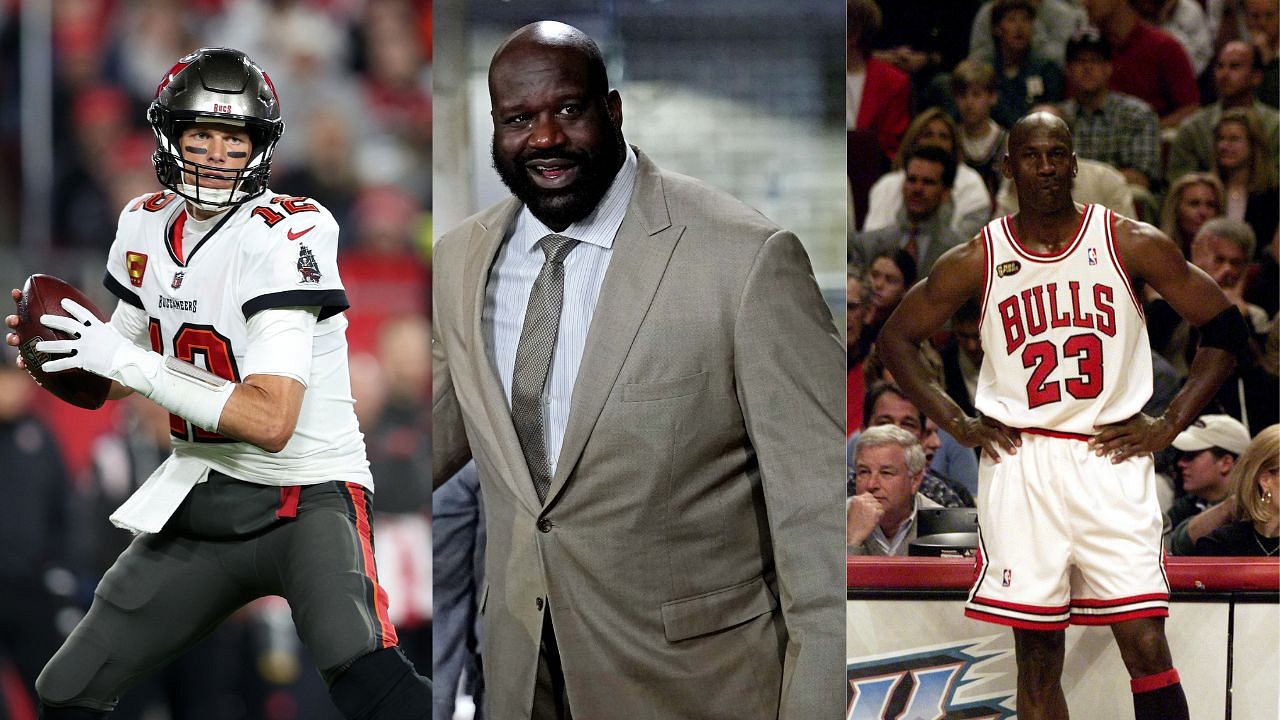 basketball
3 Months Before Defending His $375,000,000 Deal, Shaquille O'Neal Settled the 'Tom Brady vs Michael Jordan' GOAT Debate
Sports are one of the best ways to unite the world, and at the same time, divide it as well. Not only does it help people get together to enjoy a common cause, but at the same time, people often spend hours debating various topics. One of those topics is the GOAT debate.
Whether it's basketball, football, soccer, or even Golf, people spend hours debating who is the greatest player of all time. In basketball, there are two names that commonly pop up, Michael Jordan and LeBron James. In the NFL, people often credit Tom Brady, but then there are legends like Jerry Rice. In soccer, it's a big fight between Cristiano Ronaldo and Lionel Messi.
Some people decide to skip that mess, and name just one athlete as the GOAT of overall sports. NBA legend Shaquille O'Neal finds that to be a stupid way. He let the same be known in an episode of his podcast, The Big Podcast.
Shaquille O'Neal 'hates' non-sports people arguing over GOAT
Last year, Shaq was talking about various topics on an episode of his podcast, The Big DM. They talked about Tom Brady hanging his boots up and how Shaq put a tweet demanding Brady to return for another season(he did).
Continuing their discussion, Shaq brought it up out of the blue how he hates when people compare athletes of different sports. He said,
"I hate when these non-sports people try to say who's the greatest athlete. They say he [Tom Brady] is better than Michael Jordan or he's better than Usain Bolt. I think it's unfair to keep mismatching sports… You can't sit up here and say he's a better athlete than Michael Jordan. Stop it with that. Cut it out."
However, after ranting about it, Shaq agreed that Brady is the GOAT when it comes to Football.
Shaq has always been a big Brady supporter, even when the Antonio Brown situation occurred. He'd slammed the New England Patriots for letting Brady walk after all he'd done for them.
Shaq once defended Tom Brady against criticism over his Fox Deal
In May 2022, Tom Brady made a huge move as he signed a 10-year deal with Fox. It was a 10-year, $375 Million broadcast deal with Fox as it's lead NFL analyst once he retires from the league. Shaq talked about the same on his podcast as well.
Shaq won't tolerate critics of Tom Brady's $375 million contract with Fox pic.twitter.com/MfNxEpWiXy
— Brandon Contes (@BrandonContes) May 12, 2022
He complimented Brady and claimed he deserved every penny after the success he's seen on the field. On top of that, O'Neal couldn't help himself but compliment Brady's physical appearance.
The post 3 Months Before Defending His $375,000,000 Deal, Shaquille O'Neal Settled the 'Tom Brady vs Michael Jordan' GOAT Debate appeared first on The SportsRush.