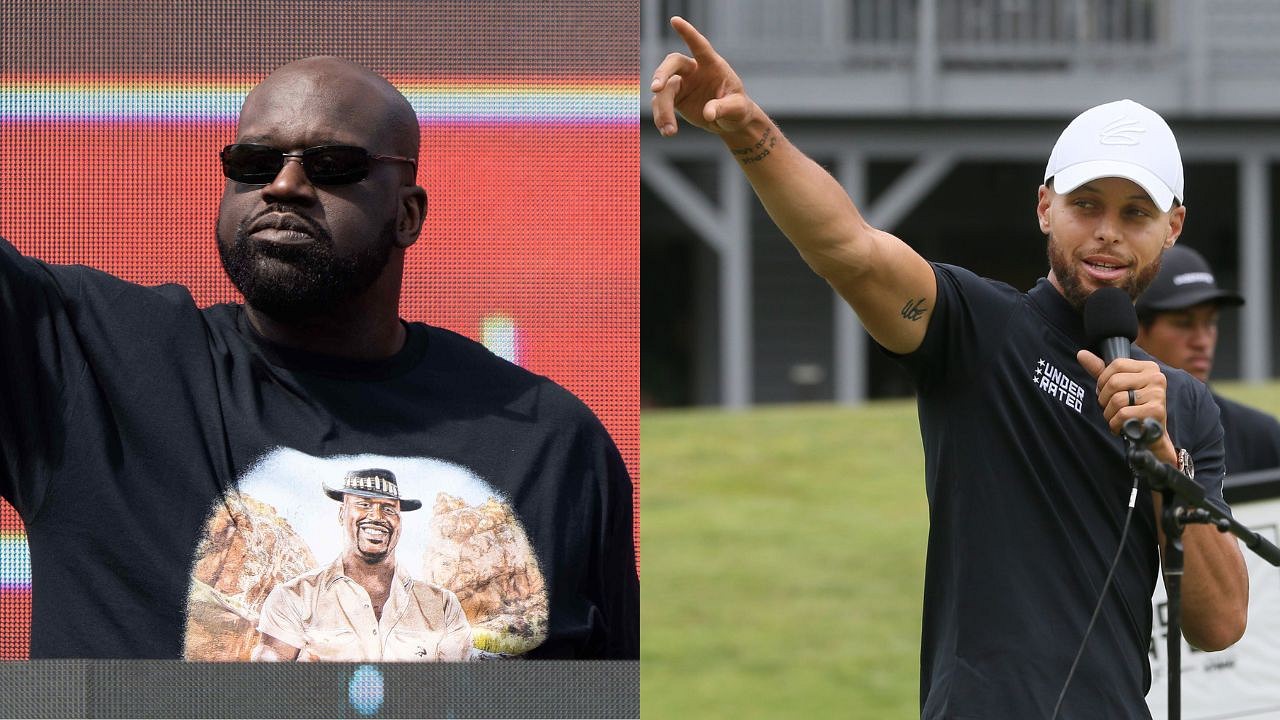 basketball
4 Weeks After Shaquille O'Neal Hyped Stephen Curry Up, Warriors Star Reveals Watching 'Viral Video' At Least 80 Times: "It's 1B to My Hole in One"
The impact of Stephen Curry on the game of basketball becomes noticeable when you watch players take half-court shots without hesitation in a game. While many players in the league find it hard to maintain a shooting percentage over 40%, Curry has a career 3-point percentage of over 42%. That itself is a testament to the greatness of the greatest shooter in NBA history. Last year, Curry proved that he can be a splash brother on the golf course as well. During a game at a celebrity pro-am event last year, the nine-time NBA all-star made an unbelievable 97-yard shot. The shot made a lot of noise around the league, and perhaps Shaquille O'Neal was the most impressed. Big Shaq shared a video of the Warriors star hitting the shot on social media last month. Four weeks after that, Curry himself admitted being so impressed by the shot that he ended up watching it more than 80 times till date.
When it comes to NBA players being good at golf, the names of Michael Jordan and Stephen Curry pop up . However, when Charles Barkley chose Patrick Mahomes and his NFL teammate Travis Kelce to win the recently concluded Capital One's "The Match", Shaq came forward to support the two-time league MVP. O'Neal shared the video of Curry making the 97-yard dagger on Instagram. Despite the fact that Curry and his splash brother Klay Thompson lost the match against the NFL superstars, there is no denying that Steph is perhaps the best golfer in basketball right now.
Stephen Curry admits he has watched his ace shot over 80-times so far
In the celebrity pro event last year, Steph hit a high arc shot from almost hundred yards out. Just as it dropped on the ground, it rolled and went directly into the "cup". Although the 2022 Finals MVP might not be good enough to be a professional golfer, he has definitely made a name for himself in the golfing world.
During a recent press conference at the American Century Championship Celebrity tournament in Lake Tahoe, Nevada, a reporter asked Curry how many times he had seen the video clip of what could very well be his greatest golf shot ever. The four-time NBA champion said that he had watched it at least 40 times on repeat that day. He also added that he had watched it just as many times since that day, so at least 80 times till date. "It's 1B to my only hole in one…I watched it probably 40-times that day, and I have probably watched it as many times since," answered Curry.
Loading embed tweet https://twitter.com/NBCSWarriors/status/1679688259658498049?ref_src=twsrc%5Etfw
He also added that his whole family was staying in the condo and they were tired of hearing the same commentary of the shot on repeat. For Curry, it was not just a great shot, but an out-of-the-world experience. Well, if you are Stephen Curry, you would get many highlights like that on the basketball court, but it's special when it is on the greens.
Stephen Curry enjoys a vacation with his family at a golf resort
Players like Stephen Curry and LeBron James are proof of the fact that greatness doesn't come at the cost of family. Chef Curry is often seen spending time with his children and wife, Ayesha, during golf tournaments. He is often visited by his parents as well during games. In a recent post on his Instagram, Steph seemed to be enjoying his offseason vacation with his wife Ayesha and children, Riley, Ryan, and Canon, at a golf resort. They were all seen hanging out at the dock. 
Loading embed instagram https://www.instagram.com/p/Ct4jc9CPBxm/?utm_source=ig_embed&utm_campaign=loading
It seems like Steph is preparing himself for the second part of his career. Once he is done playing high-intensity sports, he might move on to golf. The good news is, we might continue to see Chef Curry cook his opponents.