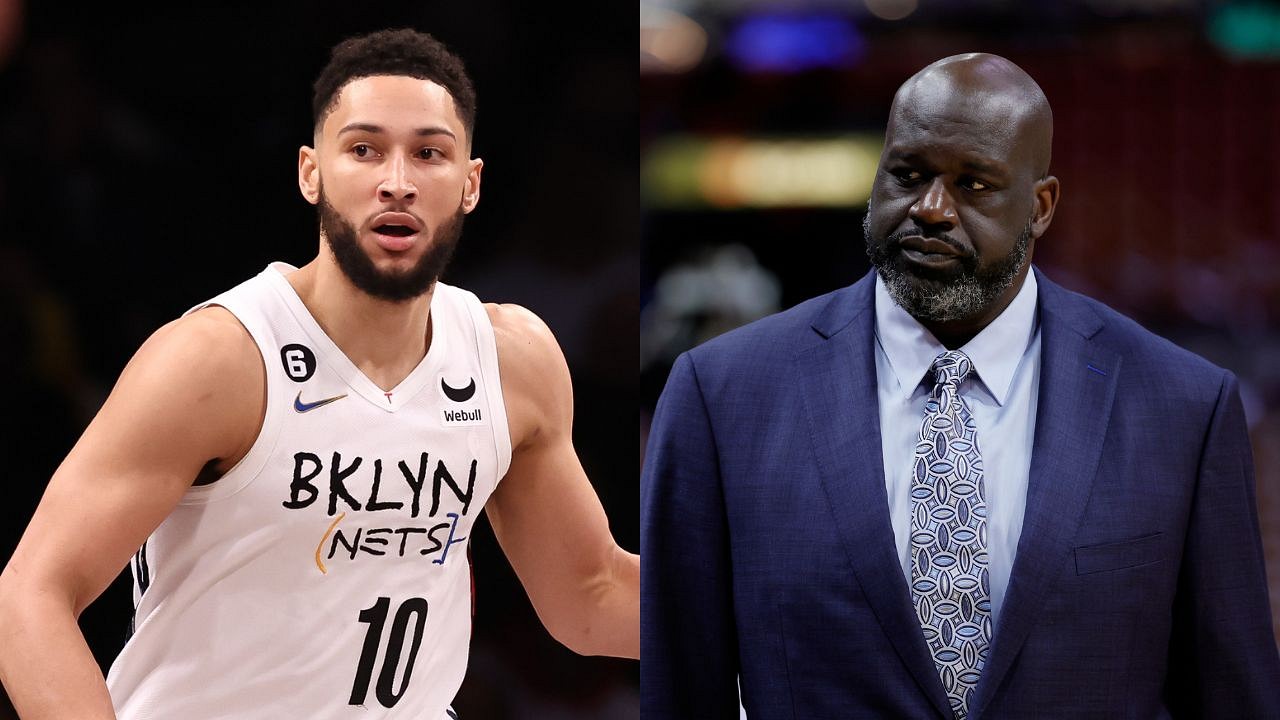 basketball
"$477,000 per Game!": Shaquille O'Neal 'Curiously' Shares Breakdown of Remainder of Ben Simmons' $177,243,360 Contract
In 2019, Ben Simmons signed a mega deal with the Philadelphia 76ers. Worth $177,243,360, the contract still has two years left until completion. Currently, Simmons is plying his craft with the Brooklyn Nets, who are stuck with his expensive deal. Unfortunately, his productivity hasn't matched the big bucks he is being paid, raising much concern around him, the Nets, and others. In fact, Shaquille O'Neal recently broke down the remainder of Simmons' contract on his Instagram.
Shaq hasn't been the biggest Simmons fan in recent times. Frustrated with his performances on the court and his recurring moaning, Big Diesel has gone after the Australian star on a number of different fronts. From laying into his $37,893,408 paycheck to criticizing him for his continuous failure in the Playoffs, Shaq clearly isn't a fan. And now, his breakdown of the contract seems to be yet another dig. This time surrounding the ludicrous amounts of money he is scheduled to make.
Shaquille O'Neal breaks down the remainder of Ben Simmons' incredible contract
Ben Simmons is in line to make a lot of money in the 2023-24 and 2024-25 seasons. According to a post shared by Basketball Forever, the breakdown of Simmons' salary is amazing. He is scheduled to earn an average of $39,000,000 over the next two years, earning $37,893,408 this season, and $40,338,144 the next.
Additionally, this translates to a whopping $477,000 per game, around $10,000 per minute, and roughly $166 per second. A ludicrous amount of money for a player, who missed the entirety of the 2021-2022 season, and barely played 42 games last year. And, it is perhaps for this reason that many have been sharing the breakdown on social media.
One of them is Shaquille O'Neal, who has been quite critical of Simmons in the past. His decision to share how much Simmons earns per instance could mean anything. But, it is likely out of bewilderment that he has shared this info, especially given his previous grievances about the Nets star.
Loading embed tweet https://twitter.com/NBACelebsUpdate/status/1701513530287988989?ref_src=twsrc%5Etfw
That being said, Simmons' past hiccups are behind him. He looks all set for the upcoming season, and fans will be hoping he performs well. After all, there was a time when he was hailed as the future of the NBA. Hopefully, he shows glimpses of that same potential with the Nets this year.
Simmons is looking forward to the 2023-24 season, ready to dominate
The 2023-24 season is just around the corner and everyone is excited for the NBA to re-start. Despite only playing 42 games in the last two seasons, Ben Simmons expressed his desire to get back on the court in a recent interview.
Discussing his struggles over the last few years, Simmons revealed that he is feeling in tip-top condition. Almost to the point that he cannot even recognize the player he was in previous seasons. With that in mind, he is looking forward to his return and is hoping to dominate the opposition like he used to.
Loading embed tweet https://twitter.com/TheDunkCentral/status/1696598178932347072?ref_src=twsrc%5Etfw
It will be interesting to see if Simmons manages to live up to the high expectations he has set for himself. If he does, who knows? Perhaps all the criticism he has received from others like Shaquille O'Neal will die down. And then, he can focus on just being the best version of himself on the court.