baseball
Andrew McCutchen Heads Home As Pirates Continue Intriguing Offseason
Charles LeClaire/USA TODAY Sports
When I woke up this morning, I had no intention of writing about the Pirates for today's newsletter. Why would I? I have mentioned them in previous editions—such as when I've written that they should trade their best player and when they gave up Aaron Judge's 60th home run—but only as supporting characters on the greater baseball stage.
Things changed at 9:30 a.m. ET, though, when Jason Mackey of the Pittsburgh Post-Gazette broke the news that Andrew McCutchen is returning to the Pirates on a one-year contract, pending a physical. The deal is for $5 million, per Mackey. Suddenly, the Pirates had made a move interesting enough to justify their place as the main item in the 118th edition of the Five-Tool Newsletter.
McCutchen, 36, is the most iconic Pirates player of at least the last three decades. He spent the first nine years of his career with Pittsburgh and led the organization to the postseason in three straight seasons, from 2013 to '15. And while he's no longer an All-Star outfielder, he is still a productive hitter, especially against left-handed pitching. I noted this yesterday in my column about the Twins, arguing they should sign him to platoon with Joey Gallo.
A few playoff contenders, including the Mets, Dodgers and Rays, were reportedly making a run at signing McCutchen. Assuming the other offers were similar to the one McCutchen agreed to with Pittsburgh, it seems as though the call of home and the opportunity to play every day was more appealing than being a platoon player with a team that has postseason aspirations. And there's nothing wrong with that! Comfort is often overlooked when we discuss free agency, but it's incredibly important for many players, especially those with young families. McCutchen still lives in the greater Pittsburgh area, and his wife, Maria, is from Dubois, Pa., about 100 miles northeast of Pittsburgh.
Signing McCutchen also makes a lot of sense for the Pirates, beyond what he does at the plate. His 14 years of big league experience will provide immeasurable value to the talented young Pirates players in the clubhouse, and his presence in the lineup should give fans a reason to buy tickets. (Although, I will say, a summer night at beautiful PNC Park should be enough incentive to attend.)
Even before this move, the Pirates were having an intriguing offseason. They were active early, beginning with their trade with the Rays for first baseman Ji-Man Choi. The Pirates have an unfortunate history of trading with Tampa Bay—see: Chris Archer for Tyler Glasnow, Austin Meadows and Shane Baz—but Choi is a solid big leaguer, and the prospect they gave up, Jack Hartman, is a 24-year-old who posted a 6.24 ERA in Single A last year. There's always the possibility that the Rays work their wizardry and turn Hartman into one of their high-leverage relievers who comes out of nowhere and dominates for two years before his arm falls apart. But this is highly unlikely.
Next, in late November, they signed veteran first baseman/DH Carlos Santana to a one-year, $6.725 million deal. Santana, the active home run leader among switch hitters, was exactly league average at the plate last season (100 OPS+). He hit 19 home runs in each of the last two years, the fewest he's ever hit in a full season, so at his worst, teams can still count on him to go yard about 20 times a year.
In December, they signed a pair of veterans, righthander Vince Velasquez and catcher Austin Hedges. Velasquez is mostly going to be used as the fifth starter and an innings eater until Pittsburgh calls up a few of its top prospects: righthanders Luis Ortiz and Quinn Priester. Hedges, too, is a stop-gap signing, considering two of the organization's top prospects, Endy Rodriguez and Henry Davis, are catchers. However, he's more than just a placeholder for the Pirates because of his elite defense, which is the reason he's stuck in the big leagues for so long despite his career .189 batting average. He's a great backstop to pair with a young pitching staff learning the ropes in the majors.
Most recently before adding McCutchen, the Pirates agreed to a one-year, $8 million contract with Rich Hill on Dec. 27. Hill, who turns 43 on March 11, is still a valuable big-league pitcher. He, Santana and Choi could all be trade candidates this summer as contending teams look to upgrade their rotations, lineups and bench bats. If not for his connection to the Pirates organization, McCutchen, too, likely would be a player to move before the deadline, but it would be especially cold for the franchise to trade such a beloved figure for a package of prospects for the second time in his career.
Speaking of trades, a natural question in response to the McCutchen signing is whether this makes it more likely that the Pirates will move Bryan Reynolds, who has requested a trade and is drawing interest from plenty of clubs who could use the All-Star center fielder. However, Pittsburgh reportedly is asking for a return similar to what the Nationals got from the Padres for Juan Soto. Reynolds is a really good player, but he's not the second coming of Ted Williams. The Pirates aren't making serious offers in exchange for Reynolds, because they don't want to trade him. That hasn't changed with McCutchen's return.
Altogether, these additions make the Pirates a better team than they were last year, especially when you consider the young players on their roster who are still improving: shortstop Oneil Cruz, third baseman Ke'Bryan Hayes, outfielder Jack Suwinski and righthander Roansy Contreras.
Make no mistake, this is still a bad baseball team. No amount of bargain-bin shopping can change that. But, if nothing else, the Pirates should be more entertaining in 2023 than they have been in years—since the last time they rostered McCutchen. And for one of the league's most irrelevant organizations, that's certainly a successful offseason.
Have any questions or comments for our team? Send a note to mlb@si.com.
1. THE OPENER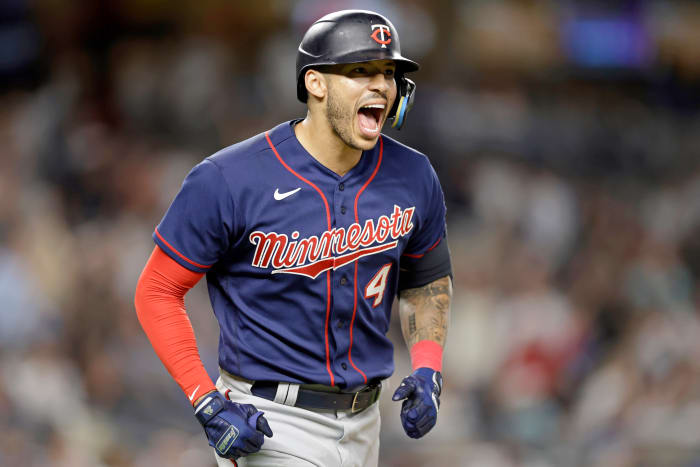 Adam Hunger/AP
"The player the Twins wanted more than any other has fallen into their laps at a relatively affordable rate, for the second straight offseason. It's not all that difficult to imagine a scenario in which they make the playoffs in 2023," though they'll need to add more players to get there.
That's from me, writing yesterday about what's next for Minnesota after signing Carlos Correa earlier this week. In the column, I lay out a blueprint for the Twins to make more moves to improve their roster before the start of the season. One thing, as I mentioned in the first section of this newsletter, I included McCutchen in this story as an option for Minnesota. All of the other suggested acquisitions are still available.
The Twins Have More Moves to Make After Signing Carlos Correa by Matt Martell
2. ICYMI
Let's get you caught up on our best stories and some news from the past week.
The Bizarre Twists and Turns Sending Carlos Correa Back to the Twins by Stephanie Apstein
What the Correa Signing Means for the Twins and Mets by SI MLB Staff
Trevor Bauer Becomes Free Agent After Dodgers Couldn't Find Trade by Nick Selbe
Report: Electronic Strike Zone to Be Used by All 30 Triple A Teams by Madison Williams
Red Sox Infielder Trevor Story Undergoes Elbow Surgery by Nick Selbe
3. WORTH NOTING from Matt Martell
Three other veteran players signed short-term contracts with new teams this week.
First baseman Brandon Belt signed with the Blue Jays for one year and $9.3 million. Righthander Johnny Cueto reportedly is heading to the Marlins on a one-year deal worth a guaranteed $8.5 million with a club option for 2024. Miami will pay Cueto $6.5 million this year, and another $10 million if it exercises his option or $2 million if it doesn't. The Padres beefed up their lineup even more when they reportedly signed DH Nelson Cruz for one year and $1 million.
The move I want to focus on here is Belt. Although he turns 35 in April and is coming off the worst season of his career, he has plenty left to offer a Toronto team that needed to add another impact left-handed bat. A recurring knee injury limited him to 78 games last year, and it hindered his performance when he was in the lineup. He batted .213 with eight home runs and 23 RBIs in 298 plate appearances. Susan Slusser of the San Francisco Chronicle reported Monday that Belt is expected to be 100% healthy for spring training, and it doesn't take much digging to see what he can do at his best. In 2021, Belt hit a career-high 29 home runs, despite playing in only 97 games (381 plate appearances). His playing time was limited in part because of injuries, but also because the Giants used him as a platoon player, a role in which he thrived. That's good news for the Blue Jays, who plan on using him mostly as their DH against righties.
4. TRIVIA from Matt Martell
Previous Question: Rafael Devers ranks second in the majors with 1,078 total bases over the last four seasons. Who is No. 1?
Answer: Freddie Freeman—1,080 total bases
Question: Carlos Santana is the active home run leader among switch hitters. Who ranks second?
5. THE CLOSER from Nick Selbe
For many, the lasting memory of Carlos Correa's free-agency odyssey will be the jokes. Reports of him landing with a new club were fodder for plenty of zingers over the past few weeks, and we'll never read the words "pending a physical" the same way again. If you have no ties to the Giants, Mets or Twins, it's easy to simply laugh at the entire proceedings. But if we take a moment to look at the situation with earnest sincerity, there's a lesson to be unearthed: The road to where you're supposed to be is often winding and uneven. In his reintroductory press conference Wednesday, Correa spoke of his relief for finally finding resolution and how much he felt at home last year, his first season with the organization. "My heart was here," he said while being flanked by agent Scott Boras and Twins president of baseball operations Derek Falvey.
A cynic might roll their eyes at such sentiments from a player who reached agreements with two other clubs before this moment (and maybe that's a fair response). But at one point or another, we've all been faced with difficult decisions that weren't so simple, and it's certainly understandable that two things can be true at the same time: Correa did feel at home in Minnesota, yet had reasons for wanting to sign elsewhere. None of it matters now, as Correa and the Twins will have each other for the foreseeable future. If there was a bow to tie on the whole saga to represent any lessons learned, it came courtesy of Falvey: "Sometimes, in life and baseball, fate and destiny come back together, and there's an opportunity that you don't always expect."
That's all from us today. We'll be back in your inbox next week. In the meantime, share this newsletter with your friends and family, and tell them to sign up at SI.com/newsletters. If you have any questions or comments, shoot us an email at mlb@si.com.