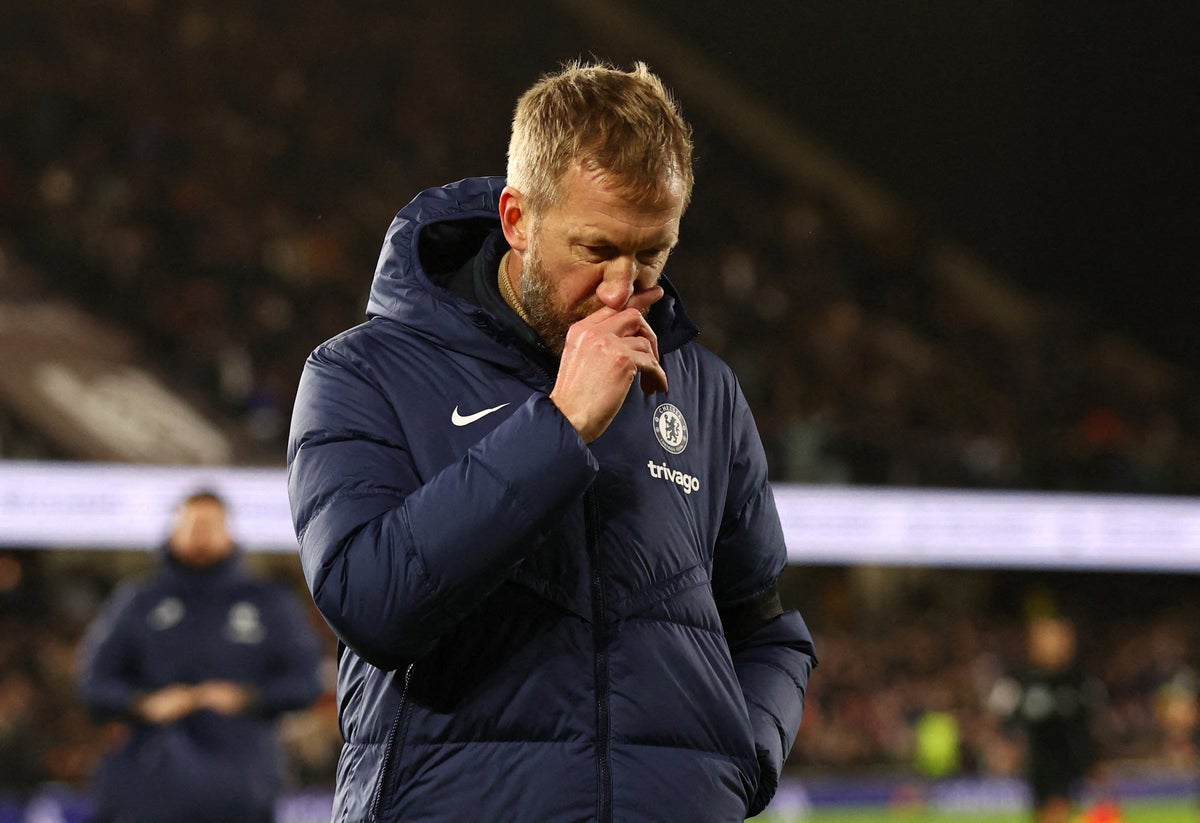 Football
Anything but magic… Why Chelsea sacked Graham Potter and what comes next
Sign up to Miguel Delaney's Reading the Game newsletter sent straight to your inbox for free
Sign up to Miguel's Delaney's free weekly newsletter
There was of course one predictable line that summed up one of the main problems for Graham Potter, amid a story that a number of football figures considered inevitable. Many of the players of course had names for the manager based on his wizard namesake, and there were repeated references to Quidditch. If that would indeed be predictable even if things were going well, the issue was that they were said with a bit of bite when things were going badly – which was often.
It reflects how a core of this expanded squad just never took Potter as seriously as they should a Chelsea manager. Some had to look up his career, and certain transfer targets didn't know that much about him. That perhaps isn't such a surprise in a young dressing room as international as this. It did play its part in ensuring Potter was fighting a losing battle from the very start, which meant the 47-year-old didn't win enough games to justify staying in the job.
All of the appeals to emotional intelligence and what was genuinely good technical coaching that players enjoyed couldn't overcome key realities of football. That is a manager has to have command over a squad, even one as bloated as this.
The unprecedented level of turnover at Chelsea means this isn't all about Potter. That was always going to be difficult to manage, and by definition ensured he had at least 10 disgruntled senior players with every line-up. But the feeling persisted that it was mainly about him. The club hierarchy were unanimous that there wasn't enough progress in terms of the football being played, with the decision led by co-sporting directors Laurence Stewart and Paul Winstanley and fully supported by Todd Boehly.
The new owners are still facing up to the key realities of football themselves.
There are a few lingering questions from this that go beyond the dismally passive football, and what happens next.
Why did Chelsea waste a season in persisting so long? Why did they waste an international break if they were clearly thinking about this?
The answers are sincere. They wanted to give Potter full support and do think highly of him. They wanted this to be a long-term project.
The problem was that they picked the wrong man for that, at least at this stage of his career. There's still a very good and bright coach there – just maybe not the right one for this project.
From the start, it was impossible not to feel that Potter could have done with a job at a club in between Brighton and Chelsea. This seemed too great a leap, that would require too much of a learning period. It was itself reflected in how, far from just winning the minimum number of games that a club of Chelsea's wealth should by critical mass, he made a club that spent £600m just like his Brighton. Potter's team had a lot of nice patterns in possession and tactics, but no penetration or strikers, which meant they often struggled to create chances let alone score. It was all process, no end product.
Graham Potter was the wrong man for the job – at this stage of his career, at least
(AP)
Even a squad put together like this was much better than these performances. Chelsea feel they have a huge opportunity to win the Champions League again, and part of the rationale behind this decision was to give themselves "the best chance of succeeding". Stand-in Bruno Saltor is seen as well capable of stabilising things, although it will be instructive to see if they appoint a full-time successor as quickly as they did with Potter himself. That took mere days after Thomas Tuchel's departure.
The word from the club now is to expect "nothing imminent". The insistence is that it will be an "exhaustive search", and this decision has not been informed by having a replacement lined up. That still doesn't preclude the possibility that the groundwork for such a search had already been done, given that it is known the Chelsea hierarchy realised as long as two months ago that they had to at least be prepared to replace Potter.
Mauricio Pochettino, Roberto De Zerbi and – most recently – Julian Nagelsmann have been mentioned at the top level. The word from Germany on Sunday was that there had already been contact with the sacked Bayern Munich manager.
The talk of De Zerbi meanwhile carries such an edge. It would almost represent an admission the Chelsea owners should have instead bought Brighton wholesale. That dynamic also touches on one of those famous career twists for Saltor.
He had to argue his case to go to Chelsea with Potter, something that became a bit more laden with emotion given that supporters argued Brighton made him as a player. The Catalan could go from that to feasibly being a Champions League-winning manager. If it sounds fantastical, consider Chelsea's own history in the competition, as well as the unusual path that has led Saltor to here in the first place. The former assistant does now face a daunting task, though.
Bruno Saltor taking over as interim coach adds a fascinating twist to the Graham Potter situation
(Getty Images)
The daunting issue for the new club hierarchy is that they felt they had the path of Chelsea's future laid out. They were willing to invest in Potter, and saw him as enjoying the same kind of development to world-class level that they believe will happen with so many young signings.
It was never going to be so easy, though. It never could be.
It doesn't mean it's the same old Chelsea, given they waited this long, but it does show it isn't yet the Chelsea the hierarchy envisioned.
That is because they just didn't see enough progress in the team. They couldn't see evidence of evolution or even Potter's idea. It does mean everyone can envision a different ending for this season. That will itself pose big questions of this hierarchy, as they badly need to get this right. They can't have another long-term appointment who only lasts a short time. Rather than just drifting away, we're into another unknown.
Many at Chelsea will say it's better than very tepid football, that was anything but magic.