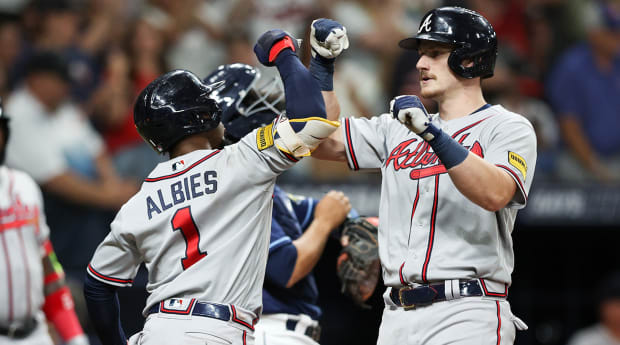 baseball
Braves Extend Franchise-Record Home Run Streak, Closing in on 2019 Yankees' All-Time Mark
The Braves' offense continues to buzz, having been scalding hot throughout the entire summer. 
On Saturday, during the third inning of Atlanta's matchup against the White Sox, Eddie Rosario put the Braves on the board with a solo shot. His 431-foot bomb marked the 28th consecutive game in which the team has hit a home run, adding to their franchise record tally. 
Previously, the franchise record stood at 25 consecutive games with a home run, a feat set back in 1998. The 2023 team smashed that record just before the All-Star break, and hasn't slowed down since.
The Braves have homered in 28 straight games, which is a NEW franchise record 💪
📺: FOX pic.twitter.com/haARQjMkmH
— FOX Sports: MLB (@MLBONFOX) July 16, 2023
With the streak now up to 28 games, the Braves are hot on the heels of MLB's all-time record, which was set by the 2019 Yankees. That season, New York hit a home run in 31 consecutive games, the most by any team in league history, according to ESPN Stats & Info.
The Braves led MLB with 61 home runs and a .569 slugging percentage in the month of June. Entering Saturday's game, the team ranked third in the league with 17 home runs across its first nine games in July.
Rosario's third-inning home run was followed shortly after by a two-run shot from Ronald Acuña Jr., his 22nd of the season. 
In order to break the Yankees' record, Atlanta will need to hit a home run Sunday against the White Sox, and again in each of its three games against the Diamondbacks in their series which gets underway on Tuesday, July 18.