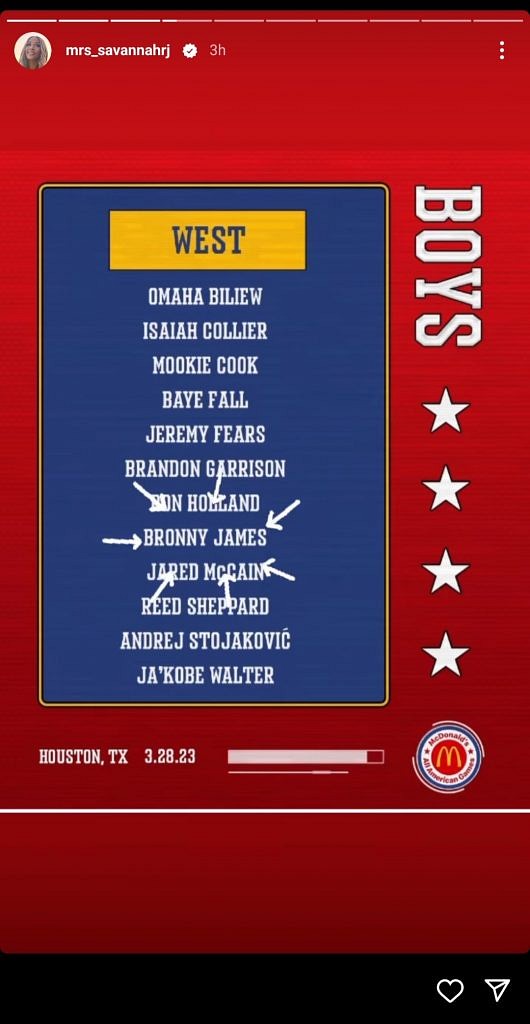 basketball
"Bronny James We're So Damn Proud of You!": LeBron James and Savannah Celebrate 18-Year-Old's Selection for McDonald's All American Games
Over the course of the past 15 months, we've seen Bronny James evolve by leaps and bounds. The 6ft 2″ guard has gone from being called overrated and a product of nepotism to becoming an actual serious prospect who can put a team on his back.
Being LeBron James' son, the pressure has always been high for Bronny. People had expected him to follow in his father's footsteps ever since he was just a little kid. Dealing with all that pressure ever since you are that young could not have been easy.
However, Bronny has silenced all doubters with how he's been playing in his senior year. He's raised his stock and is now considered the 33rd prospect from his entire class. Recently it was announced that he had been selected for the McDonald's All-American Game. No one was more proud than his parents.
Also Read: "LeBron James can't do what I do": Kwame Brown is Thankful of Being a Bust For a Peculiar Reason
LeBron James and Savannah take it to Instagram to celebrate Bronny James
Over the course of the years, we've seen LeBron and Savannah hype up Bronny for all he does. However, as of late, what he's been doing is certainly hype-worthy. Earlier today, it was announced that Bronny was selected for the McDonald's All-American Games.
Bronny James was just named a McDonald's All-American 🔥 pic.twitter.com/Sz2CNUUU4f
— NBACentral (@TheNBACentral) January 24, 2023
Savannah James took it to her Instagram stories to share her pride.
Savannah James shares Bronny James making the McDonald's All American Squad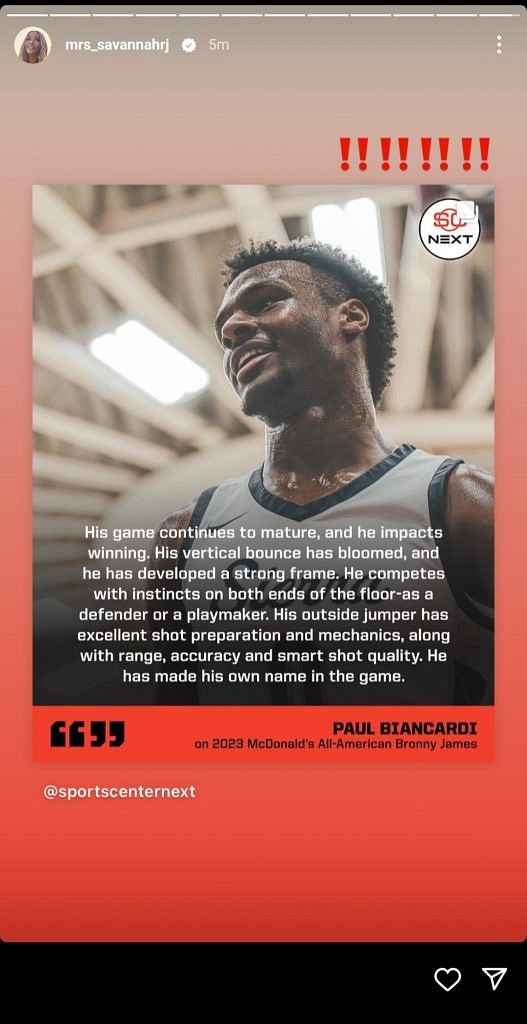 Savannah James shares Paul Biancardi's statement about Bronny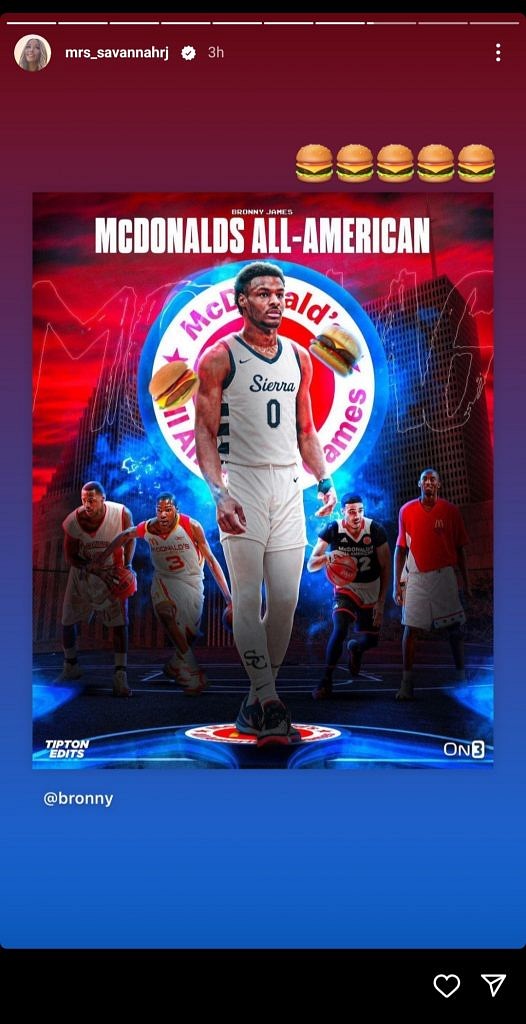 Savannah James re-shares Bronny's Instagram Post on her story
LeBron James put up a post for his son with the caption,
"Ayyyyyyyeeeeee @bronny!!!!!! Congratulations Son! So damn proud of you! Continue to be you through it all no matter what!! You're truly AMAZING!!! #JamesGang👑 . P.S. Congrats to all the other men and women who was named as well in the 2023 Class Micky D's games! It's an HONOR"
It is clear that Bronny is making his parents proud every single day. As the season continues, he would have to pick a college to attend to. Whatever decision Bronny takes, it's clear that his parents would be right there to support him.
Also Read: "I don't think people hate on the good ones, only great ones!": LeBron James' greatness and hatred explained to Shannon Sharpe by Jamal Crawford
Bronny shortlisted his Top-3 College Choices
Just a few days ago, Bronny James listed his Top-3 college choices. His Top-3 destinations are Oregon State, Ohio State, and University of South Carolina. Even though he listed these three schools, nothing is set in stone and he could pick others too.
As his father said,
"I think Bronny can go to any college he wants to. All I have to do is pick up the phone. If Bronny says he wants to go there, he's good enough."
Bronny can go anywhere he wants and we'll just have to wait for a few months to find out where he ends up going.
Also Read: "Word For Word, Bar For Bar": Kevin Durant Predicted The 2023 NBA All-Star Game's Draft Happening In Real Time