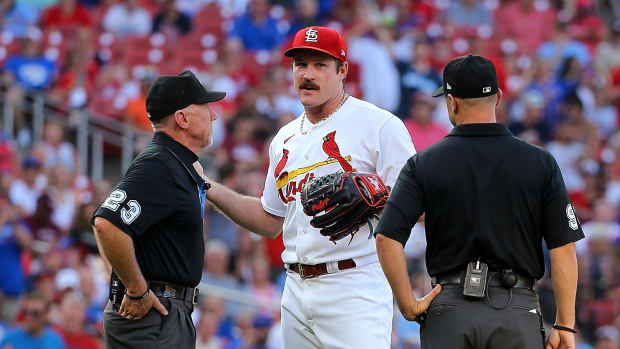 baseball
Cardinals' Miles Mikolas Ejected As Game vs. Cubs Devolves Into Chaos in First Inning
Cue Ron Burgundy: Boy, that escalated quickly.
It was only the top of the first inning during Thursday's game between the Cardinals and Cubs when things got mighty testy between the two longtime division rivals. The trouble started when Chicago outfielder Ian Happ's bat hit St. Louis catcher Willson Contreras in the head on his follow-through, forcing Contreras out of the game. Two pitches later, Cardinals pitcher Miles Mikolas plunked Happ in the hip area.
Happ appeared to know what was coming, as it looked like he was preparing for impact before the pitch was even delivered. The umpires briefly convened on the infield grass and, rather than issue both teams warnings for the bubbling conflict, opted to eject Mikolas directly.
Willson Contreras left the game after getting hit by Ian Happ on his backswing.
Two pitches later, Miles Mikolas hit Happ with a pitch and was ejected from the game.
(via @BallySportsMW)pic.twitter.com/iUODXbIBVu
— FOX Sports: MLB (@MLBONFOX) July 28, 2023
Mikolas appeared stunned by the decision and pleaded his case with the umpiring crew, but to no avail. He was replaced by right-hander Dakota Hudson.
It's not often that a pitcher gets ejected so early in the game without prior warning, but MLB has clearly made it a point of emphasis to cut down on the self-policing that's been popular throughout the sport's history. Given the longstanding rivalry between the two clubs—and the fact that Thursday's contest was just the first in a four-game series—it's safe to assume we haven't seen the last of this latest feud.