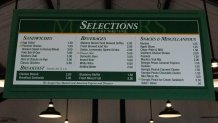 Golf
Concession Prices at the Masters Are Still Wildly Low
Four-day passes to the 2023 Masters Tournament are being sold for well more than $10,000 on the secondary ticket marketplace.
But then how much more money do fans have to cough up for food and drinks once they actually get into Augusta National Golf Club? Much less than you might think.
The concession menu for this year's Masters was revealed earlier this week, and it once again features mind-blowingly low prices.
The most expensive item for sale is a white whine at $6.
A menu hangs in a concession area during a practice round for the 2023 Masters golf tournament at Augusta National Golf Club. Mandatory Credit: Kyle Terada-USA TODAY Network
Fans can pay less than $10 for a chicken sandwich, a bag of chips and a beer while taking in one of the most iconic annual sporting events.
While the cheap prices are far from a new wrinkle at the major golf tournament, it's still somewhat shocking to see each year given the ridiculously high cost of concessions at most sporting events. Just as one example, a bottle of water at this year's Super Bowl was more expensive than every item on the Masters' menu.
The 2023 Masters begins on Thursday and concludes on Sunday.
Here's everything you need to know about the 87th edition of the Masters Tournament and the first of the men's four major golf championships held in 2023.