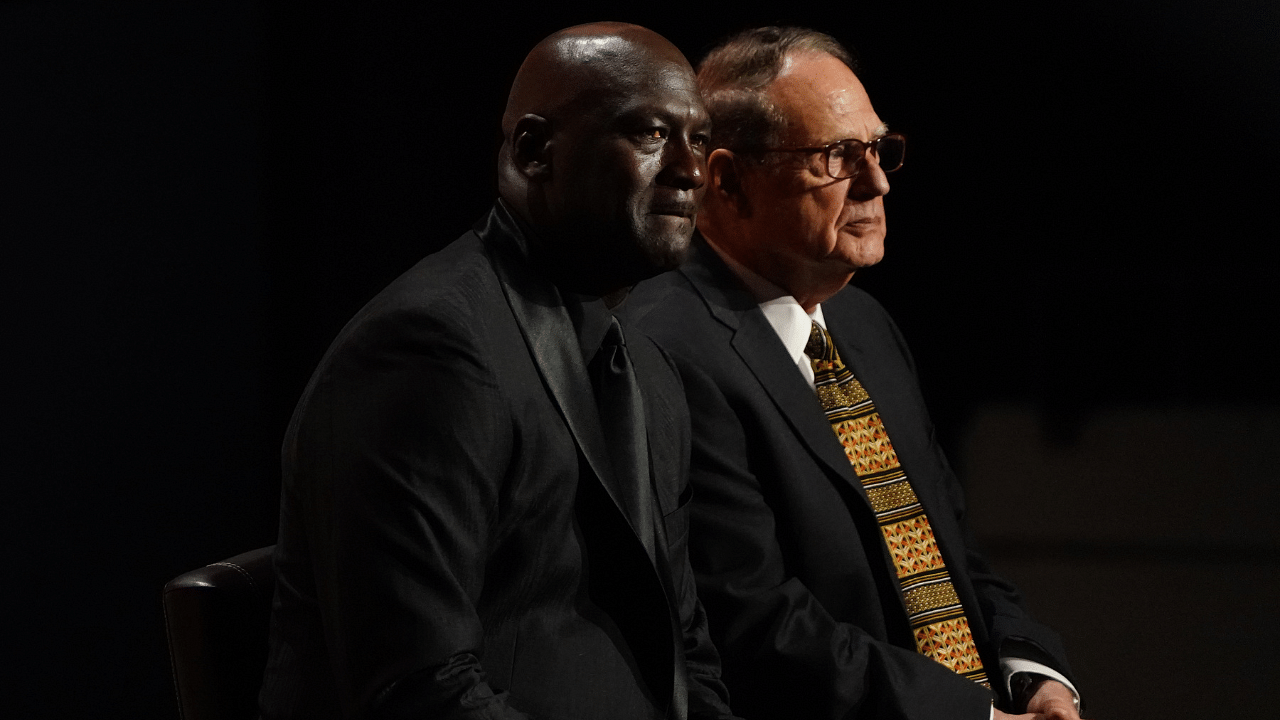 basketball
"Cost an Extra $8,000,000": Worried Michael Jordan Might Add a Hotel in His Portfolio, Bulls Owner Played Right into $30,000,000 Bluff in 1996
Michael Jordan's first return to retirement happened in 1995. The Chicago Bulls had honored the 8-year deal he signed in 1988 while he was out. Upon MJ's return, a new contract had to be negotiated by Bulls owner Jerry Reinsdorf. With the New York Knicks and their owners who also owed the Sheraton Hotels chain behind MJ as well, Reinsdorf was worried that Jordan might join the Knicks to eventually add a hotel to his portfolio, according to the book From There Is No Next: NBA Legends on the Legacy of Michael Jordan by Sam Smith.
Jordan's agent David Falk had indicated to Jerry Reinsdorf that he would sign for the Knicks if the Bulls didn't meet his demands. MJ wanted a 1-year 30,000,000 deal, or a 2-year, $55,000,000 deal. As it turned out, while Reinsdorf that his indication to sign for the Knicks might be a bluff, he ended up giving in, and went for the $30,000,000 option.
Michael Jordan's $30,000,000 bluff paid off against Jerry Reinsdorf
Jerry Reinsdorf initially wanted to pay only $20,000,000 a year. Of course, even that was something that would have made MJ the highest-paid player in NBA history.
Regardless, MJ and his agent David Falk had clear demands. They either wanted a 1-year, $30,000,000 deal, or a 2-year, $55,000,000 deal. Falk had also made the suggestion that MJ was considering the New York Knicks during negotiations:
"I was on the phone with Michael and [David] Falk and offered $20 million. No one ever had made that much before. Falk said they wanted $30 million for one season or $55 million for two. If I didn't give in, I don't know if he said he'd go or might go to New York and take less money. I didn't put much into it, that it was a bluff. But we were going to have a deal [the Knicks supposedly were trying a back door move as they were then owned in part by the people who owned Sheraton Hotels, and there was an indication Michael might find a hotel in his portfolio one day if he came to the Knicks for their $5 million available]. I called [fellow investor in the Bulls] Lester Crown and asked his opinion: Should I do $30 million or $55 million? He said to do the thirty, to do the one year, and worry about the next one after that. I don't believe Michael would have gone to New York, but I wasn't taking any chances. I guess I should have gone for the fifty-five. It cost an extra $8 million. But we all came out OK."
As it turned out, Reinsdorf and the Bulls ended up offering Jordan a $30 million, 1-year deal. The following season, Jordan had upped his ask by around $3 million, and Reinsdorf ended up paying around $63 million for 2 years in total, instead. 
Jerry Reinsdorf claimed he would regret paying Michael Jordan $30 million 
One must consider the fact that no one in the NBA had ever been paid $30 million for a season. While Jordan was well worth that money in the 90s, Reinsdorf was not sure.
He ended up claiming to Jordan that he knew he would regret paying him the money in the future, according to Basketball Network. Of course, things proved to be far different.
MJ's return helped the Bulls win another championship, which warranted a bigger, $33 million contract for his final season, according to Sportrac. The Bulls and Jerry Reinsdorf were rewarded with another 3-peat, their second in a matter of years.
The post "Cost an Extra $8,000,000": Worried Michael Jordan Might Add a Hotel in His Portfolio, Bulls Owner Played Right into $30,000,000 Bluff in 1996 appeared first on The SportsRush.