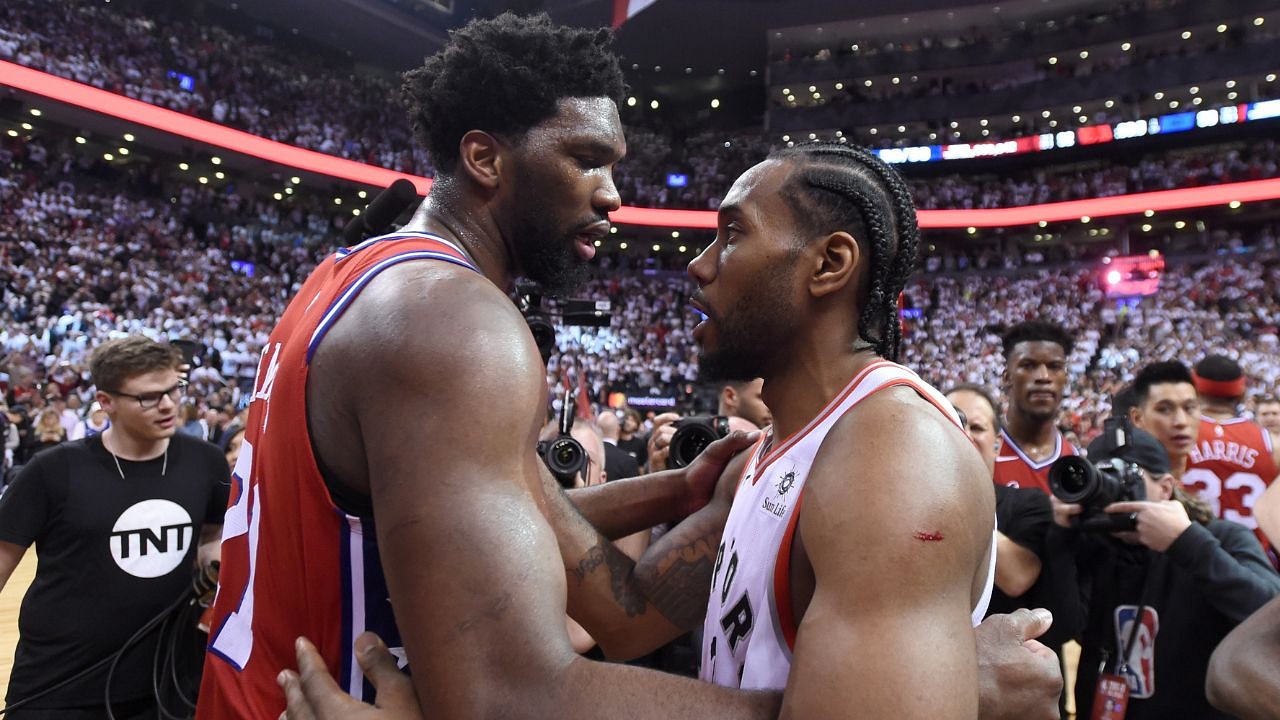 basketball
'Crying' Joel Embiid's Now Wife Anne de Paula Comforting Him After Losing To Kawhi Leonard Resurfaces Following The Sixers MVP's Wedding
Philadelphia 76ers star Joel Embiid recently got married to his fiancee, Anne de Paula, on Saturday. The couple tied the knot in Southhampton in a small ceremony in the presence of the couple's closest people. Paula and Embiid started dating in 2018 after they met through a mutual friend. When Paul met Embiid, she had no idea that her future husband was an NBA All-Star-level player. Two years later in 2020, they had a child together, and they named him Arthur. Perhaps, the first time Anne came to the media's attention was in May 2019. After Kawhi Leonard's historic Game 7 shot resulted in Philadelphia's elimination from playoffs, Embiid was crying. Perhaps, the only one able to console him was Paula, who hugged her boyfriend in the tunnel. 
Paula hails from Brazil and is a renowned swimsuit model. A few years ago, she appeared on Sports Illustrated's Swimsuit Cover. She was born in 1995, into a well-educated family. Her mother was an X-ray technician and her father was a doctor. The couple has spent half a decade together and has their relationship away from the media's attention.
Pictures of Joel Embiid's wife comforting her husband in 2019 resurfaces after their marriage
In 2019, Kawhi Leonard had one of the greatest individual seasons for a player in NBA history. He willed an underdog team to the NBA Finals and won the championship like a lion. He hit a Game 7 buzzer better, showcased one of the greatest defenses on a dominant player, and defeated the defending champions. In the ECSF, with 4.2 seconds on the clock and the score tied at 90, Leonard hit a buzzer-beater eliminating Embiid and the 76ers from the playoffs.
Philly and Milwaukee Bucks were the favorites to come out of the East. However, Leonard spoiled both teams' hope that season to win the title. 
The pictures of the 2023 MVP went viral who was seen crying while walking to the locker room. Meanwhile, a video of Anne comforting Embiid in the tunnel in 2019 resurfaced on the internet after their marriage in Southhampton.
Since meeting the All-Star player, Paula has remained Joel's constant support giving him the ability to play at his highest level.
Joel Embiid says being a father changed his whole life
Embiid and Paula already share their son Arthur together who was born in 2020. His son and his wife made a rare appearance during his maiden MVP award ceremony last season. A happy Embiid was standing at the center stage when his son ran to his father and held his leg. The 76ers star got emotional and with tears of joy in his eyes picked up Arthur. "Becoming a father changed my whole life, and I just wanted to show him a good example — and I'm glad he's here with us," said the MVP in his speech. 
In his 2023 MVP speech, emotional Embiid thanked his mother and his then-fiancee for the support they had provided him for years and for being an integral part of their success.