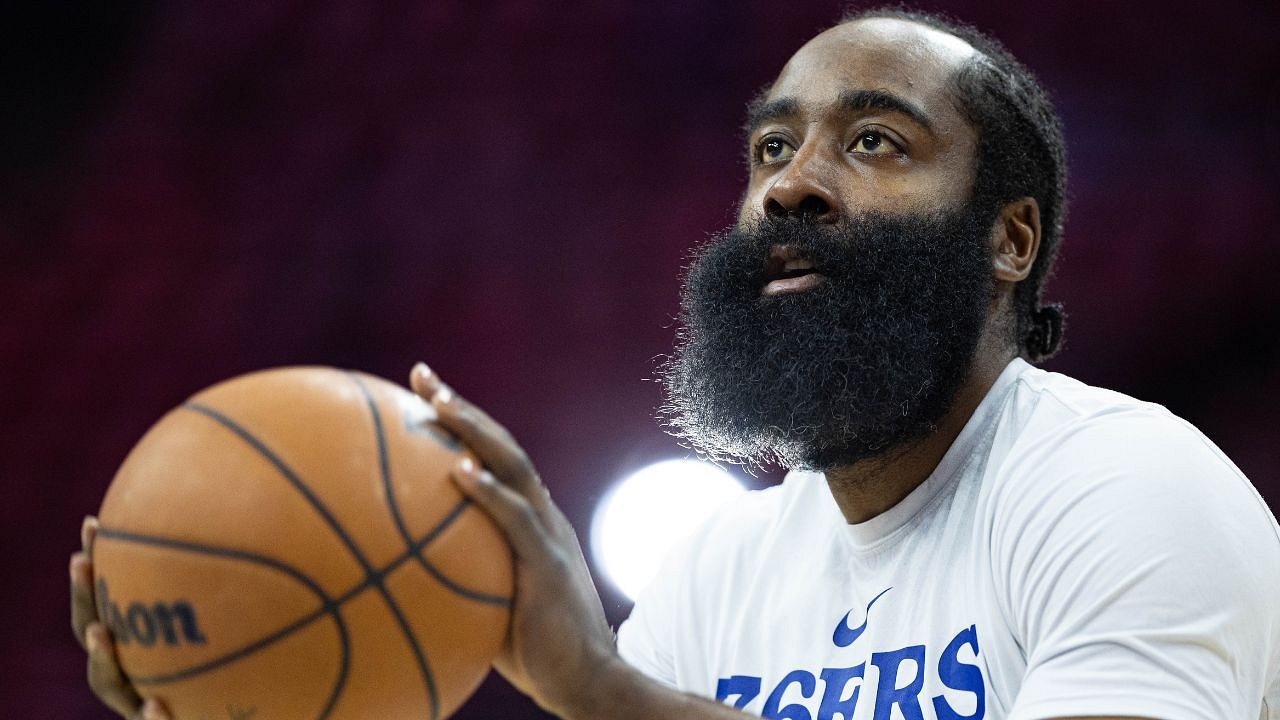 basketball
Days After 'Upset' James Harden's $35,600,000 Decision, 'The Beard's $15,000,000 Sacrifice for 76ers Resurfaces
James Harden recently opted into his $36,500,000 player option, and finally looks like he is on his way out of Philadelphia. But, this was not his intention. Expecting a long term contract from the Philadelphia 76ers, he grew disgruntled with their lack of response, forcing him to request a trade. It is a sticky situation, and with it in mind, fans have been reminded via Reddit of the incredible sacrifice he made for the team last season. Prior to the start of the 2022-2023 season, The Beard took a pay cut of around $15,000,000. All so that the Sixers could build a better team around him and Joel Embiid. And, for the most part, it worked. With Harden at his side, Embiid had his best season, winning the MVP award. Unfortunately, now things look beyond redeemable, especially with the rift between him and GM Daryl Morey.
Harden undoubtedly was at the height of his powers back in his Houston Rocket days. However, in 2021, the Rockets were unable to provide him with a proper background cast. So, he took his talents to Brooklyn, but after one season that saw a disappointing exit in the Playoffs, the 2018 MVP was traded to the 76ers for Ben Simmons. Unfortunately, all that has followed is more sub-par performances.
With his future in doubt, James Harden's sacrifice prior to the 2022-2023 season resurface
James Harden made a huge decision before the start of the 2022-2023 season that saw him lose big money. In the interest of helping both himself and the Philadelphia 76ers challenge for a championship, The Beard took a $15,000,000 pay cut. He chose not to opt into his $47,000,000 player option all for the sake of building a better roster.
It was a huge sacrifice, but one that initially looked like a smart choice. Not only were the Sixers able to add key pieces like PJ Tucker to the roster, but they also saw their star player Joel Embiid have the best season of his career. The Process went on to win the MVP with Harden at his side, establishing himself as one of the best centers in the league.
However, the season did not go as expected. While the individual performances were on point, the team's game suffered. The 76ers crashed out of the Playoffs at the hands of the Boston Celtics. And, things have now become worse with reports suggesting there is a rift between Harden and GM Daryl Morey.
ESPN story on James Harden opting into his $35.6 million contract, clearing way for a trade out of Philadelphia: https://t.co/JxIFXQ2hfr
— Adrian Wojnarowski (@wojespn) June 29, 2023
It looks like his time in Philadelphia is up. And, as he has now opted into his $35,600,000 option, it is believed the Sixers will actively start looking for trade destinations. The best part is, there are options available, with rumors suggesting he could return to Houston or perhaps go back home to LA.
James Harden reworked his entire game in order to help the 76ers win
Back in the day, James Harden was considered by many to be the best offensive weapon in the NBA. Likened to Kobe Bryant, Harden's last season with the Houston Rockets saw him average a stunning 34 points per game. However, all that changed once he left H-Town.
The Beard completely changed his game and started playing as a pass-first guard. All so that the players around him could thrive. Unfortunately, pass-happy Harden does not compare to his former self. And, as a result, his reunion with Daryl Morey in Philadelphia has been deemed a failure.
Kevin O'Connor's trade idea:
Clippers receive:
James Harden
P. J Tucker
Sixers receive:
Terance Mann
Norman Powell
Robert Covington
Nicolas Batum
2028 first-round pick
2030 first-round pick pic.twitter.com/OktqyVUeoY
— NBACentral (@TheNBACentral) June 30, 2023
As things stand, Harden is extremely upset with how things are in the City of Brotherly Love. As a result, trade is actively being looked at, effectively bringing an end to The Beard's time as a 76er.
The post Days After 'Upset' James Harden's $35,600,000 Decision, 'The Beard's $15,000,000 Sacrifice for 76ers Resurfaces appeared first on The SportsRush.