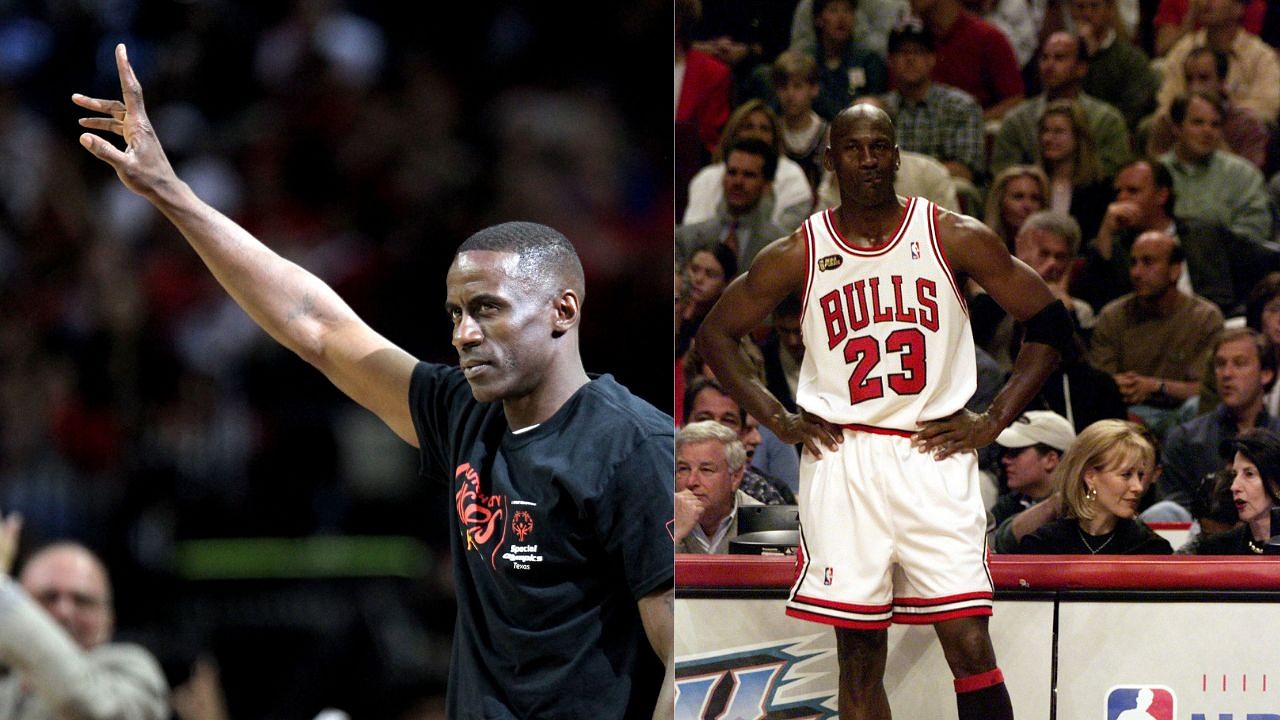 basketball
Defending Michael Jordan From 'Puny' Ja Morant Claims, 2x NBA Champion Recalls Days Leading Up to Games Against Bulls: "It's Sleepless Nights Man, That Sh*t Be Rough!"
During his time in the NBA, there weren't many (if any) NBA players who didn't fear Michael Jordan. Stories about how even greats of the game having had sleepless nights prior to playing J0rdan are beyond prevalent in the NBA community today. Adding to that list in August of 2022, 2X NBA champion Vernon Maxwell explained how much he feared getting humiliated by Jordan during their games against each other. And along with it, he issued a warning to Ja Morant as well, completely dismissing his statement on how a 1v1 between him, and the Bulls legend would look.
Morant is not someone who lacks confidence. Despite having been labeled as 'puny' by many when he was first drafted due to his lack of size, the 24-year-old has proven he is one of the best in the league at the moment. However, the confidence he received also motivated him to make the following statement during an interview, as per Bleacher Report.
"I wish I would've played in (Michael Jordan's)  generation, though… Just how he go about the game, that mindset he had … I would like to play against him. … I would've cooked him, too."
Loading embed tweet https://twitter.com/BleacherReport/status/1546218707675779072?ref_src=twsrc%5Etfw
In Morant's defense, he also mentioned that his confidence in himself doesn't allow him to say that anyone would beat him. Admittedly, that mentality has been a big reason behind his stardom at the highest level. However, it can't be denied that his statement is beyond outlandish. After all, even LeBron James would likely find it hard to 'cook' a prime Jordan.
Vernon Maxwell issues a reality check to Ja Morant while talking about fearing Michael Jordan during his time in the NBA
In 2022, Vernon Maxwell appeared on fellow former NBA player, Gilbert Areanas's show, 'No Chill'. During his time there, Maxwell explained just how thick the fear factor of Michael Jordan was. The following is what he had to say on the matter. Watch the YouTube video by Fubo Sports from the 1:15 minute mark.
"Man, you look at that sh*t ( a game against Michael Jordan and the Bulls) when they bang out the schedule… You look, and you put that damn mark on Chicago. And then the night before, it's sleepless nights, man. That sh*t be rough. That's the thing about this sh*t. What you got tomorrow, and how you don't want to get embarrassed. And you know this motherf**ker don't know how to stop coming at you. He going to just keep coming!" 
Maxwell further continued on the matter.
"Mike is Mike, man. The best player I ever played. I never thought I'd see nothing like that man. I just see the bottom of man's tennis shoes… All these kids talk a lot of sh*t. Ja (Morant), you know I love you and your daddy. But hey man, stop with that sh*t. You didn't want them problems."
Vernon clearly has a very high opinion of Michael Jordan. After all, he did also go on to call him the greatest in the same interview. And of course, it is clear he believes that Morant would've had as much of a chance as he did against MJ.
To be fair to Ja, perhaps he wouldn't have gotten humiliated against 'His Airness'. After all, he is one of the brightest stars in the NBA today, despite his controversies. However, it truly is hard to picture a world where he humiliates Jordan either.
Maxwell and the Rockets seemed to have a hold on the Bulls, despite words on Jordan
Vernon Maxwell very highly of Michael Jordan. In fact, given how he told his story, it would be easy to think that his Rockets lost a grand majority of their games against the Bulls. However, between 1990 and 1994, the Rockets were one of the only teams in the league who had a hold on the Bulls. In fact, as per StatMuse, in the eight times the two franchises competed in that time, Houston won six times. In fact, in one of their matchups, Maxwell's side even blew out MJ and the Bulls by 22 points.
Vernon clearly thinks highly of Jordan, and justifiably so. However, perhaps there was just a little bit of exaggeration at play here too.