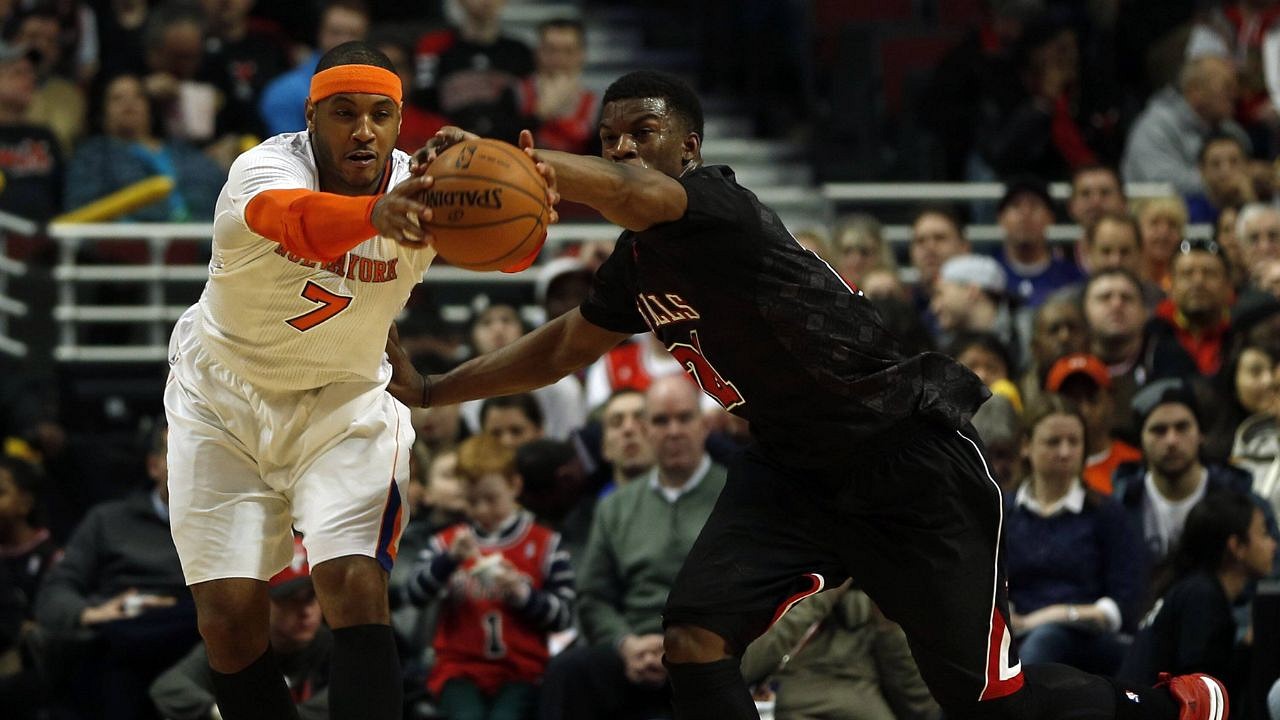 basketball
"Did He Use the Word 'Stole'?": Jimmy Butler Accusing Carmelo Anthony for Stealing a Bottle of 2004 Petrus Hilariously 'Angers' the Knicks Legend
NBA legend Carmelo Anthony recently showed up on Sean Evans' Hot Ones segment in order to try some of the spiciest wings around. In between, the two talked about a range of topics related to Anthony's career. This included a story about Carmelo that had previously been narrated by Jimmy Butler.
Butler claimed that Anthony had been guilty of stealing a bottle of wine when they were out for a party. The wine in question was a 2004 bottle of Petrus which is available for around $3800 in the market today.
Butler had claimed that they were saving up the bottle to drink at the end. However, Carmelo ended up picking it up and taking it to his home instead. When Evans told the former New York Knicks forward the story, he initially wanted to know whether Butler used the word 'steal' while narrating the story.
Evans responded positively, claiming that that was exactly what Butler had said. Carmelo claimed that he would narrate the story of how it happened, and then Sean Evans can himself decide if he actually 'stole' the bottle. "Did he use the world 'stole'? Let me tell you why I stole it. They are at dinner. They are already at a wine dinner, right? I come a little late, so I feel bad, I am late," he said, which led to Anthony deciding to get a few bottles from the cellar himself.
Claiming that he knew the restaurant beforehand, Carmelo grabbed a 2004 bottle of Petrus as well and got it to the table. 
However, the group drank everything apart from the 2004 Petrus, something Evans claimed might be a result of them trying to save it for the end. Regardless, the bottle had been left untouched by the end of the night, prompting Carmelo to take it home.
"I know the restaurant so I say I am gonna go downstairs to the cellar, I am gonna grab some bottles, and here is what we are gonna do tonight. I go grab the bottles and I grab the bottle of Petrus. I bring it to the table, they were drinking everything else, but left the Petrus there at the end of the night, closed. So we were leaving, I grabbed the Petrus, they thought we already drank the Petrus," he revealed.
While Carmelo claimed that he had no intention of not sharing the wine with his friends, that is exactly what ended up happening. He decided to tell them about the bottle by sending them a picture from his car. "I told them in the car, on the picture, I sent them the picture with me. You know, but they were not ready for the Petrus at the moment. I had to preserve that," Carmelo said.
Hence, rather than Anthony trying to take the bottle for himself, he claimed that he was simply trying to preserve it, as none of his friends were "ready for the Petrus."
Carmelo Anthony and Jimmy Butler talked about opening a wine-tasting room
During a joint Instagram live stream back in 2020, Carmelo and Butler had discussed starting a wine-based business as well. Both of them are avid fans and perusers of high-end wine.
Butler also talked about "the reason that I enjoy wine so much is … you can never know everything about wine. And every person has their story and every bottle of wine has its story, so it's interesting to me that the more you learn about it, the more you realize how much more you have to figure out and learn. It's infinite," he said. 
The Miami Heat superstar then went on to talk about how he wanted to open a winery in Italy. "I have to have my own winery. Outside of my love for basketball, it's wine and it's real," he said, outlining his plans for retirement.
The discussion took place just months before Carmelo opened his own wine-tasting room, according to Wine Spectator. Since then, he has even started his own wine label, called the VII(N) The Seventh Estate, according to the NY Post.