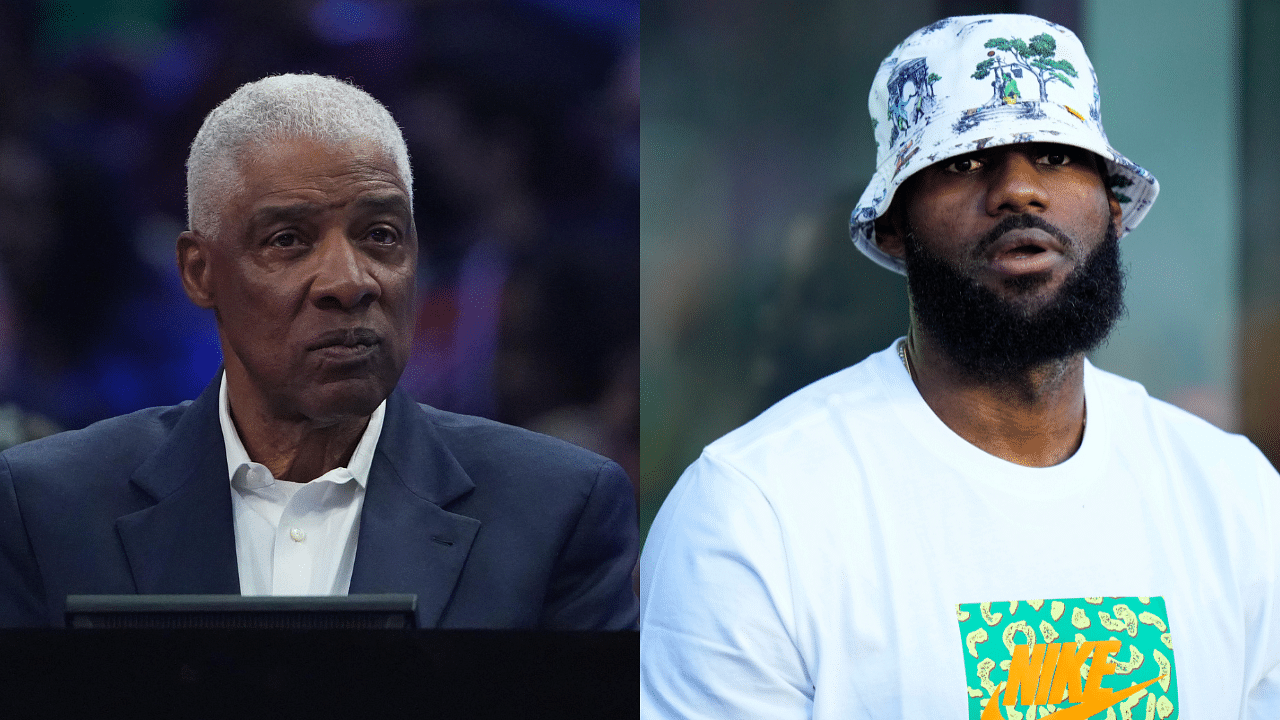 basketball
"Didn't Watch the Game Since '95": 3x All-Star Fumes at Controversial List 'Disrespecting' LeBron James, Questions Julius Erving's NBA Knowledge
In an interview with Joy De'Angela, former Sixers legend and Hall of Fame forward Julius Erving revealed his top 10 list of NBA players. Interestingly, the list had some notable omissions, missing the likes of Michael Jordan, Stephen Curry, and LeBron James. Many famous personalities, including Stephen A. Smith and Atlanta Hawks' Trae Young, have expressed their thoughts and disappointment with Dr. J's list. Gilbert Arenas is the latest former player to slam Erving for his list. In a recent episode of Gil's Arena podcast, Arenas expressed his disappointment with Dr. J for excluding Michael Jordan and LeBron James. As per Erving, James, and Curry are yet to finish their career to be a part of his list. However, this does not explain why he excluded Kobe Bryant and Tim Duncan from the list. Arenas questioned Dr. J's ball knowledge and credentials on the podcast while watching basketball.
Julius Erving's list has proved somewhat contentious, given his seeming exclusion of some of the best players in the league. This has become a massive chunk of the NBA community on his tail. As Arenas argues, Erving's saltiness and failure to gain similar hype as the excluded players might have contributed to his bias.
Gilbert Arenas slams Julius Erving's take on his Top 10 Players list
Gilbert Arenas is the latest player to slam Julius Erving for his top 10 Players list. Arenas seem to be quite upset with the exclusion of Michael Jordan and LeBron James from the list. Expressing his anguish, Gil exclaimed in the podcast:
"He probably hasn't watched the game since [1993]. He probably ain't watched basketball since [1995]. That list ain't got nothing to do with no player after [1995]… Like really think about it. Look at the players… He probably ain't looked at the game in 30-something years."
However, after this, Gil also explained Dr. J's bias. Being a superstar in his era and not gaining the same hype as MJ might have frustrated the Sixers legend. Elaborating further about this, he said:
"Think about it like this. Before it was TV, it was him. There's an era that's like in the 60s and the 70s, they dont even identify Michael Jordan the best. It's him [Dr. J]. If anybody is like 65 and up, and say 'Who's the best player ever,' they're gonna say Dr. J. So there's a thing, there's was a wall here. Because he wasn't in the NBA, nobody acknowledges his greatness. So four-five years later Jordan comes, and they just give him [the GOAT status]." 
Erving started playing in the ABA franchise with Virgina Squires. He was picked the 12th overall pick by the Milwaukee Bucks and continued his NBA career with the New York Nets and later, with the Philadelphia 76ers. In 1983, he helped the Sixers win their third NBA championship.
Stephen A. Smith slammed Dr. J for 'disrespecting' LeBron James with his Top 10 list
Dr J's list of top 10 players excludes LeBron James, Stephen Curry, and even Kobe Bryant. While his angst towards Michael Jordan is understood, excluding players like Kobe Bryant and Tim Duncan is certainly questionable. To this, Stephen A. Smith reacted by saying,
"Listen, this is Dr. J, Julius Erving and people just talking about that they are angry, ridiculous. He is entitled to his opinion. I just think he is wrong. You cannot have, I don't care what players you have mentioned, you cannot have an all time top ten list and LeBron James is not on it. You just can't. I've got LeBron James as a top two player all time."
That was not all. Atlanta Hawks' Trae Young also expressed his disappointment with Julius Erving. He found Erving was somewhat biased towards his peers on his list. Calling out the NBA legend, he mocked Dr. J in a tweet, calling his list fake. Perhaps, Dr. J's list was just a way for the NBA legend to remind the younger generation of his contribution and greatness during his playing era.