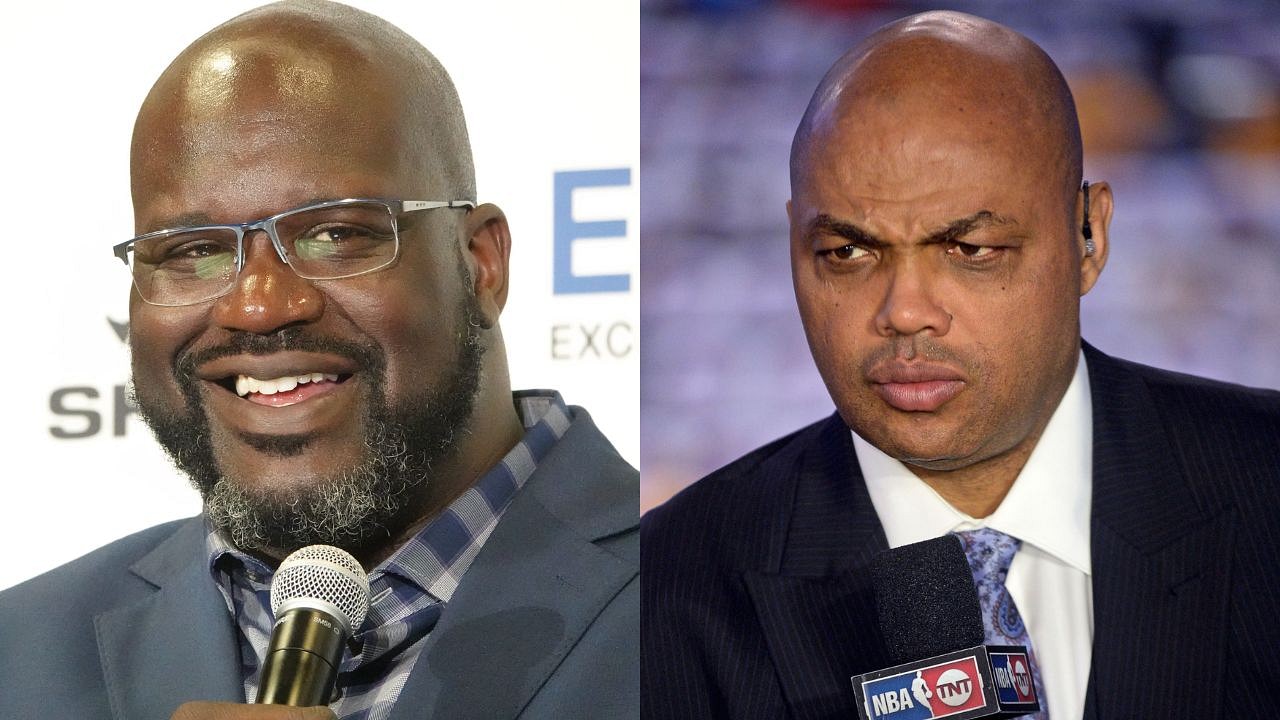 basketball
"Draymond Chuck Green, You're A Cheap Shot": Shaquille O'Neal And TNT Bestow Upon Charles Barkley The 'Highest Honor' at Inside The NBA
"Inside the NBA" is one of the best basketball analysis shows. And Shaquille O'Neal and Charles Barkley play a huge role in making the show a hit. Of course, the two icons had a rather rocky relationship during their playing days. But ever since their retirement, Chuck and Shaq have developed quite a special bond. However, this doesn't stop them from trolling each other whenever they get the chance. Very recently, during the final TNT broadcast of the season, the panel mocked Sir Charles for featuring on the infamous Shaqtin' A Fool list.
Over the year, the two Hall-Of-Famers have had quite some arguments on the set. Most of the time it is trolling each other for being overweight. While O'Neal constantly takes shots at The Round Mound of Rebound for having 0 rings, Barkley is always name-calling the Diesel.
Like every other year, this time also the panel discussed the most hilarious moments from the 2022-2023 season in hopes to find the best Shaqtin' A Fool incident. Apart from the Dallas Mavericks, Marcus Smart & James Harden, and Patrick Beverley, Barkley also found his name on the embarrassing list.
"Draymond Chuck Green, You're a cheap shot": Charles Barkley gets trolled
Back on 11th April, during the Heat-Hawks postgame discussion, the former 6-foot-6 Phoenix legend spoke about altercations and how a player couldn't instigate a fight and run away from it. Barkley said:
"You can't hit somebody and run backwards."
NBA on TNT would then go on to make an entire compilation of Chuck doing the exact same thing that he preached no one should ever do. The montage consisted of clips of Barkley's tussles from his playing days. The video clearly showed Charles hitting somebody and "running backwards".
Loading embed tweet https://twitter.com/shaqtin/status/1663405773236600832?ref_src=twsrc%5Etfw
As expected, Shaq, Ernie Johnson, and Kenny Smith had a great time making fun of the panel member's hypocritical behavior. They couldn't help but comment as and when the video rolled.
"Draymond Chuck Green… You're a cheap shot."
Despite competing against other hysterical incidents from the campaign, Charles' comical moment had to be the funniest of all.
Shaquille O'Neal and Chuck go back and forth yet again
After the Boston Celtics' Game 6 ECF win against the Miami Heat, the TNT crew displayed a graphic showing the elimination records of Shaq, Barkley, and The Jet.
Kenny led the three with an impressive 10-3 record, followed by Chuck's 14-12 record. Finally, the Big Aristotle had a poor 6-12 record.
Loading embed tweet https://twitter.com/dubs3000/status/1662694723234979841?ref_src=twsrc%5Etfw
While Shaq believed that these stats were useless, the Chuckster called O'Neal "overrated". In classic O'Neal fashion, he reminded Barkley of the 4 rings he had.
Charles can never seem to catch a break with Shaq trolling him for being ringless.