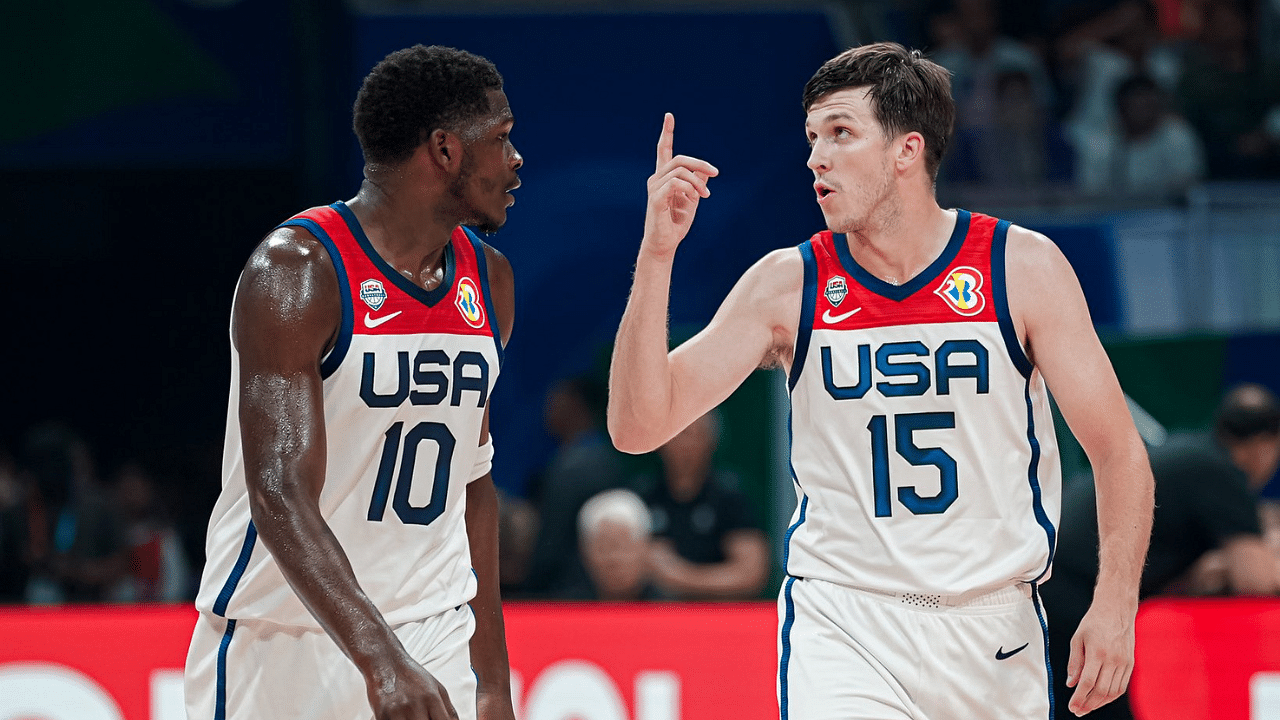 basketball
Earning Over $20,000,000 More Than Austin Reaves and Anthony Edwards, Highest-Paid Team USA Player Will Bag $33,833,400 in 23-24 Season
Brandon Ingram is the leading earner among Team USA's basketball elite. The upcoming 23-24 NBA season will see him cashing in a staggering $33,833,400 cheque. This firmly solidifies his position as the highest-paid player within the team's ranks. His paycheck outshines the likes of Austin Reaves and especially Anthony Edwards, who has undeniably been the shining star of Team USA's recent performances. 
To put it in perspective, Ingram's salary shines $20,000,000 brighter than that of Austin Reaves and Anthony Edwards, according to the salaries listed on Spotrac.
Brandon Ingram will earn more than Austin Reaves and Anthony Edwards combined next season
Austin Reaves is pocketing a respectable $12,015,150. Meanwhile, Anthony Edwards, the emerging sensation who has taken the league by storm, boasts a salary of $13,534,817. Yet, in the grand scheme of Team USA's earnings spectrum, these figures fall significantly short in comparison to Ingram's monumental paycheck.
Loading embed tweet https://twitter.com/usabasketball/status/1695434163468259813?ref_src=twsrc%5Etfw
The discrepancy in earnings becomes even more pronounced when taking into account Anthony Edwards' status. Edwards finds himself in the early stages of his career, still under the umbrella of his rookie deal. This inherently limits his financial gains compared to the more seasoned players like Ingram.
While Edwards' situation is due to the rules governing rookie contracts, Austin Reaves' journey tells a different story. The recent signing of a four-year, $56 million deal with the Lakers has propelled Reaves into a different financial stratosphere.
Team USA to face Greece next in FIBA World Cup 2023
Regardless of salary disparities, Team USA has been running like a machine throughout the FIBA World Cup 2023. The team recently beat New Zealand in the first game. 
Paolo Banchero led the scoring for Team USA off the bench. Banchero and Edwards combined for a total of 35 points in the 99-72 win against the Kiwis. 
Loading embed tweet https://twitter.com/usabasketball/status/1695444726839980438?ref_src=twsrc%5Etfw
Team USA will next face Greece in the second game of the tournament. Greece also beat their opponent, Jordan, 92-71. They were led by the 19 points scored by Giannoulis Larentzakis. 
Some other interesting games to look out for in the next round are Brazil vs. Spain and Australia vs. Germany.