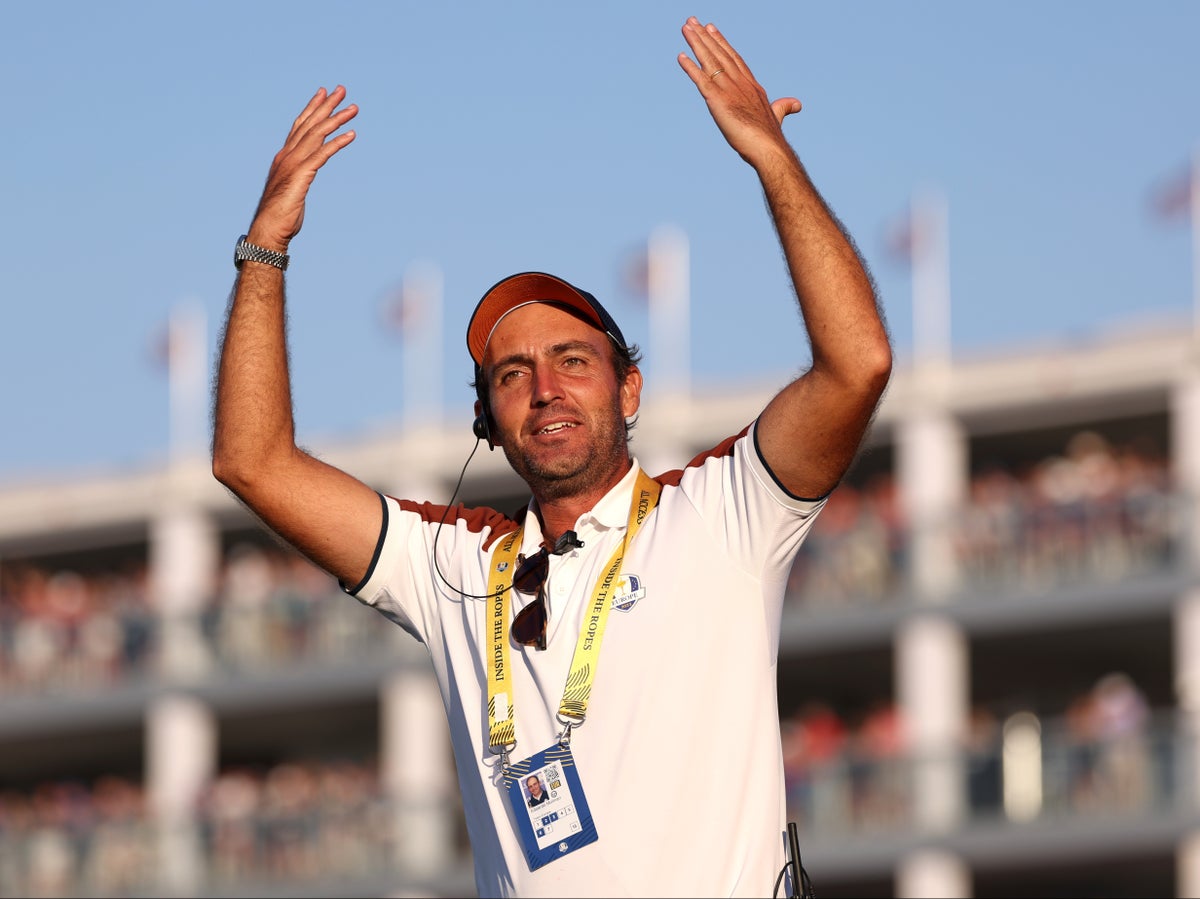 Golf
Edoardo Molinari, the stats 'guru' behind Europe's Ryder Cup win
Sign up to our free sport newsletter for all the latest news on everything from cycling to boxing
Sign up to our free sport email for all the latest news
Luke Donald and Zach Johnson gave two different answers to the same question.
The question was about the growing influence of statistical analysis in golf, and whether Europe's superior number crunching influenced the outcome of this Ryder Cup. Donald had five vice-captains in Rome but he leant on one, his stats guru Edoardo "Dodo" Molinari, more than the others.
"Dodo is extremely important," Donald said. "The game of golf has become dominated by statistics. All my vice captains were immense, every single one of them meant so much to me and were a big help. But obviously Dodo, I spent a little bit more time with him just because of the statistics, because of trying to figure out ways to tell all my guys why they were going to win."
Molinari gained an engineering degree before starting his golf career two decades ago. He would take notes on every shot and later asked academic Mark Broadie to help turn that raw data into a detailed analysis of his game. Other players would ask if he could help them too, so in lockdown, Molinari spent six months building the foundations of a business serving tour players. When his client Matt Fitzpatrick won the 2022 US Open while making little notes of each shot on a notepad, Molinari's phone rang and rang.
Edoardo Molinari played a key role in Europe's victory in Rome
(Getty)
One of those phone calls came from Henrik Stenson, Europe's Ryder Cup captain, asking for insight. When Stenson was axed over his LIV defection, Donald took over the reins and inherited Molinari. The new captain embraced an approach which involved breaking down each player's game to molecular detail, and plotting their strengths and weaknesses against the nuances of the Marco Simone golf course, using data collected from the past three Italian Opens.
Molinari analysed "who looks better in foursomes, who looks better in fourballs, which players suit the odd [number holes], which player suits the evens". He analysed their opponents. He analysed Ryder Cup history and found that winning the first hole was important and being up after three holes was crucial, which is why Europe spent a chunk of their practice week playing one and three-hole matches.
His models simulated all 66 possible combinations of Europe's 12 picks to find the optimum pairings. Personality traits and cultural factors were extremely important to Donald's decision making too – like the even-keeled Scandinavian pair Ludvig Aberg and Viktor Hovland – but they would not have been paired together if the data didn't approve.
Donald made no secret of Molinari's importance amid what he understood to be a statistical revolution happening in the game. But Johnson did not see it that way.
"Not to disagree," Johnson began, before disagreeing. "But I think analytics have been a part of what we've done for multiple Cups. I don't think it was any more or any less this year. At some point, you have to understand the averages and means and percentages and things of that nature that could potentially help, given the golf course. It's a part of it. But it's not the bulk of it by any means."
Molinari helped Luke Donald pick the perfect pairs as Europe crushed the USA in the foursomes
(Getty)
Johnson hinted that his captaincy was more instinctive. "There's something to be said about feeling things out. There's something to be said about observing and witnessing that helps your decision process, and then you include everything else and you try to find every possible scenario so that you can score points. It's pretty evident that the other team did a better job of that, certainly in the first three sessions. I think it's really that simple."
To Donald, though, it was not just about averages and means. It was about giving his players confidence. If he told them they were in the team because their game perfectly suited the golf course, and then he showed them irrefutable data to back that up, he could convince them that they would win; that they were already winning.
"My job was to give them the confidence that, when they stepped on that tee on Friday, they expected to win – 'these are the reasons, and this is why you're playing, and this is why we are going to be successful by the end of this week'. Obviously, Dodo is a big part of that."
Molinari now has a stable of around 30 players that he works with across men and women's professional golf. Such is the strain on the small team of analysts and developers he has hired that he can only take on a new client when another one decides to move on. Several of those players, like Fitzpatrick, were on Team Europe this week.
The statistical prowess Molinari shows has led to phone calls from a lot of players, as well as Ryder Cup captain Henrik Stenson
(Getty)
"The guru?" said Rory McIlroy when asked about Molinari. "He has formed a very close relationship with some of the players over the last few years. There's a big level of trust that he obviously knows what he's talking about, and what he's giving us is good information."
That trust bred confidence in Europe's preparation and in their readiness for the golf course, and for the Americans. So perhaps it should not have been a surprise when they blitzed the opening foursomes 4-0, and laid the foundations for victory.
Molinari will now get some rest. The phone will be ringing. "I had very little sleep this week," he said. "The last year and a half, I spent a lot of time, it affected my golf a little bit but it was all worth it."
It was the Italian's second Ryder Cup win after succeeding as a player in 2010. "This is as good. I've spent so much time doing work for Luke. Seeing the guys doing so well, maybe adding a little 1 per cent, it's amazing. And in Rome, it's a dream come true."