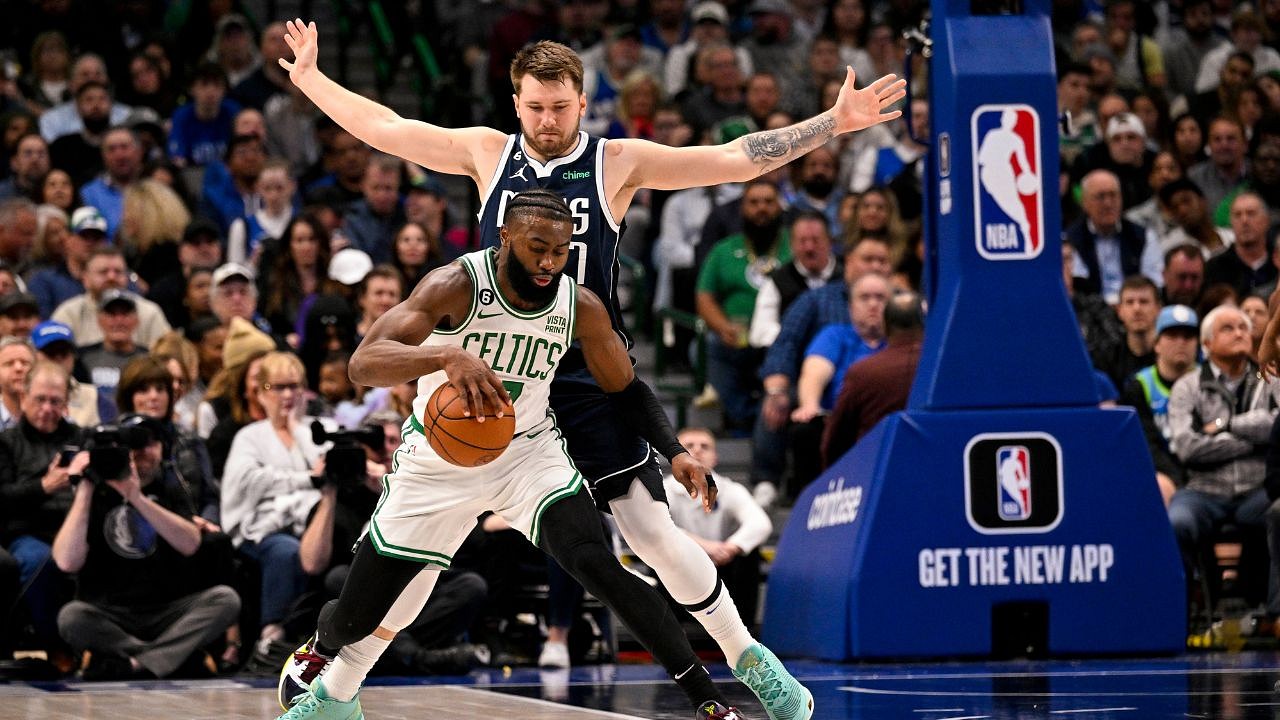 basketball
"Floor was Kind of Unacceptable": After Luka Doncic's Scathing Criticism, Jaylen Brown Deems In-Season Tournament Courts too Slippery
Boston Celtics' superstar Jaylen Brown claimed that the court during their recent In-Season Tournament matchup against the Toronto Raptors was too "slippery." The Celtics came out 105-108 winners in a game after a dominant first-half showing. Brown returned with 23 points, 4 assists, and 3 rebounds, but was not happy with how the court held up through the game.
Speaking after the match, he claimed that he was not the only one who was slipping all over the place.
 "I thought the floor was kind of unacceptable. I think guys were just slipping all over the place, not just me,"
He said this, before claiming that the Celtics' own home court at the TD Garden did not have the same issue. The clip was shared on Twitter by ClutchPoints.
While Brown thought that the issue was only with the Raptors' court, Dallas Mavericks star Luka Doncic said something similar about the New Orleans Pelicans' Smoothie King Center arena.
Loading embed tweet https://twitter.com/ClutchPoints/status/1725881710653403586?ref_src=twsrc%5Etfw
Doncic claimed that while all of the courts that he has played on this season were fine, he effectively blamed his team's 131-110 loss on the surface, according to Sports Illustrated.
"I mean, outside of all of the courts, I think the court today was really bad. It was really slippery, and in some places, the ball didn't really bounce,"
Considering not one but two bonafide superstars have come out with the same complaint, the NBA might be forced to look into the matter. The criticism has come after the league revealed a change in the coloring and design of courts for In-Season tournament games. While the move is effectively to help fans differentiate between the regular season matches and In-Season tournament games, the new courts appear to have created issues for the players as well.
A range of NBA players have questioned the new In-Season tournament courts
Doncic and Brown are hardly the only two superstars who have expressed concerns over the stability of the new courts. According to the Washington Post, a range of other NBA stars have also had the same concern.
For example, Indiana Pacers star Tyrese Haliburton recently claimed that the court at the Gainbridge Fieldhouse was a bit "too slick" to start. "Early in the game, I do think everyone was a little concerned. "I felt like I was sliding everywhere. I'd take a step forward and then go to turn, and there was no turning around," Haliburton said.
This is in addition to NBA commentator Brian Scalabrine, and Precious Achiuwa, who both had similar concerns with the new courts. Even LeBron James was recently seen trying out the new court at the Lakers' Crypto.com Arena. As James walked around the length and breadth of the court, his shoes continued to squeak noisily. There is little doubt that the new courts have caused concern. However, perhaps not all courts share the same problems.