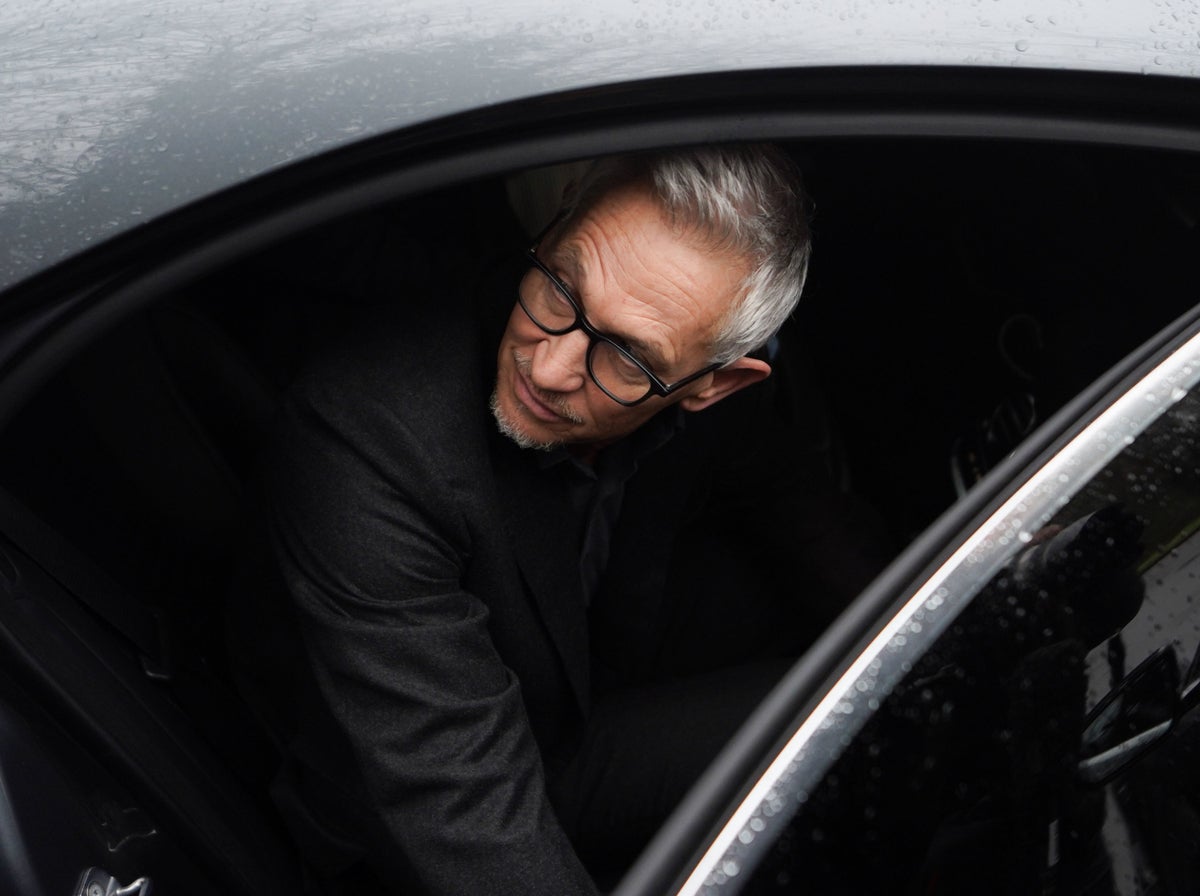 Football
Gary Lineker steps back from Match of the Day after Twitter row
Get the free Morning Headlines email for news from our reporters across the world
Sign up to our free Morning Headlines email
Star presenters staged an extraordinary mutiny on Friday night after the BBC told Gary Lineker to step down from Match of the Day after a row over his likening of the government's immigration rhetoric to that of Nazi Germany.
The presenter, who earned £1.35m last year, will not appear on the programme until he and the broadcaster have reached an "agreed and clear position" on his use of social media.
A BBC spokesperson said there had been three days of "frank conversations" while Lineker faced criticism from ministers and even Downing Street. But the former England striker's removal caused dismay among his fellow presenters, who said they would boycott the programme, leaving the BBC without a host.
Alan Shearer, Jermaine Jenas and Alex Scott said they would not appear, following the example of Ian Wright, who tweeted in "solidarity" with Lineker. Micah Richards also tweeted in support of their decision.
Labour condemned the BBC's decision as "cowardly" and "an assault on free speech", and called on the corporation to back down.
A BBC spokesperson said: "The BBC has been in extensive discussions with Gary and his team in recent days. We have said that we consider his recent social media activity to be a breach of our guidelines. The BBC has decided that he will step back from presenting Match of the Day until we've got an agreed and clear position on his use of social media.
"When it comes to leading our football and sports coverage, Gary is second to none. We have never said that Gary should be an opinion-free zone, or that he can't have a view on issues that matter to him, but we have said that he should keep well away from taking sides on party political issues or political controversies."
The row was sparked by Lineker's response on Twitter to a Home Office video in which home secretary Suella Braverman unveiled the government's plans to stop migrants from crossing the Channel.
The 62-year-old wrote: "There is no huge influx. We take far fewer refugees than other major European countries. This is just an immeasurably cruel policy directed at the most vulnerable people in language that is not dissimilar to that used by Germany in the '30s."
Ms Braverman accused Lineker of "diminishing the unspeakable tragedy" of the Holocaust.
Lineker has appeared unrepentant, tweeting on Thursday that he was "very much looking forward" to presenting Match of the Day on Saturday, and telling reporters outside his home that he stood by his comments and did not fear suspension.
Gary Lineker outside his home in London as the argument over his social media use continues
(PA)
After the BBC announcement, former Arsenal and England striker Wright tweeted: "Everybody knows what Match of the Day means to me, but I've told the BBC I won't be doing it tomorrow. Solidarity."
Shearer swiftly added: "I have informed the BBC that I won't be appearing on MOTD tomorrow night." Jenas has said he is standing "with his fellow pundits and Gary Lineker". Richards wrote that he was not due to appear on the programme this weekend, but that if he was he would be "taking the same decision".
Another BBC presenter, Richard Osman, tweeted that the move "is pathetic for so many reasons", while former Manchester United and England defender Gary Neville, who commentates for Sky Sports, tweeted: "When you take on the Tories and the system! Awful people who we need gone. Off for a [wine glass emoji]."
A Labour source said: "Tory politicians lobbying to get people sacked for disagreeing with government policies should be laughed at, not pandered to. The BBC should rethink their decision."
Ian Wright has said he will not appear on Saturday's 'Match of the Day' in a gesture of 'solidarity' with Lineker
(Getty)
But former Tory culture secretary Sir John Whittingdale said the BBC's decision to stand Lineker down from hosting duties was "inevitable".
He told BBC Radio 4's PM programme: "The problem is that Gary Lineker has made it clear that he wants to go on tweeting his views. And he's of course entitled to hold his views, but the problem is that he is also a very highly – indeed the highest – paid person working for the BBC, and is closely associated with the BBC. And I'm afraid those two things are not compatible."
Lineker is a freelance broadcaster for the BBC, not a permanent member of staff, and is not responsible for news or political content. This has led to a debate about whether he is required to adhere to the same rules on impartiality as those who are subject to staff contracts or working in other departments.
BBC director general Tim Davie warned staff about their use of social media when he took on the role at the end of 2020, and guidelines around social media use have since been updated. Staff were told they need to follow editorial guidelines and editorial oversight in the same way as when they are delivering BBC content.