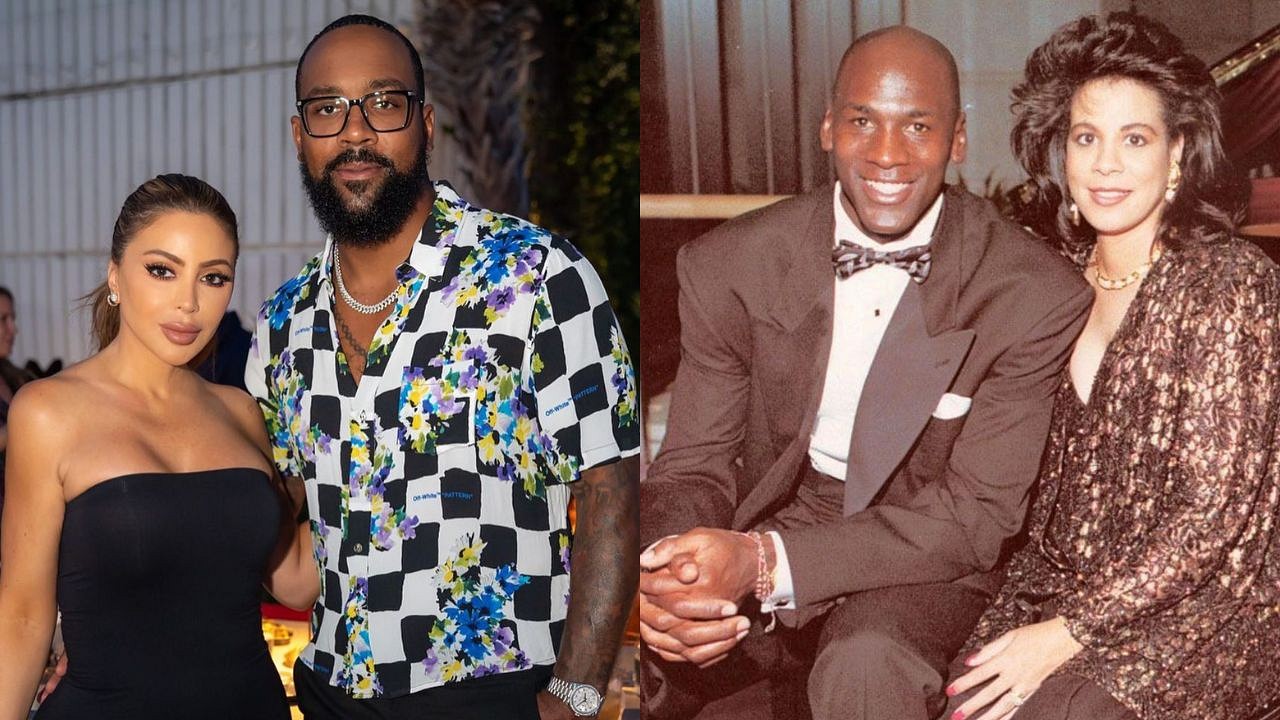 basketball
Having Seen Michael Jordan Take a $168,000,000 hit, Marcus Agrees with Larsa's Take on Prenups: "Ruined a Relationship"
Marcus Jordan and Larsa Pippen have been in a highly-publicized relationship for quite some time now. This has led to them coming under heavy criticism. As such, they launched their podcast, Separation Anxiety, where they discuss all things related to their relationship. And, recently, one of the topics of discussion had to do with prenuptial agreements. Larsa for the most part is a big supporter of prenups, and Marcus, who witnessed his father Michael Jordan take a $168,000,000 hit after his divorce, agrees.
Larsa herself recently went through a high-profile divorce. In 2021, it was confirmed that she and her ex-husband, Scottie Pippen had parted ways. So, much like Marcus, she too was speaking from a place of experience when she shared her thoughts on prenups and their implications.
Marcus Jordan agrees with Larsa Pippen on the importance of prenups
Recently, Marcus Jordan and Larsa Pippen shared their thoughts on signing contracts and prenuptial agreements on their podcast. They spoke about how prenups were important after, a listener asked them about the same in the comments section. And, Larsa strongly believed it to be necessary.
She suggested that it makes things so much easier and provides people with a common ground where things can be settled amicably. But, she also believes that it has the potential to ruin relationships, and Marcus agreed. She further elaborated that prenups need to be fair, as should everything in life.
Marcus Jordan: "Do you think there's ever been a situation where a prenup has ruined a relationship?"
Larsa Pippen: "Yeah… for sure!"
Marcus Jordan: "I think so too!"
Larsa Pippen: "Yeah… cause if I marry you and you have like a billion dollars, and you say, "By the way I'm only going to give you $100,000 after 20 years!", you're like, "Wait What?". It has to be fair, everything in life has to be fair."
Both Marcus and Larsa have experience with divorces. Larsa recently went through one with her ex-husband, NBA legend, Scottie Pippen. And, as for Marcus, he witnessed his father Michael Jordan go through an incredibly messy divorce with his mother Juanita Vanoy. One that saw him lose a whopping $168,000,000.
Michael Jordan and Juanita Vanoy had a troublesome prenup and an equally troublesome divorce
In 2006, Michael Jordan parted ways with his wife of 17 years, Juanita Vanoy. It was a troublesome situation, one that saw Vanoy receive $168,000,000 as part of the divorce settlement. An amount, that was the largest celebrity divorce settlement on public record. It was well publicized, and Marcus Jordan who was only 16 years old at the time, witnessed it all.
Loading embed tweet https://twitter.com/republic/status/1260854865904889863?ref_src=twsrc%5Etfw
Seeing his parents go through such a situation must have had an effect on Marcus. And, it probably explains why he is so for prenups being signed prior to marriage.