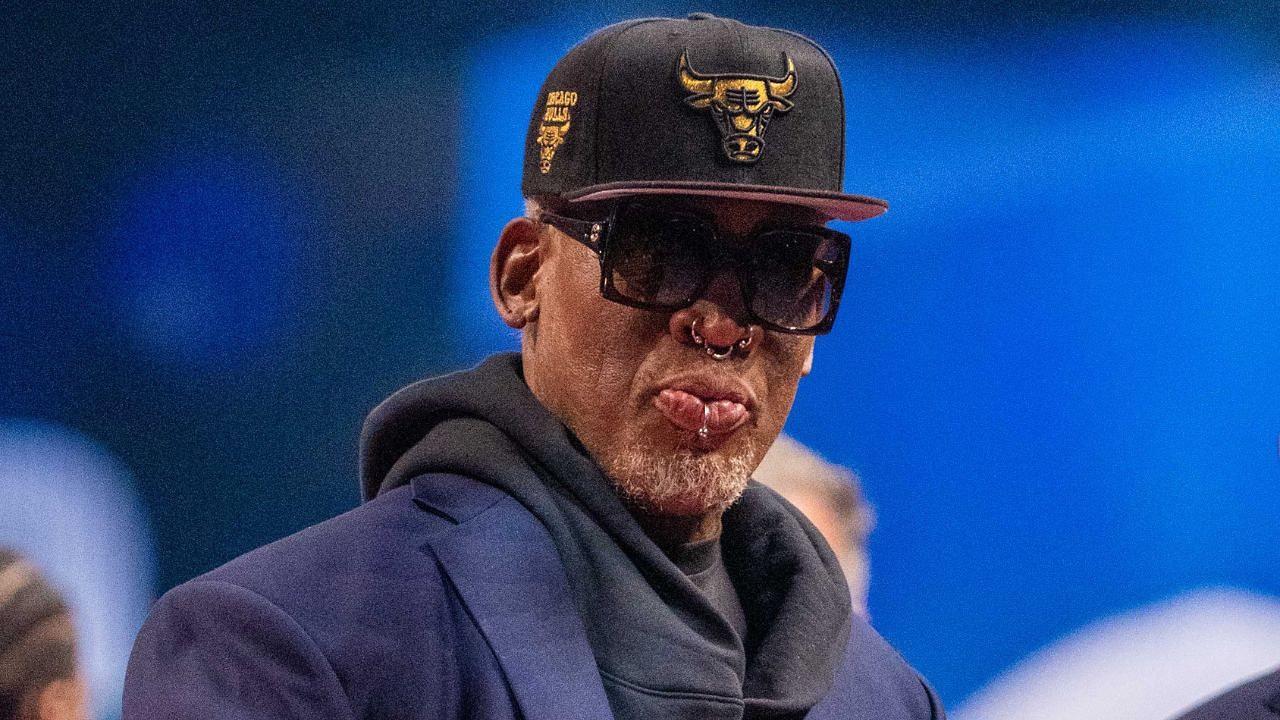 basketball
Having Won 3x Championships for Chicago, Dennis Rodman Gets Emotional Upon Returning After 13 Years: "Thank God They Love Someone Who Worked Their A*s Off"
After 13 years, Dennis Rodman returned to the city of Chicago. Having spent four seasons with the Chicago Bulls, The Worm found himself back in the Windy City, where he attended the AEW Collison show. Taking place at the United Center, Rodman got emotional as he stood backstage in the stadium where he had helped the Bulls win three NBA Championships. Overcome by his emotions, he praised the city and its people and spoke about how much he loved them.
Rodman joined the Bulls in 1995. Joining the team after an unsuccessful spell in San Antonio, he had a tumultuous history with the team. After all, he was a part of the notorious Bad Boy Detroit Pistons, who had a heated rivalry with the Bulls.
Nevertheless, his time with the team was fruitful, as he helped the franchise to their second three-peat. He finally left the Bulls in 1999, but not before promoting a WCW wrestling PPV in Game 6 of the 1998 NBA Finals. And returning to the same place has surely brought emotions flooding for the player.
Dennis Rodman emotionally thanks the city of Chicago for loving him so much
Dennis Rodman found his most success as an NBA superstar in Chicago, winning three of his five NBA Championships. So, returning to the city after 13 years away, Rodman, who was sporting a 90's Bulls jersey, was understandably emotional.
Speaking to All Elite Wrestling's Jeff Jarrett, The Worm recalled his good old days in Chi-Town. In the midst of it all, he began choking up. He expressed just how emotional it was for him to be back at the United Center. The place where he had many victories with Michael Jordan and Scottie Pippen. But, most importantly, how emotional it was for him to be back in the city that embraced him and loved him.
He revealed just how much love and respect he has for the people of Chicago. Given how hard he worked while there, he thanked the city for loving him and supporting him. It was a touching moment that ended with Rodman hoping the city would continue to care for him just as much he does for them.
"I get so emotional because they love me so much. And uh…I can't speak! 13 years I've been here and guess what there's so much love here and I respect these people so much. Thank God they loved someone that worked their a** off. And, I hope the city of Chicago will love me as much as I love them!"
Loading embed tweet https://twitter.com/chicagobulls/status/1698173859625611428?ref_src=twsrc%5Etfw
The city of Chicago will always have a special place in Rodman's heart. The memories he created there alongside Jordan and the rest of the Bulls, are not just his, but the entire city's. It was great to see him return there and appreciate all that he accomplished during his four-year run with the Bulls.
And, as he wishes, he surely will never be forgotten and will always feel loved whenever he is in The Windy City. However, with his latest appearance, speculations are already rising. Is Rodma returning to the Wrestling arena?
Rodman might be making a return to the world of professional wrestling
In the late 1990s, Dennis Rodman showed an avid interest in the world of pro wrestling. Appearing on an episode of WCW, The Worm joined the New World Order (nWo). Working alongside the likes of Hulk Hogan, Kevin Nash, and Scott Hall, Rodman enjoyed his time in the squad.
Now, he might be preparing to make a return to the ring. He recently made his way to AEW Collision, where he made a memorable appearance alongside Jeff Jarrett. And, if rumors are to be believed, ideas are being thrown around to have him involved in a storyline for one of the upcoming pay-per-views.
Loading embed tweet https://twitter.com/AEW/status/1698140426736161274?ref_src=twsrc%5Etfw
It certainly would be interesting to see The Worm dawn some wrestling gear and take on some opponents. However, all of this remains speculation.