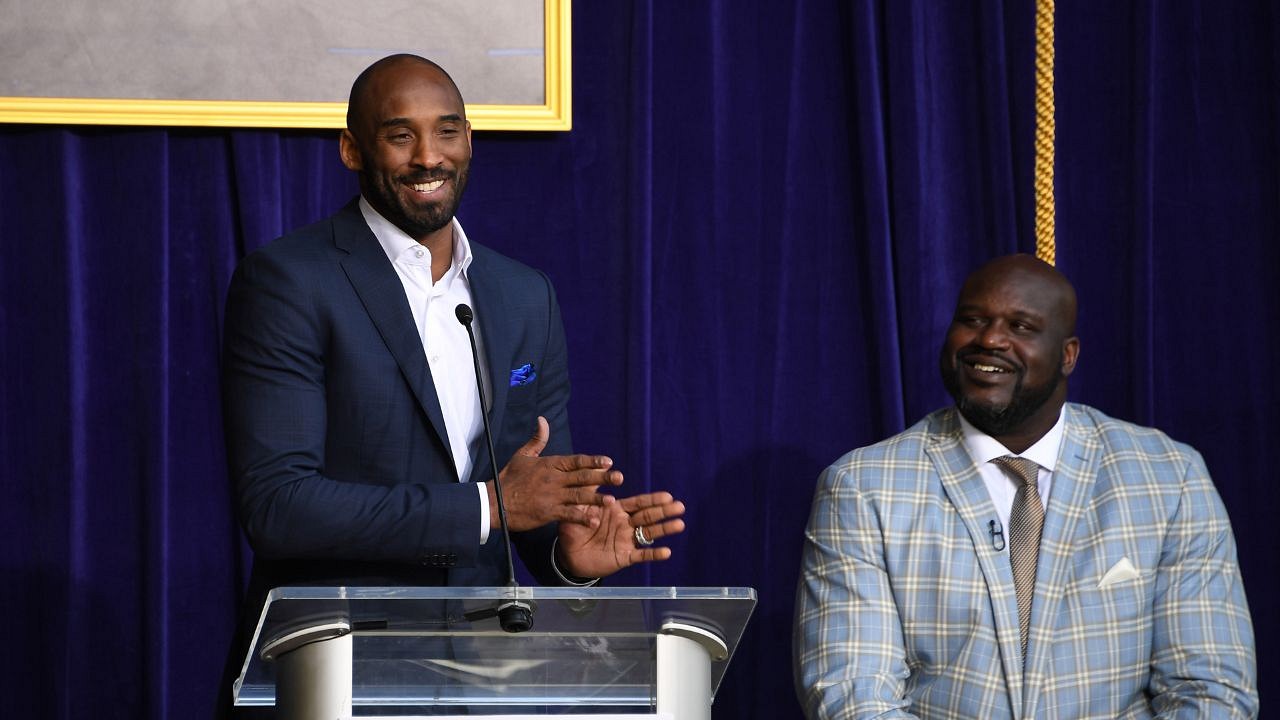 basketball
Hesitant to Join Forces With Shaquille O'Neal and Charles Barkley, Kobe Bryant's '60 Percent' Revenue Ultimatum Hilariously Worried Ernie
The Lakers legend Kobe Bryant retired in 2016. And, Earnie Johnson had an opportunity to have a kind of exit interview with Kobe Bryant where he discussed his championships, the best players he was on the floor with, and whether there were any chances of Kobe reconsidering his retirement decisions. One of the questions Earnie asked Kobe was about his post-retirement plans and whether he intends to come and do NBA Analysis like Shaquille O'Neal and Charles Barkley. Kobe even hilariously agreed to Earnie's offer but laid down a stipulation, which hilariously frightened Earnie.
Kobe was obsessed with basketball; Earnie even asked if he would reconsider his playing decision. To which Kobe replied,
" You cant make this decision based off something is changing, this is something that's internal. Do you want to do this or not and if the answer is no then that passion is no longer there the way it used to be"
Kobe completely squashed his chances of returning to the court for another season.
Is Kobe the TV Guy? The answer is no!
Kobe was one of the best players in the league, and most of the  NBA legends intend to turn to TV to be an analyst or find ways to stick around the league.
Earnie asked Kobe, "Are you (Kobe) a TV Guy?" to which Kobe replied, "I just do not have the patience to do TV." Earnie also proposed that Kobe be on the same show as his long-time teammate Shaq and NBA Hall of Famer Charles Barkley, if he intends to join a TV show with the NBA. He answered,
Looking at Charles, you are looking at a transition of a player from an athlete to post and he's certainly a blueprint. He (Charles) found what he loves to do which he is great at and he loves doing and there you are"
Kobe stated that he intends to do what he loves after his retirement. He said that Shaq and Chuck have found their passion, and plan to follow.
However, he did not rule out a chance of him being on TV when Earnie mentioned that if, by chance, it does intrigue Kobe to appear on TV full-time. Kobe slyly said, "Can we just get an agreement here today and we'll shake on it" "I (Kobe) will do 60% revenue split on the show. Hearing this, Earnie hilariously got worried and laughed at the conversation. However, it was evident that the Black Mamba was quite content with everything around him.
Kobe was at peace: Stephen A. Smith
Stephen A. Smith mentioned his experience of the last time he met Kobe on an episode of the Full Send podcast. Smith did not know this could be his final meet with the Lakers legend. He mentioned one of the unforgettable moments of his career when he noticed that Kobe was pleased. Kobe was different. "I'd never seen him that happy," said Smith, reflecting on that moment.
Stephen A. Smith on an unforgettable moment in his career:
"Kobe Bryant & I saw each other 3 weeks before he died… We were at a party… We kept hugging each other for like 15 min… What I remember about that night is I had never seen him that happy ever in all the years that I… pic.twitter.com/HjlEprAx11
— Legion Hoops (@LegionHoops) February 13, 2023
"For the first time in my life, I'm at peace" is what Kobe said to Smith. He said that he no longer had that itch to go out and play. Now, he could enjoy basketball without it affecting him too much.
The post Hesitant to Join Forces With Shaquille O'Neal and Charles Barkley, Kobe Bryant's '60 Percent' Revenue Ultimatum Hilariously Worried Ernie appeared first on The SportsRush.