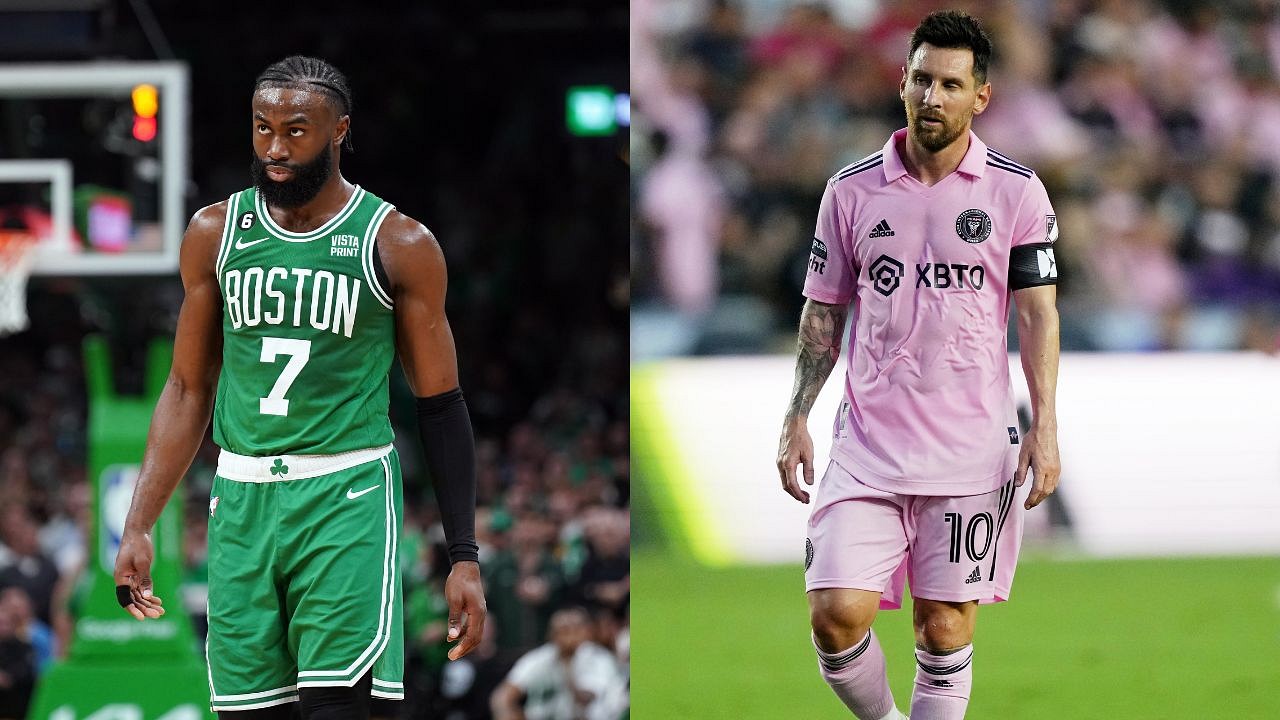 basketball
Highest Among All Leagues, Jaylen Brown's $60,700,000 Purse Manages to Surpass 'GOAT' Lionel Messi
Jaylen Brown's $304,000,000 million contract with the Boston Celtics has made history by becoming the highest-paid deal across all major US Sports Leagues. The 27-year-old Brown will be earning an average annual salary of $60,700,000 over the next four years. This comprehensively surpasses some of the most notable contracts offered in the US. This includes Lionel Messi after his recent deal with Inter Miami, which sees him take home around $50-60 million per year.
Brown's contract will see him earn more than $52 million in the first year of the deal. This sum will increase on a yearly basis and he will earn more than $59 million in 2028-29. Brown's salary is the highest contract on financial terms ever offered in the NBA.
Jaylen Brown's Contract Extension Sees Him Earn More Than Lionel Messi
Lionel Messi's contract was not just the biggest offered in the US, but also one of the most lucrative ones in entire football. However, Brown's annual salary under the new deal is set to surpass the football GOAT's earnings.
The NHL's Nathan Mackinnon's $12.7 million contract is the 5th highest offered in the US, trailing the MLB's Justin Verlander and Max Scherzer, who both earn $43.3 million every year. The top-3 include the NFL's Justin Herbert. While the exact figure that Messi will earn is not certain due to the nature of his contract, he is expected to rake in between $50-60 million.
View this post on Instagram
This means that Brown will not only be the highest earned in the NBA once his contract extension kicks in. He will also be the highest-earning athlete in the US and will be especially proud of surpassing the Argentinian football legend.
Argentinian GOAT Is Still in Another Stratosphere When It Comes to Earnings
While Brown will be earning a higher salary than Messi, there is no comparison when it comes to overall earnings. Lionel Messi has a plethora of endorsements and a lifetime deal with global giants Adidas.
He has a net worth of $1.15 billion compared to Brown, who is still estimated to be worth around $10 million, according to Media Referee. Lionel Messi is a truly global phenomenon and is expected to earn upwards of $5 million for every social media post alone.
The Argentinian has solidified his claim as the best footballer of all time after winning the World Cup in Qatar last year. According to Forbes, Messi had the highest athlete earnings in the past year, earmarked at around $130 million.
The post Highest Among All Leagues, Jaylen Brown's $60,700,000 Purse Manages to Surpass 'GOAT' Lionel Messi appeared first on The SportsRush.