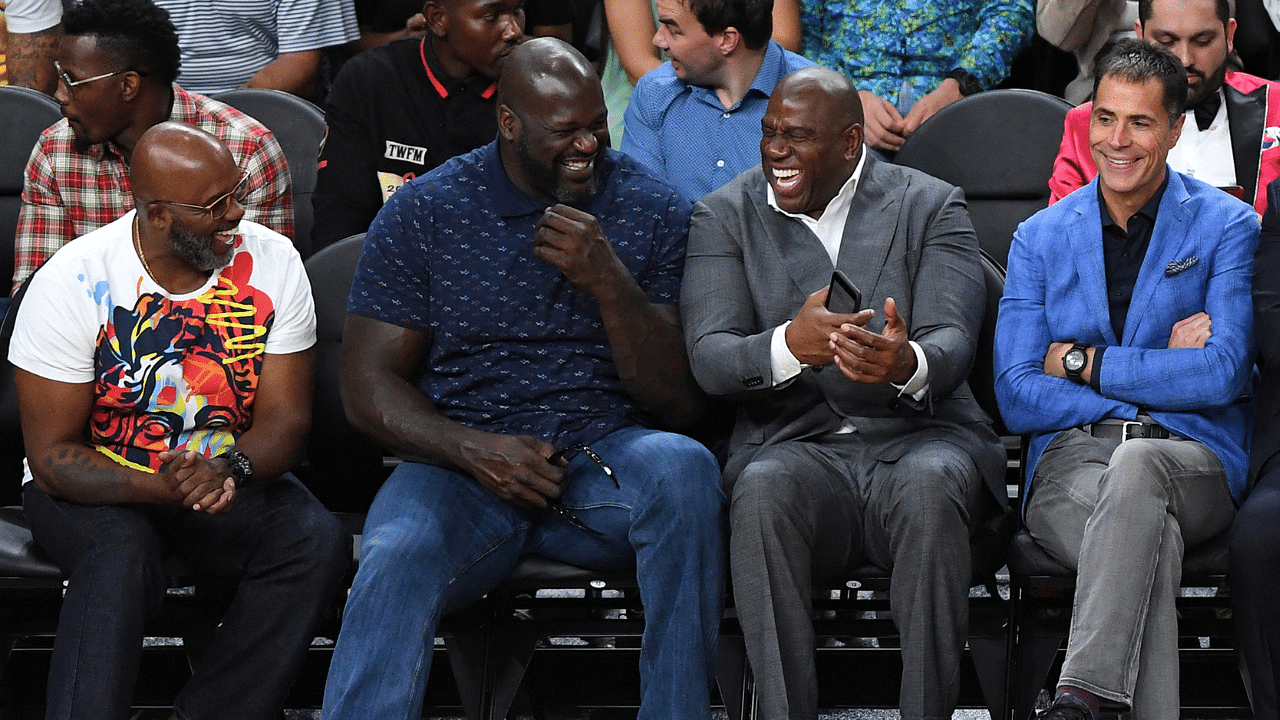 basketball
"Highest Number of Black Owners": 'After $6.05 Billion Deal,' Shaquille O'Neal Tips His Hat to Magic Johnson For Joining Coveted List
Even decades after his retirement, Magic Johnson keeps impacting the sporting world in some way or the other. The Los Angeles Lakers legend, who has already had ownership stakes in several MLB and WNBA teams, just became a member of the new ownership of the NFL's Washington Commanders. Leading a group alongside Josh Harris, the purchase was approved for $6.05 billion. Shaquille O'Neal, who has been one of the more recognized Black businessmen, congratulated Magic. Additionally, as one of his recent Instagram stories, Shaq posted a @diverserepresentation graphic of Washington D.C. having the largest number of Black owners of sports teams – one of them now being Earvin.
Trying to take a page out of Magic Johnson's book, Shaquille O'Neal became the partial owner of the Sacramento Kings in 2013. Then, after eight years of partnership with Vivek Ranadive, the Big Aristotle sold his share in the NBA franchise.
Shaquille O'Neal highlights Washington D.C having the highest number of Black owners in professional sports
Magic Johnson‌ is one of the wiser players in NBA history. Johnson earned approximately $40 million from his NBA contracts and has a net worth of $620 million. Over the past several years, the Los Angeles icon has made some great investments.
Being part of the new ownership team of the NFL's Washington Commanders is his recent most business venture.
As seen in NewsMan's tweet, Shaq shared a graphic that highlighted Washington D.C. to have the highest number of Black owners.
Furthermore, with Johnson recently joining the list, the city has five Black owners – Yo Gotti (DC United), Mark Ingram II (DC United), Sheila Johnson, (Washington Wizards, Mystics, Capitals), and Paxton Baker (Washington Nationals).
Loading embed tweet https://twitter.com/WhenInDoubt4242/status/1685728753408688134?ref_src=twsrc%5Etfw
The NFL just got their fourth Black team owner with the recent deal. Additionally, thanks to Johnson's move, there is much more diversity among the league's team owners.
Other professional sports franchises that Magic Johnson owns
Magic Johnson has owned numerous movie theatres, restaurants, and fitness clubs, among other businesses that have allowed him to gather a staggering $620 million net worth. Furthermore, this insane amount has allowed the Hall-Of-Famer to be connected with his love for sports.
Before his latest indulgence in the NFL, Johnson owned several franchises of other sporting leagues. Additionally, the NBA legend had ownership stakes in the MLB teams Los Angeles Dodgers, Dayton Dragons, and the WNBA team Los Angeles Sparks.