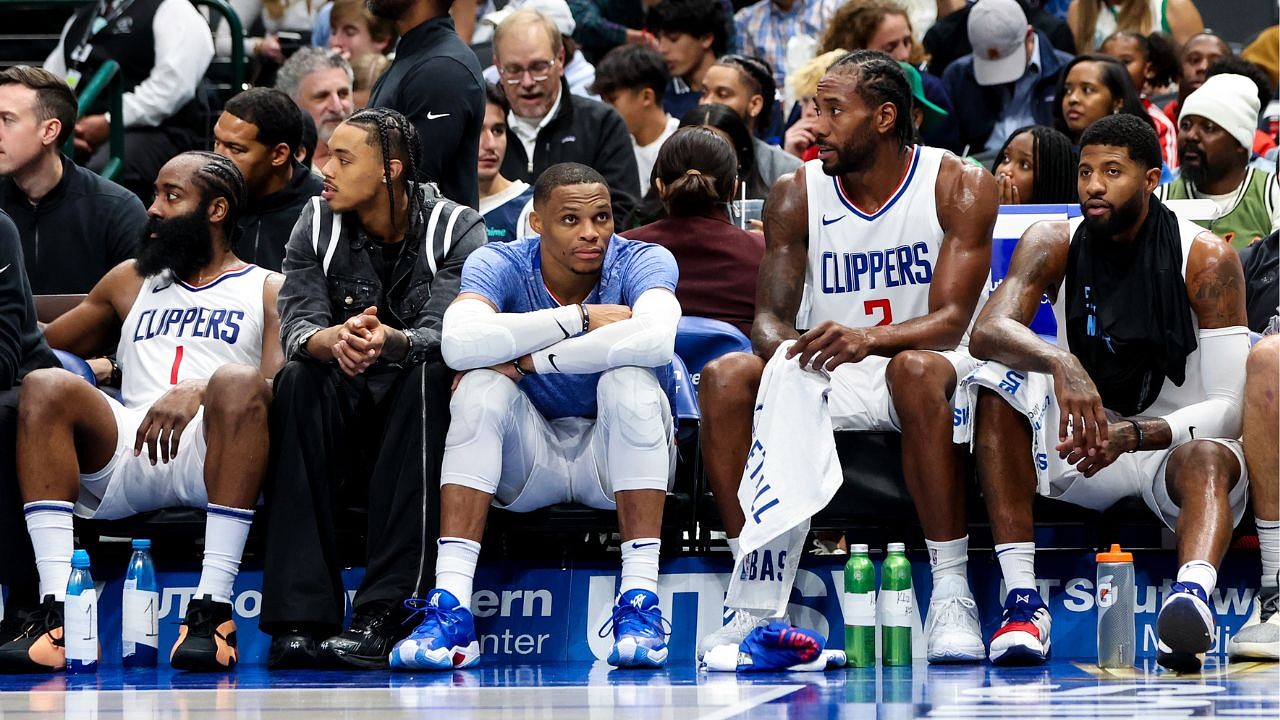 basketball
"I Don't Want To Talk About That": Kawhi Leonard, Amidst 0-4 Start To The James Harden-Clippers Era', Refuses To Speak On His Exchange With Ivica Zubac
Kawhi Leonard and the Los Angeles Clippers have been spiraling downwards ever since they pulled the plug on the James Harden trade. Their most recent loss came at the hands of the Memphis Grizzlies who are missing nearly half of their team due to injuries or suspensions. While the Grizz picked up just their second win of the season, the Clips are now 0-4 in the Harden era of their team. In the midst of it all, Kawhi is reportedly feeling a bit disgruntled with the way the team is operating.
Leonard, who is now in his 5th year with the team, seemed to have gotten a bit upset with Ivica Zubac late in the 3rd quarter as they were pointing to spots on the floor and discussing something in a fairly aggressive manner.
When asked about it, Kawhi responded by saying, "I don't want to talk about that."
Loading embed tweet https://twitter.com/joeylinn_/status/1723847112713249114?ref_src=twsrc%5Etfw
Desmond Bane led the charge for the Grizzlies tonight as he dropped 27 points on 42% shooting from the field. Paul George finally had a PG13-esque game as he had himself 26 on 16 shots while Kawhi still hasn't found his rhythm, going 6-16 for 14 points. Both Harden and Russ combined for 23 points on 25 shots and have not found a way to work with one another on NBA hardwood.
How are the Sixers ever since James Harden got traded?
While the Los Angeles Clippers have been struggling mightily to incorporate James Harden into their fold, the Philadelphia 76ers have been steamrolling their competition. Tyrese Maxey dropped a career-high 50 points in tonight's game against the Indiana Pacers with reigning MVP, Joel Embiid, contributing with 37 of his own.
Ever since the Harden trade, the Sixers have gone undefeated and haven't lost a game since their season-opening loss to the Milwaukee Bucks. It's clear that handing the reins to Maxey and Embiid with Harris playing a formidable role as a 3rd option is working out quite well for Philly.
The Clippers on the other hand, have quite a lot to deal with. The most important task for Tyronn Lue will be to try to find out which players play with each other. Prior to the Clips-Grizz game, he claimed he wanted to stagger Harden and Russ's minutes and while that was employed tonight, the Clips still fell short against one of the worst teams in the league.
Loading embed tweet https://twitter.com/joeylinn_/status/1723857763900473676?ref_src=twsrc%5Etfw