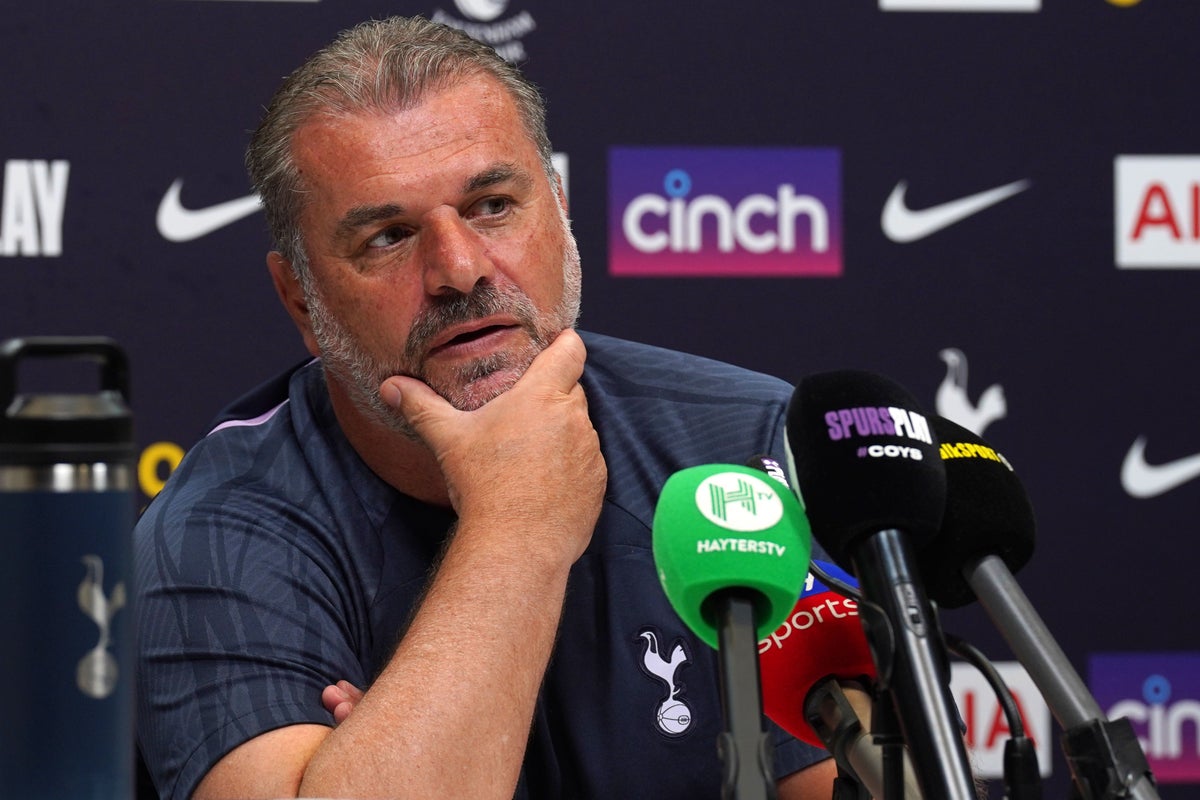 Football
I'll lay out vision for success at Tottenham on meeting Harry Kane – Postecoglou
Sign up to Miguel Delaney's Reading the Game newsletter sent straight to your inbox for free
Sign up to Miguel's Delaney's free weekly newsletter
Mile Jedinak was the winner. The new-look Tottenham Hostpur backroom staff had wondered which question to Ange Postecoglou at his unveiling would first raise the issue of Harry Kane's future. The answer was the third one: sooner than Postecoglou had expected, but exactly what former Crystal Palace captain Jedinak had predicted.
Because Kane's future dominates not just the debate, but the context of Postecoglou's first summer and debut season in N17. "What's important in the long term goes beyond individuals," the Australian tried to argue. "It's more about the overriding philosophy."
In the broader picture, he is right: Tottenham require a reboot as well as a rebuild. After the ill-fated dalliances with Jose Mourinho and Antonio Conte, the flawed thinking that managers who were a byword for success elsewhere would bring silverware to Spurs, Tottenham require an end to the emptiness and unhappiness. "The reason I am here is the club is seeking change, in direction and the way we do things, and that usually involves personnel," Postecoglou reflected. "There will be some players who won't be here and others who will come in."
Ange Postecoglou is ready to convice Harry Kane to stay
(PA)
But gazes will be directed at the exit to see if one particular footballer goes. "I don't think it is my role to sit there and treat people in a manner because of their circumstances," Postecoglou said. "I'm really big on treating everyone the same." Which is admirable in principle but harder to maintain in practice: not here and now, anyway.
The ethos matters but Kane's status is such that one individual assumes a disproportionate significance. He feels bigger than Spurs now. Kane is yet to turn 30 and has 280 goals for Tottenham; that the previous club record belonged to Jimmy Greaves shows how prestigious it is. That Bayern Munich are bidding for him is one of many signs of the stature of England's record scorer and the 2018 World Cup Golden Boot winner. And he is at a club whose last trophy came in 2008 and who, despite his 30 goals, only finished eighth last season. The juxtaposition of Kane and Spurs has never been greater.
"He has already entrenched himself in the history of the football club," Postecoglou said. "He is one of the premier strikers in the world and I want him involved here. My conversation with him will be about how we make this club successful and I have no doubt that's what he wants as well."
Harry Kane faces tough decision about his Spurs future this summer
(PA Wire)
Whether Kane wants that enough to stay is a different matter; if Postecoglou could convince a player who could have a lucrative free transfer and his choice of clubs next summer to sign a new contract it would be a major triumph of his persuasive powers. For Kane, the equation could be different in 2024 and it is no secret his high-profile admirers include Carlo Ancelotti, Pep Guardiola, Erik ten Hag and Mauricio Pochettino.
"What I want is to introduce myself to Harry and give him my vision of the football club," the former Celtic manager said. And if that does not work, Daniel Levy's obduracy may ensure Kane spends another year in north London but could cost Tottenham a fortune if they spurn Bayern's offers now and get nothing in 2024.
Whether Kane stays for this season will help define Postecoglou's immediate task but the 57-year-old does not know what will happen. "I haven't had any assurances and I wouldn't expect any assurances," Postecoglou said. It is a pragmatic position but also an illustration that everything is up in the air.
"What our squad is going to look like may take a little while until we have clarity," said Levy's fourth manager since March, caretakers included. That lack of clarity poses problems. Any realistic replacement for Kane would be a sizeable downgrade. As it is, an overhaul is already underway, with James Maddison an auspicious signing, Dejan Kulusevski's loan turned into a permanent deal, goalkeeper Guglielmo Vicario arriving and a move for winger Manor Soloman close, with a possible defensive addition, whether Micky van de Ven, Edmond Tapsoba, Clement Lenglet or someone else.
James Maddison's signing is a part of Spurs' rebuild
(PA Wire)
"Every position I have had has needed a certain amount of rebuild," Postecoglou reflected; Tottenham more than most, after arguably their worst season since 2004-05. And that was with Kane in stunning form. He scored in 26 league games last season; those goals were worth 24 points. Take Kane out and there would be the sense of starting from scratch, needing to recalibrate the attack, midfield and defence, as well as potentially having a new goalkeeper. There will probably be a new formation, after Conte's 3-4-3 straitjacket, and probably a different brand of football. "I want my teams to play a certain way," Postecoglou said.
He has a bloated squad and, in some cases, it looks like a case of quantity, not quality. He inherits many of his predecessors' failed signings, with the battalion of loanees all back.
The problems of Tottenham's past have compounded the importance of Kane. They are a team who only got one more point than Brentford last season, despite the potency of one of the world's best strikers. And for now, Ange Postecoglou is waiting to discover if he will keep him.