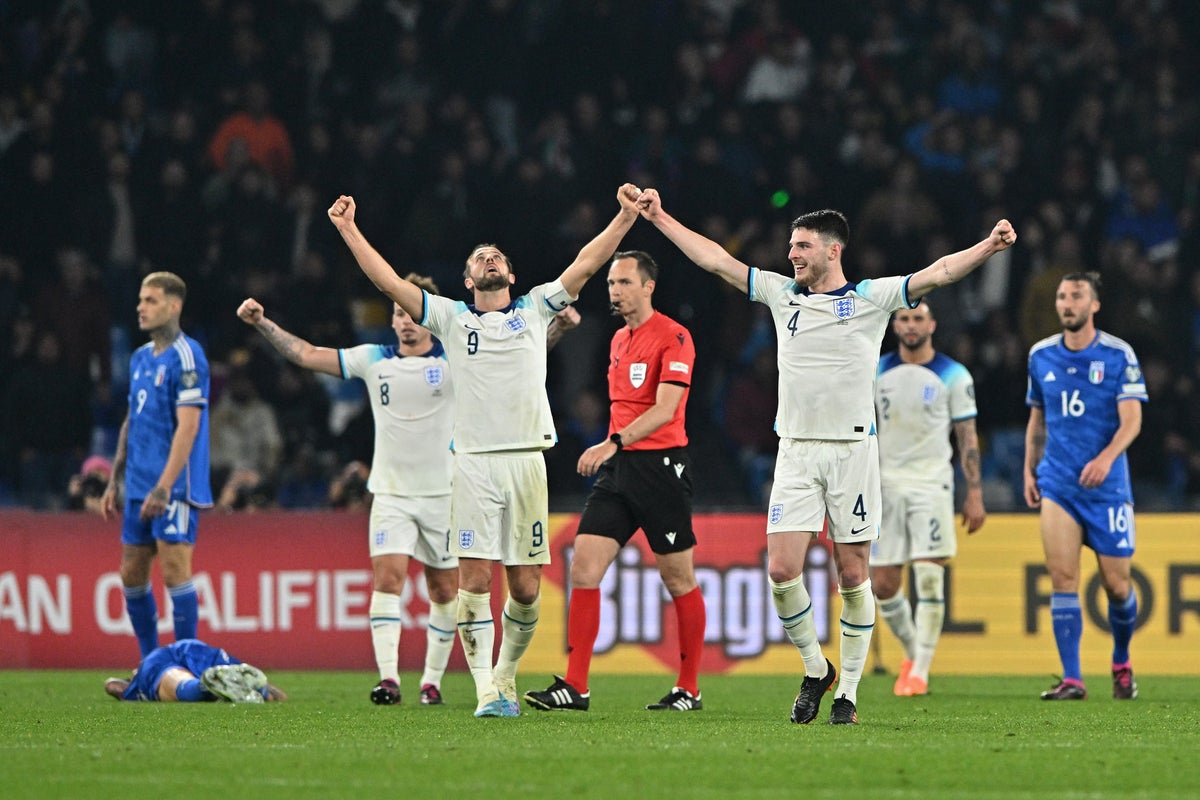 Football
Italy vs England LIVE: Result, final score and reaction as Three Lions triumph in Naples
Saka mocked by England teammates for FaceTiming Kim Kardashian
Sign up to Miguel Delaney's Reading the Game newsletter sent straight to your inbox for free
Sign up to Miguel's Delaney's free weekly newsletter
England triumphed in Italy for the first time in 60 years as they defeated Italy in the opening match of the Euro 2024 quailfiers.
A few nervous opening minutes looked likely to set the tone for England as Italy attempted to assert some dominance on the game. Gareth Southgate's men changed the momentum though through the opening goal just after the quarter-hour mark with Declan Rice turning home a rebound Harry Kane shot.
From there England controlled the first half and made some history when Harry Kane converted from the spot to move ahead of Wayne Rooney as England's all-time leading goalscorer.
The second half was a contrasting affair. Italy came out with aplomb and England were forced deep into their own half. The hosts created chance after chance with Roberto Mancini utilising the fresh legs of his substitutes. Mateo Retegui then netted on his Italy debut to bring the hosts back into the match.
Two yellows cards inside a minute for Luke Shaw saw the England left-back sent off with over 10 minutes to go but despite the increased pressure the Three Lions held onto their lead and claimed a famous victory over the European champions.
Relive all the action as Italy host England in a Euro 2024 qualifier:
Italy vs England
Show latest update
1679609475
Why England's resilient win in Italy was so significant
A night of historic landmarks in Naples, if also one that quickly went from the easiest of important victories to an immensely difficult test of character.
Harry Kane became England's record scorer with his 54th international goal, to ensure the national team won in Italy for the first time since 1961, and also claimed their first qualifying win away to a major nation since Germany in 2001.
Any fanciful ideas that this 2-1 would instead be another 5-1 from the first half instead swiftly dissipated, as Italy belatedly displayed why they had the momentum to become defending champions themselves.
After a period when England had showcased all of their best strengths – especially through the brilliance of Jude Bellingham – Italy began to exploit weaknesses, especially at centre-half. Gareth Southgate's side instead had to find different qualities, but that what was made it a statement for Euro 2024 in itself. Make no mistake, even if England inevitably made a few themselves. This was a seriously good win, as much because of how troubling the second half became.
They all looked relieved at the end, as Italy seemed so deflated.
Michael Jones23 March 2023 22:11
1679610195
Harry Kane's best England stats
Harry Kane has scored in 18 of his last 19 qualifying appearances for major tournaments (World Cup/Euros).
He's also England's all-time leading scorer in European Championship qualifying matches (16 goals). He scored five goals in his first 11 England appearances and reached 10 goals in his 20th appearance.
Kane has scored twice as many goals in matches started as captain as any other player in England's history, netting 46 goals in 56.
Michael Jones23 March 2023 22:23
1679610000
Harry Kane's best England stats
Harry Kane's most prolific year for England was in 2021, when he scored 16 goals in 16 appearances. That was the most goals ever scored by a Three Lions player in a calendar year.
He has netted 49 goals in 64 appearances under Gareth Southgate, the most by a player under a single manager in England's history.
Only Jimmy Greaves (six) has scored more than the five hat-tricks Kane has netted for England. Kane has also scored more penalties than any other player in England's history, netting 18 times from the spot.
Michael Jones23 March 2023 22:20
1679609640
Harry Kane's five most crucial England goals
Harry Kane became England's all-time leading goalscorer when he scored a penalty against Italy in Thursday night's Euro 2024 qualifier against Italy.
Here are five of Kane's most crucial international strikes after he usurped Wayne Rooney to take the crown:
Michael Jones23 March 2023 22:14
1679609295
FT Italy 1-2 England
Gareth Southgate is the third England manager to win 50 games after Sir Alf Ramsey and Walter Winterbottom.
(REUTERS)
Michael Jones23 March 2023 22:08
1679609115
Harry Kane underscores his greatness in the face of constant whataboutery
Deep breath, a couple of steps on the spot, a short run-up and a sidefoot. And there it was: history for Harry Kane. Some 1271 men have played for the senior England team and the other 1270 have scored fewer goals than him. At a ground named after one of the greatest footballers, the Stadio Diego Armando Maradona, Kane demonstrated some of the reasons why he has become a great goalscorer.
A penalty was not just a penalty. It was an opportunity to relive the most traumatic moment of his career. A previous Tottenham favourite, Chris Waddle, never wanted to take spot kicks again after ballooning one in a World Cup, with costly consequences. Kane could have got the England record 103 days earlier except that, after drawing level with Wayne Rooney, he contrived to sky a second penalty. He has admitted it is likely to live with him for as long as he is around.
But there is a steel behind a seemingly guileless façade. Kane can seem uncomplicated, and maybe he is: penalties offer opportunities for more goals, so Kane takes them. Normally very well, too. And so, when Giovanni di Lorenzo was deemed to have handled, up he stepped. Gianluigi Donnarumma guessed wrong. Kane struck the side-netting. Fifty-four: it doesn't seem an iconic number, because Wayne Rooney's record of 53 only stood for a few years, because, for the best part of half a century, the target was Bobby Charlton's 49. It probably won't be an iconic number, either, because Kane is likely to set a rather higher target for his successors.
Michael Jones23 March 2023 22:05
1679608935
FT Italy 1-2 England
Kane on Wayne Rooney paying tribute to him: "Big thanks. I was on the pitch when Wayne broke the record. I know what it meant to him and I was so proud of him.
"I remember when I gave him the boot for breaking the record he said he would be giving it back to me one day. A special man."
Michael Jones23 March 2023 22:02
1679608755
FT Italy 1-2 England
Reaction from England's all-time leading goalscorer, Harry Kane: "It means everything. I was so excited to put the England shirt on and get back out here and get the campaign started for next year's Euros.
"It had to be a penalty and once it hit the back fo the net huge emotion. A magical moment.
"Pretty used to that now because a lot of penalties VAR check it. I just do what I do, I work hard in training, picked my spot and put it away.
"Just a great night, we haven't won in Italy for so long. To score and win, so special.
The World Cup was a difficult way to end but we spoke this week about getting back to it. We are one of the best teams in Europe. Getting this win shows we are ready for the challenge."
Michael Jones23 March 2023 21:59
1679608575
FT Italy 1-2 England
Harry Kane has the England men's record for:
Goals in a single year (16 in 2021)
Goals in major tournaments (12)
Michael Jones23 March 2023 21:56
1679608434
FT Italy 1-2 England
Mateo Retegui, who plays for Tigre in Argentina, is the only player in the history of Italy's men's team to score his first goal for the nation while playing his club football outside of Europe.
Michael Jones23 March 2023 21:53