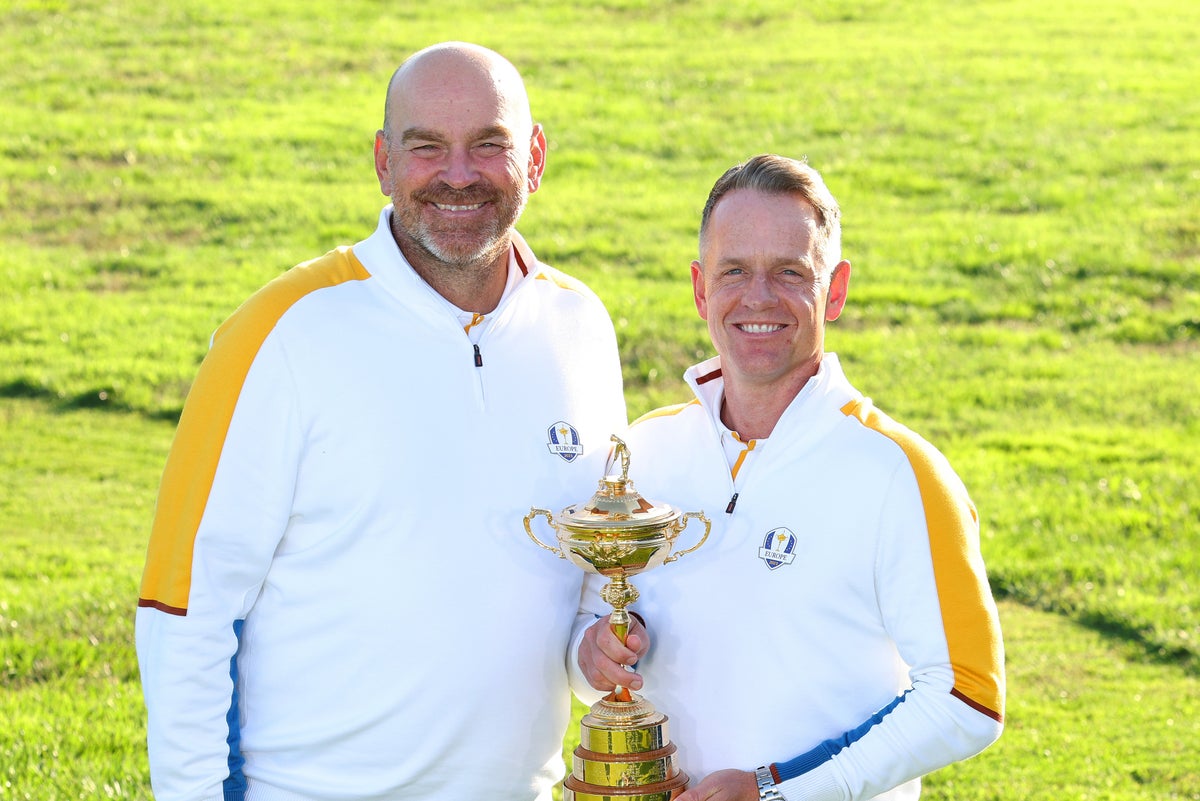 Golf
'It's like a house of cards': Ryder Cup-winning captain Thomas Bjorn reveals the blueprint for success
Sign up to our free sport newsletter for all the latest news on everything from cycling to boxing
Sign up to our free sport email for all the latest news
It was Friday at Le Golf National in 2018, in the fourth match of the morning foursomes, when some blue finally made it onto the board. The cult of "Moliwood" – Francesco Molinari and Tommy Fleetwood's formidable partnership – had only just begun and would eventually yield a staggering, flawless 4-0 record. Yet Europe, after one session, were 3-1 down to the Americans.
Captain Thomas Bjorn's icy demeanor endured, however, unflustered despite the deficit and committed to 20 months of meticulous Ryder Cup preparation.
The stage is set in Rome to once again show why the Ryder Cup is one of the most emotional sporting spectacles, conducive to irrationally tearing up the script. Yet Bjorn built immense trust among his European players, and their support teams, creating a genuine fortress in Paris and the foundation for a 4-0 sweep on Friday afternoon in what would eventually become a staggering 17.5-10.5 victory.
"Nothing happened between the sessions on day one," Bjorn tells The Independent. "I made a clear plan on Wednesday evening for Friday and I told every player what they were doing all day, morning and afternoon. What the matches and pairings would look like. What the players not playing both sessions should do, to practice on Thursday and be prepared.
"There was no panic, all our inspirational talks were done on Thursday. We kept it calm, we knew we would have extremely strong foursomes. We had a very strong foursomes team and believed our knowledge of the course would be a big advantage. There was a lot to come. We let it flow. We weren't happy about being 3-1 down, but I always say, if you're arrogant enough to believe you won't lose a session against strong opponents, you probably shouldn't be doing the job… it's arrogance to another level. They then went out and overperformed on Friday afternoon in arguably one of the best sessions ever played in the Ryder Cup. You're extremely proud of what happens in front of you, but the calmness on Wednesday and Thursday made it all possible."
Bjorn, a vice-captain at Marco Simone this week, is supporting this year's skipper Luke Donald and the task of finding the right combinations again after Team USA reclaimed the cup two years ago at Whistling Straits. Europe leaned into analytics five years ago in pursuit of the ultimate blueprint for team golf, and vice-captain Edoardo Molinari, who crunches the numbers behind Matt Fitzpatrick and Tyrrell Hatton's recent success, is poised to help harness the data behind this year's team. But Bjorn is adamant there are many aspects to success on the course.
Captain Thomas Bjorn celebrates winning the Ryder Cup with Europe in 2018
(Getty)
"It's a bit of both [data and personal relationships], statistics can put two players in a match but if they don't get on, it's unlikely that they'll be successful. You have to work with both parts," Bjorn adds. "You have to understand them and have conversations with the teams around them. Figure out what makes them reach 100 per cent of performance and they can give everything and be comfortable.
"As you start putting the team together, it's very difficult, as soon as you move one player from one pairing to another, it's like a house of cards, the whole thing falls down and you almost have to start again. It's a big puzzle to make it all work. A lot say it can't be that difficult; it's two good golfers going out to play together. But it's not like that: there are certain aspects of the golf courses that demand a certain thing. You want good putters to putt a lot, good drivers to drive a lot, it all goes into the thinking. There are so many little aspects. Then the personalities and friendships come into it too."
Bjorn, Denmark's first-ever Ryder Cup player, with heavy-hitting Nicolai Hojgaard poised to become the fourth this week, has never lost a Ryder Cup as a player (1997, 2002, 2014) or captain (2018).
Bjorn hugs Francesco Molinari as he secures the winning point at Le Golf National in 2018
(Getty)
And after getting married last weekend, Bjorn reflects on the key to his success and the legacy behind one of the most memorable European victories in Ryder Cup history.
"We made the Ryder Cup team not just about the 12 players, but everybody involved," Bjorn concludes. "Coaches, families… everybody lived it. It created an unbelievable atmosphere within the team.
"It created an atmosphere for 12 people to grow as individuals. The players live through extreme pressure week in, week out, so to share it with those around them, it was something that worked out very well.
Bjorn shows off the Ryder Cup trophy in 2018
(Getty)
"You cannot underestimate any part, though, the importance of statistics and analytics and understanding them. They all drive you to understand each player and what they're good at and capable of. On a personal level and a performance level. I felt like I understood all of them in every aspect: as human beings and also as high-performing athletes. It allowed me to … put something together to enable them to perform well.
"Was it all the work we did? Or just pure luck? Nobody will ever know, but we created an environment for them to perform well by going to the smallest details."