basketball
Jarred Kelenic and the most bizarre injuries in sports history
Water coolers feel no pain, but athletes sure do. 
Seattle Mariners outfielder Jarred Kelenic found that out the hard way Wednesday after striking out with two runners on base during a 6-3 loss to the Minnesota Twins. He took out his frustrations on a water cooler by kicking it, suffering a fracture in his left foot that will keep him on the injured list for an extended period. 
It's not always anger that leads to freak accidents in sports, sometimes it's joy. That was the case in March when New York Mets closer Edwin Diaz, who oddly enough was acquired in a 2018 trade for Kelenic, suffered a potential season-ending knee injury while celebrating a victory in the World Baseball Classic.   
Here's what happened to Diaz and other athletes who suffered bizarre, and occasionally self-inflicted, injuries. Some were quite painful, others were quite embarrassing and a few just made you wonder why the injured athlete didn't just come up with a better excuse. 
Celebrations gone wrong
Edwin Diaz
The New York Mets closer was coming off an All-Star season when he took the mound for Puerto Rico in the 2023 World Baseball Classic, the ink on the five-year, $102 million contract he signed in the offseason barely dry. Diaz recorded a strikeout to secure a win over the Dominican Republic and then, while jumping up and down on the field with teammates in celebration, tore the patellar tendon in his right knee. He required surgery and has not yet pitched during the 2023 MLB season. 
Kendry Morales
One minute the Los Angeles Angels first baseman is hitting a walk-off grand slam, the next he's being carried off the field with a broken leg. The celebration came to an abrupt end after Morales jumped onto home plate while being mobbed by teammates and broke his lower leg. He'd miss the remainder of the 2010 season and all of the 2011 season. 
Gus Frerotte
The Washington quarterback was not using his head on this touchdown celebration. Well, actually, he was, and that was the problem. After scoring on a one-yard touchdown run in the second quarter of a 1997 game against the Giants, Frerotte celebrated by headbutting a padded wall in the end zone. He had to leave the game with a sprained neck and was taken to the hospital.   
Bill Gramatica
Perhaps the most infamous of celebrations that went wrong. The Arizona Cardinals kicker jumped to celebrate having made a field goal, and when he landed he tore the ACL in his plant leg. Gramatica was a notorious excessive celebrator, but this one came after a rather insignificant first-quarter field goal that gave a 5-7 Cardinals team a 3-0 lead. He'd miss the final three games of the season.   
Cody Bellinger 
The Los Angeles Dodgers star hit a go-ahead home run in Game 7 of the 2020 NLCS and celebrated with a forearm smash with teammate Kike Hernandez that was so ferocious it dislocated Bellinger's shoulder and raised questions about his status for the World Series. Bellinger didn't miss any time and the Dodgers won the World Series, but he required offseason arthroscopic labrum surgery and promised to be a "handshake guy" for the rest of his career. 
Chris Coghlan
It's all fun and games until someone gets hurt. The Marlins outfielder tried to deliver a shaving cream pie to the face of his teammate Wes Helms following his walk-off hit. While doing so, Coghlan landed awkwardly and suffered a torn meniscus in his knee, ending his season. 
Lamarr Houston
The Chicago Bears defensive tackle tore his ACL after sacking New England Patriots quarterback Jimmy Garoppolo. Oh, and the Bears were trailing by 25 at the time with under four minutes remaining. 
Paulo Diogo
Part of the Swiss soccer player's wedding vows should have included, "Thou shall take off my wedding ring before matches." After scoring a goal during a 2004 match, Diogo jumped onto a fence to celebrate with fans. As he jumped off, his wedding ring got stuck in the fence, ripping off part of his finger. Adding insult to injury, he was given a yellow card for delaying the game. Married life can be hard.  
Anger management issues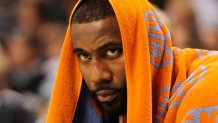 Amare Stoudemire
The New York Knicks forward needed to cool off. Instead, he took out his frustrations by punching a glass case enclosing a fire extinguisher shortly after a loss to the Miami Heat in Game 2 of the 2012 playoffs. Stoudemire suffered lacerations on his hand that required stitches and caused him to miss Game 3 of the series. 
Blake Griffin
Nearing a return from a torn quad in February 2016, the Los Angeles Clippers forward broke his hand after punching the team's assistant equipment manager. Griffin wouldn't be back on the court for two months while recovering from the hand injury and serving a four-game suspension for the incident.   
Geno Smith
The Jets quarterback had his season derailed after being punched by teammate IK Enemkpali in the locker room, suffering a broken jaw. The altercation allegedly stemmed from Smith owing Enemkpali $600 for a plane ticket that went unused. Enemkpali was immediately released.    
The 25-year-old Smith was expected to miss six to 10 weeks after requiring surgery, but he'd lose his starting job and play just one game during the 2015 season, in a relief role to Ryan Fitzpatrick. 
Kevin Brown
The New York Yankees pitchers hit a wall, literally. After the sixth inning of a game where he had only allowed five hits and three earned runs, Brown's outing came to an end after he punched the clubhouse wall and broke his hand (his non-pitching-hand, at least). He missed more than three weeks.  
Enes Kanter
The Oklahoma City Thunder big man had to take a seat after punching a seat. After heading to the bench during a timeout, Kanter suffered a broken forearm while punching down on a chair. He was out for nearly a month.
Milton Bradley
Milton Bradley was ejected from a game many times in his career, but this one resulted in a season-ending injury for the San Diego Padres outfielder. Bradley attempted to confront first-base umpire Mike Winters, who had directed profanities at him. While being restrained by Padres manager Bud Black, Bradley was spun to the ground and suffered a torn ACL that ended his 2007 season. Winters, who the Padres believed baited Bradley, was suspended for the remainder of the season.   
Come up with a better excuse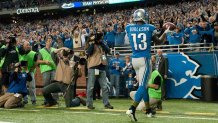 Nate Burleson
It was a heroic effort. The Detroit Lions wide receiver crashed his car into a median and suffered a broken arm after trying to save his pizza from sliding off the passenger seat. He missed seven games. No word on if he was still able to eat the pizza. But when he returned and scored a touchdown, he celebrated by imitating a pizza delivery guy and served the ball to the crowd.
Jeremy Affeldt
The San Francisco Giants pitcher had his season come to an end after a BBQ mishap. Affeldt had surgery to repair nerve damage he sustained while cutting himself as he used a knife to try to separate frozen hamburger patties. 
Lionel Simmons
The Sacramento Kings rookie missed two games after developing tendinitis from playing too much Nintendo Game Boy.
Hunter Pence
The Houston Astros outfielder missed about a week of workouts after walking through a sliding glass door at his apartment during spring training in 2008. The door shattered, causing cuts on Pence's knee and finger. 
Adam Eaton
Getting that tight plastic wrapping off a new DVD can be challenging. Adam Eaton found this out the hard way as the San Diego Padres pitcher attempted to use a knife to open it and instead stabbed himself in the stomach. He required two stitches and missed his start.
Brent Mayne
Everyone is told to look both ways before crossing the street. The Kansas City Royals pitcher was simply following instructions. Unfortunately, he looked a little too quickly while at an intersection, triggering back spasms that landed him on the DL. 
Freak accidents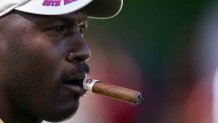 Michael Jordan  
Did MJ severing a tendon in his index finger while using a cigar slicer during a 1998 vacation in the Bahamas lead to the end of the Chicago Bulls dynasty? Jordan's recovery time, combined with a pending lockout-shortened season, may have contributed to his retirement, which in turn may have contributed to the dismantling of a Bulls team that had just won three straight championships. 
Orlando Brown
The Cleveland Browns right tackle went temporarily blind after he was called for a false start and the penalty flag thrown by referee Jeff Triplette went through Brown's facemask and struck him in the eye. Brown missed three seasons before being cleared to return and spending three more seasons in the league. He later sued the NFL and settled for millions. 
Clint Malarchuk
The Buffalo Sabres goaltender suffered a near-fatal injury while in the crease after an opponent's skate struck his neck, cutting his carotid artery, slicing his jugular vein, and leaving a puddle of blood on the ice. Malarchuk was back on the ice 10 days later.   
Tom Glavine
This is one in-flight meal the Hall of Fame pitcher wishes he skipped. Glavine got food poisoning from airplane food and vomited so violently that he broke two ribs and landed on the DL.
Dustin Johnson
If only Dustin Johnson stayed in a one-level home, he might have another green jacket. Johnson was the No. 1 golfer in the world and the favorite to win the 2017 Masters when, on the eve of the tournament, he fell down the stairs at his rental home in Augusta. He attempted to play through a lower back injury but ultimately walked off the first tee and withdrew shortly before his tee time.
Sammy Sosa
This injury was nothing to sneeze at. The Chicago Cubs star had such a violent pregame sneeze that he needed much more than a tissue to recover. Sneezin' Sammy suffered a sprained ligament in his lower back and was out for more than a month.
Clint Barmes
The Colorado Rockies rookie had his career derailed by … deer meat. Barmes was carrying a slab of venison (deer meat) given to him by teammate Todd Helton up the stairs to his apartment. He slipped and broke his collarbone, needing surgery that inserted a titanium plate and nine screws. A .318 hitter before sustaining the injury in June, Barmes would hit higher than .245 just once over the final 10 seasons of his career.   
Wade Boggs
The "Cowboy up!" mantra became popular with the World Series-winning Boston Red Sox in 2004, but it started with Wade Boggs in 1986. The Red Sox third baseman and future Hall of Famer injured himself while putting on cowboy boots and missed several games. 
Marty Cordova
The Baltimore Orioles left fielder apparently wasn't getting enough sun in the outfield, so he went to a tanning salon. There he fell asleep in the tanning booth and suffered burns on his face. The doctor told him to avoid the sun, which led to him being held out of the lineup during the Orioles' day game. 
Glenallen Hill
A nightmare, a spider attack, a sleepwalking accident, a trip to the DL. The Toronto Blue Jays outfielder broke a glass table and suffered injuries to his hands and feet after having an arachnophobia-fueled dream that spiders were after him. He was out for 20 days.
Turk Edwards
The Washington lineman suffered a career-ending injury during a … coin toss. In 1940, after coming to midfield for a pre-game coin toss, Edwards pivoted to return to the bench but his cleat got stuck in the grass and his already-bad knee buckled. He never played again but did return as coach.
Bobby Cruickshank
Instead of winning his first major, Cruickshank got a major headache. Nursing a one-shot lead on the 11th hole during the final round of the 1934 U.S. Open, Cruickshank shanked a shot that somehow struck a rock and ricocheted back onto the green. A relieved Cruickshank tossed his club into the air in celebration as he thanked the heavens. The club dropped onto his head, forming a cut that required stitches. Cruickshank shot five-over par on the final seven holes, taking home third place and a probable concussion. 
Why would you do that?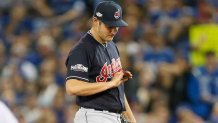 USA TODAY
Trevor Bauer
Note to major league pitchers: don't try to fix drones. And especially don't do it when you're about to start in the American League Championship Series while your team is on a quest for its first World Series championship since 1948. In a truly 21st-century injury, the Cleveland Indians pitcher sliced his pinkie finger while repairing his drone, requiring 10 stitches. Bauer had his Game 2 start pushed back to Game 3, where he'd last just two outs into the first after his stitches opened, turning his hand into a bloody mess. The Indians managed to advance to the World Series, where Bauer would lose both of his starts. 
Chris Hanson
For NFL punters, feet are of particular importance. So, when Hanson, the Jacksonville Jaguars Pro Bowl punter, gashed himself in the foot with an axe in the locker room, it was less than ideal. Yes, you read that right, IN the locker room. Rookie coach Jack Del Rio had placed an axe and stump of oak in the locker room as a "keep choppin' wood" motivational ploy. Players were encouraged to take a swing, and that ultimately led to Hanson accidentally plunging the axe into his lower right leg (luckily his non-kicking leg). He required surgery and missed the remainder of the 2003 season. The axe and stump were removed from the locker room.   
Joba Chamberlain
Another note for major league pitchers, and all athletes who aren't gymnasts: don't use trampolines. The New York Yankees pitcher, while still recovering from Tommy John surgery, suffered an open fracture of his ankle while jumping on a trampoline with his son. He required surgery and missed the first four months of the 2012 season.
Steve Sparks
Kids, long before cell phones and the internet, there were these things called "phone books." They were quite thick because they contained the phone number for pretty much everything. During spring training in 1994, the Milwaukee Brewers pitcher tried to emulate a motivational group by ripping a phone book in half. Instead, he dislocated his shoulder and subsequently was sent to the minor leagues.
Joel Zumaya
This injury was anything but music to the Detroit Tigers' ears. Zumaya, their flamethrowing rookie starter, was unavailable for a bulk of the 2006 ALCS after developing a wrist injury that general manager Dave Dombrowski would later say was caused by the pitcher playing too much of the video game "Guitar Hero." Gamemakers responded by giving Zumaya a credit in "Guitar Hero II," saying "No pitchers were harmed in the making of this game. Except for one. Joel Zumaya." 
Jimmie Johnson
The NASCAR champion suffered a broken wrist, not in a car wreck, but a golf cart accident. Johnson suffered a broken wrist after being thrown from a golf cart while at a celebrity tournament in 2006. It later was revealed that Johnson wasn't actually in the cart when he fell out, but horsing around on top of it when the cart driver hit a berm. The injury was to Johnson's non-shifting hand, but he was unable to drive for weeks.
Aaron Boone
The Yankees third baseman, just months after hitting a walk-off home run in Game 7 of the ALCS over the Red Sox, tore his ACL while playing pickup basketball. That led to Boone being released (and losing $5.75 million after being in breach of contract by playing basketball) and the Yankees trading for Alex Rodriguez. 
Plaxico Burress
Just months after catching the game-winning touchdown in Super Bowl XLII, the New York Giants wide receiver accidentally shot himself in the leg. While in a club in New York City, the gun Burress was carrying in his jeans accidentally fired. Burress was suspended for the remainder of the 2008 season, ruining the chance at a second straight Super Bowl for the then 10-1 Giants. He went to prison for two years for criminal possession of a weapon.  
Antonio Brown
The wide receiver got cold feet during his very brief stint with the Raiders. He didn't wear appropriate footwear while getting therapy in a sub-freezing cryochamber and got frostbite on both of his feet. 
Madison Bumgarner
The Giants ace suffered a sprained shoulder and bruised ribs during a dirt bike accident. He went on the DL for the first time in his career and missed more than three months of the season.
Nolan Ryan
At least the Hall of Fame pitcher was wise enough to use his non-pitching hand when in 1985 he, for some reason, reached into a dog pen containing three coyotes. Still, he got bit on his left hand and missed a start.
Taylor Heinicke
The Minnesota Vikings quarterback went from being locked out of an apartment to being knocked out of the lineup. After returning from the movies, Heinicke and a friend were locked out. So, Heinicke tried kicking through a glass-pane door and severed a tendon in his foot, costing him three months.  
Jason Pierre-Paul
On the Fourth of July in 2015, fireworks exploded in the hand of the New York Giants defensive end, leaving him with a broken thumb, an index finger that would need to be amputated, and a palm that would require several skin grafts. Pierre-Paul would miss the first eight games of the 2015 season, and returned with his right hand wrapped in a padded club.