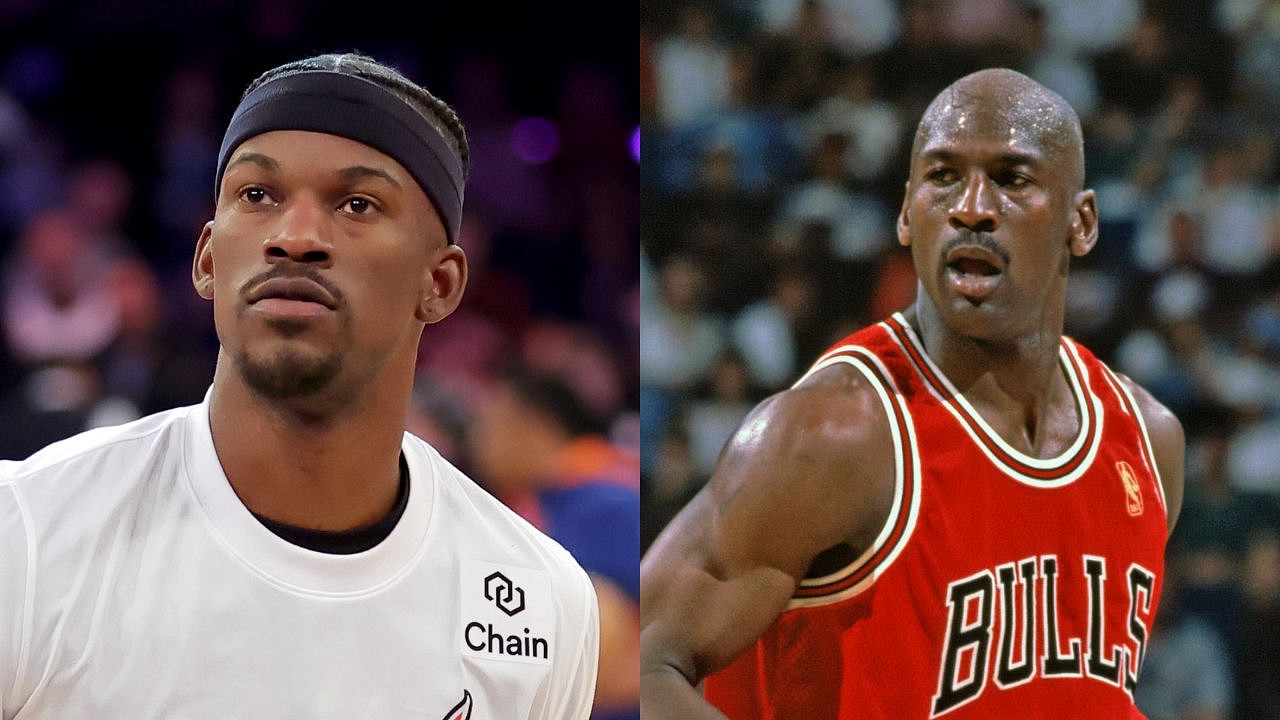 basketball
Jimmy Butler And Michael Jordan Side By Side: Facial Similarities Comparison Between The Two Amid Eerie Atlanta Story
Jimmy Butler and Michael Jordan are going to be linked to one another as long as the former continues to play the way he currently is in the 2023 NBA Playoffs. The notion that Jimmy is MJ's 'long lost son' is absurd but at the same time, a theory that doesn't have all of its legs cut off as of yet. The fact that they even share similar facial features brings a tad bit more validity to the story.
Yes, neither of Michael's sons (Jeffrey and Marcus) made it to the NBA so why would anybody else carrying the Jordan gene pool make it? unlike them however, Butler grew up in the face of adversity every step of the way. He had to earn his spot in the NBA after having been kicked out of his house at the age of 13.
Butler is a battle-hardened man who's currently at the top of the league following the Bucks' collapse in the Playoffs. His heroics have led people to believe that he truly could be related to the Michael Jordan.
Michael Jordan and Jimmy Butler side by side comparison
If you were to look at a close up of Michael Jordan's face right next to Jimmy Butler's face, you could say that the two were related without getting laughed at. They're both of African American descent, have strong jawlines, and have characteristically similar noses that, for lack of a better word, 'flair' out towards the bottom.
PLAYOFF JIMMY BUTLER IS MICHAEL JORDAN. pic.twitter.com/plQTfMjuBX
— kyle kuzma disciple (@sirreggier) April 27, 2023
Of course, Jordan never once grew out his hair to the point Butler has. Butler has rocked dreads, braids, and everything in between while MJ always had either a short trim or was bald. However, hair is nothing but a choice and Jimmy used to rock the exact same haircut as 1984 Michael during his rookie season in 2011.
While the similarities in their appearance are quite apparent, there is another reason for why they could be related. This ties into the fact that MJ, despite being married to Juanita Vanoy, would regularly indulge in extramarital relationships in secret.
Jimmy Butler was born in Atlanta, tying him back to Michael Jordan
Jimmy Butler was born on September 14th, 1989 in Atlanta, Georgia. Many would say that considering the fact that Michael lived in Chicago, he could possibly not be Butler's father. What they aren't accounting for is where the Bulls were almost exactly 9 months prior to Butler's birth.
On January 10th, 1989, the Chicago Bulls played the Atlanta Hawks in Atlanta in a game they won 104-101. Jordan had himself 48 points on 58.6% shooting from the field. Perhaps in a moment of celebration after leaving the stadium, Jordan found himself in an 'entanglement'.
There has been no confirmation on either side about any theory regarding Jimmy being Michael's son. However, it is interesting to see these theories come to the fore every time the Miami Heat superstar plays well. Given just how great of a player he is, expect more such theories to appear throughout the Playoffs.