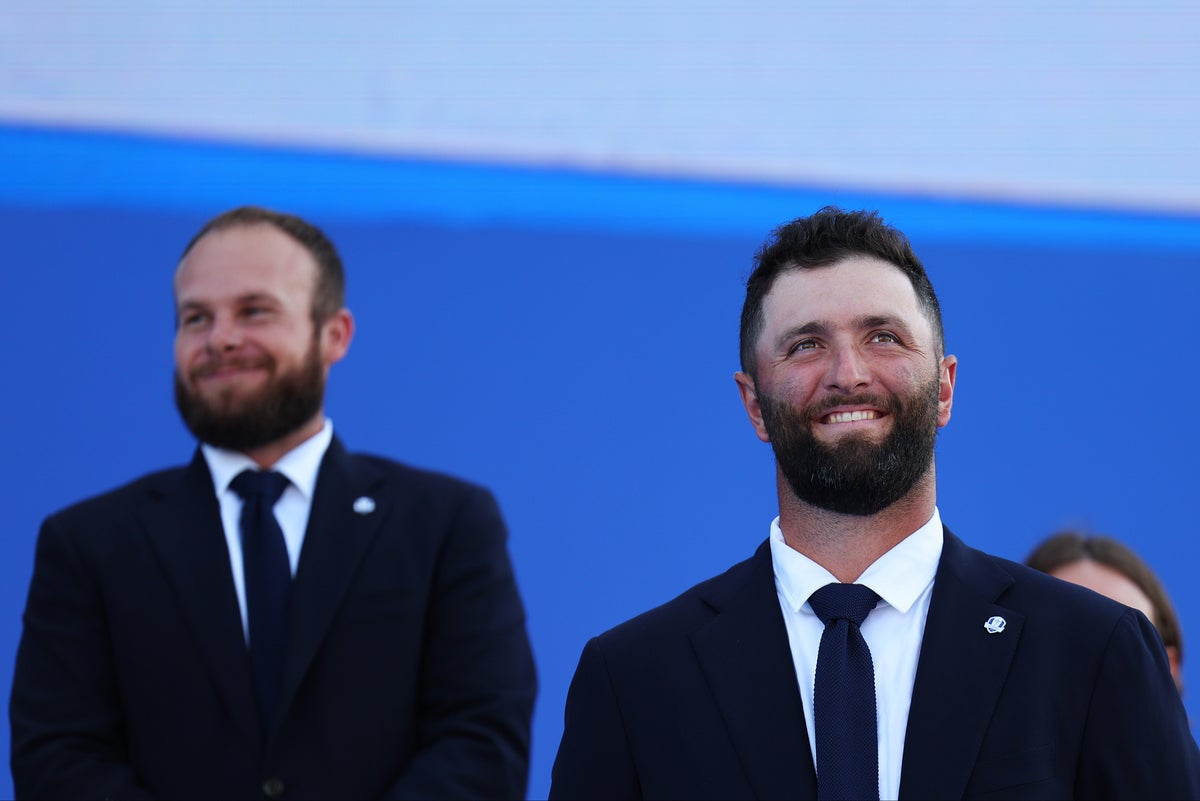 Golf
Jon Rahm and Tyrrell Hatton bring 'fire' to Europe's Ryder Cup bid
Sign up to our free sport newsletter for all the latest news on everything from cycling to boxing
Sign up to our free sport email for all the latest news
The raucous first tee at the Ryder Cup provides the perfect opportunity to launch Team Angry and spark Europe into life in Rome. Jon Rahm and Tyrrell Hatton, paired together by Luke Donald due to their "fire and passion," bring an intimidating challenge for world No 1 Scottie Scheffler, after recent struggles with the putter, and Sam Burns in a mouthwatering first match of the week.
A scorching Marco Simone has made for a peaceful build up as both teams meandered down the steep slopes this week, tossing a second or third ball down in the hope of ironing out those last-remaining kinks to a game poised for the most intense examination in the sport.
Rather than play it safe, Donald has opted to roll the dice; a new pairing capable of imploding under the menacing test of Marco Simone, yet also perfectly able to launch a seismic wave Europe could ride through to Sunday to recapture the cup.
"They're both world-class players and both fantastic ball strikers," Donald explained when detailing the inspiration behind the decision. "They are very passionate. I think Jon feeds off a playing partner with similar kind of fire and passion.
"He wants to feel like he's out there with a teammate that's really engaged with him. Tyrrell really fits that bill.
"The Ryder Cup means a lot to both of those, I found that out over the last couple of weeks. Jon was really inspired by the Ryder Cup back in '97.
"The first time he really came to golf was going to Ryder Cup at Valderrama. It's not just about winning majors, it's about coming to Ryder Cup and contributing to European wins."
While Donald highlights the pair's passion, a dark sense of humour may prove equally pivotal across tomorrow morning, with Hatton left chuckling at the prospect of a swear-off between the two.
"I don't understand why Jon doesn't swear in Spanish. Why does he swear in English? He would probably get away with it if he just swore in Spanish. I think I would probably win in a swear-off. I've got everyone covered when it comes to that. Doesn't matter what we're doing. I'm swearing. F*** off."
A glimpse of the cauldron that awaits both on that first tee could be seen just before the final practice rounds on Thursday. Collin Morikawa looked up, startled by a sudden cheer that crackled around Marco Simone as he entered the driving range. Viktor Hovland had just finished warming up, crushing balls with his driver, and hundreds of European fans showered him with love as he marched towards the first tee.
Tyrrell Hatton and Jon Rahm provide theatre on the course with their 'passion'
(PA)
This event elevates personalities and those willing to thrive under pressure will prosper. Wyndham Clark could be one of those, despite sitting out the morning session with a Ryder Cup debut alongside Brooks Koepka pencilled in for the afternoon. Clark epitomises the theatre Rahm and Hatton will inevitably bring.
The US Open champion, who has been pushing for a match against Rory Mcllroy this week, continues to embrace the feverish atmosphere. Sporting a Roma shirt, with teammate Max Homa representing Lazio, Clark strolled down the 18th hole on the eve of the tournament before playing the crowd like the conductor of an orchestra, turning up the volume around the final hole's amphitheatre. Clark, who sprayed miniature footballs into the crowd with his wedge, appears ready for a defining role in this American defence.
"I'm really excited to be here," Clark concluded after finalising his preparation, before predicting "USA by a million" when pushed for a prediction.
"I'm looking forward to the start and learning more about myself. I do well on big stages with a lot of fans, so I'm hoping it brings the best out of me."
Le Golf National shows the first match, or even session, is not pivotal, but Rahm and Hatton provide the ingredients for something special. Get ready to meet Team Angry.