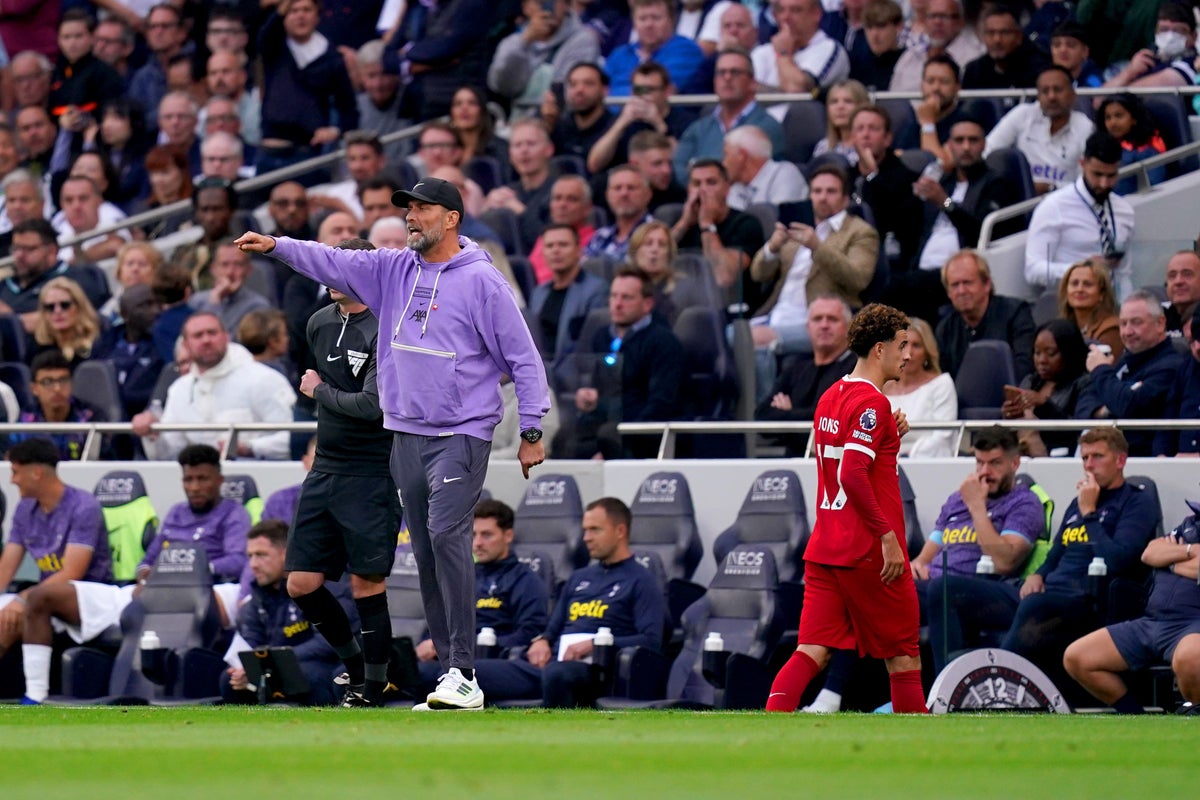 Football
Jurgen Klopp questions pressure on VAR officials after error denies Reds goal
Sign up to Miguel Delaney's Reading the Game newsletter sent straight to your inbox for free
Sign up to Miguel's Delaney's free weekly newsletter
Liverpool have been told they should have had the opening goal of the match in their late 2-1 defeat at Tottenham Hotspur, after a "significant human error" during the VAR process which should have checked the offside call initially given.
The Reds were down to ten men at the time after Curtis Jones' red card – and would finish with nine as Diogo Jota followed – but Luis Diaz ran through to beat Guglielmo Vicario to score what he thought was the first of the match.
An offside flag denied him and referee Simon Hooper blew the whistle to cut celebrations short, but replays showed Diaz looked onside – only for VAR to erroneously uphold the decision.
A statement released shortly after the match by the sport's referee organisation acknowledged that shouldn't have been the case and although no specifics were offered, relayed that another full review would be launched.
"PGMOL acknowledge a significant human error occurred during the first half of Tottenham Hotspur v Liverpool," it read.
"The goal by Luis Diaz was disallowed for offside by the on-field team of match officials. This was a clear and obvious factual error and should have resulted in the goal being awarded through VAR intervention, however, the VAR failed to intervene.
"PGMOL will conduct a full review into the circumstances which led to the error."
Manager Jurgen Klopp dismissed the review as irrelevant to his team after the decisions contributed to his team's defeat, while also making reference to an incident earlier in the campaign under the same referee, where Wolves were denied a late penalty when Andre Onana should have been penalised for a clear foul.
That incident ended in referee Hooper being stood down immediately into the new season, but he has since returned for three Premier League games.
"How's the statement help now? We had the situation in the Manchester United game and did Wolves get points for it? No. And we will not get points for today," Klopp said.
"So it doesn't help. Nobody expects 100 per cent right decisions on-field.
"We all thought when VAR came in it might make things easier, but I don't know why people in VAR… are they under that much pressure?
"The decision was made really quickly. It changed the momentum of the game. I knew at half-time, in the first moment I saw it's a clean onside.
"With normal, normal pictures, easy to see, but pretty sure that whoever did that made a decision. didn't do it on purpose."
Cody Gakpo had cancelled out Son Heung-min's opener shortly before half time, only for Liverpool's Joel Matip to score an own goal deep into injury time to hand Spurs the points.