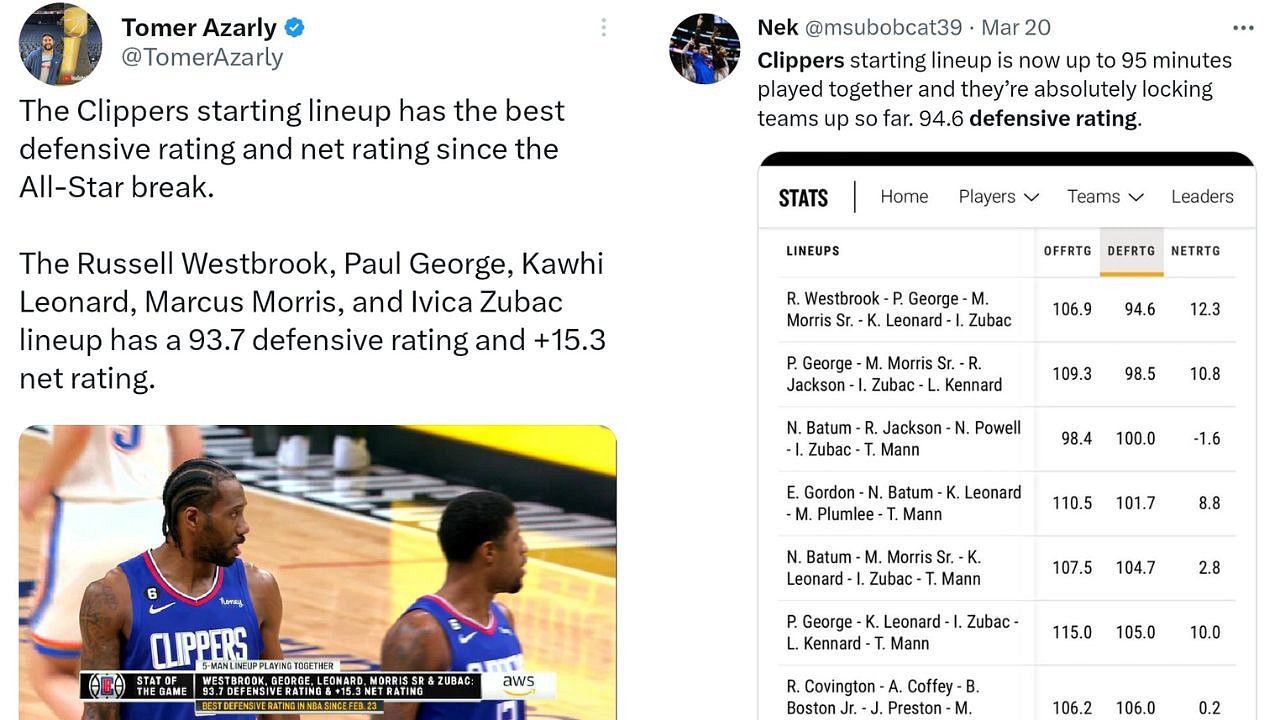 basketball
Kawhi Leonard and Russell Westbrook-starrer Clippers Starting-5 Has the Best Defensive Rating in the NBA Since All-Star Break
Getting better defensively would be the last thing the Los Angeles Clippers would have expected after they decided to sign Russell Westbrook. However, with Russ in the starting five, Kawhi Leonard and Co is the best defensive line-up in the NBA.
Ty Lue, the Clippers' Head Coach might play Brodie calculated minutes and totally keep him out in the final quarter all he wants. But he would have to keep one thing in mind– his team hasn't been as good offensively before Westbrook's arrival.
Now as their defensive rating with the 9x All-Star comes to light, it's going to be tougher for the NBA champion coach to keep him out of games for too long.
Line up of Russell Westbrook, Kawhi Leonard, PG, Morris Sr., and Zubac have the best defensive rating in the NBA
In the game against the Oklahoma City Thunder on Tuesday, a statistic appeared on the screen that must have everyone watching in surprise. A line-up consisting of Russell Westbrook is the NBA's best-rated (93.7) defense since the All-Star weekend.
Shame that they couldn't stop OKC. But that is more on the officials and PG's very painful-looking injury.
Last week, another statistic showed us that the Clippers with Russ are the #3 best offense in the NBA. Without him, on the other hand, they are the 3rd worst. Hate the man as much as you want, he is as effective as a star in the NBA.
Westbrook is a competitor that doesn't have an "off" button
The man is a machine that is willing to play hard until it runs out of gas. The 2017 MVP has already shown us everything that Nikola Jokic, the NBA's 2x MVP of the last two seasons, is awing fans and experts with.
One of the greatest to ever dribble a basketball has done almost everything to be remembered forever except for winning a championship. That he probably has the best chance to do this year with the Klaw.
Let's hope the latter stays fit, Paul George recovers soon from tonight's injury, and Brodie keeps up with his positive impact on the LA team until the Playoffs, and who knows, we might get a brand-new NBA champion.