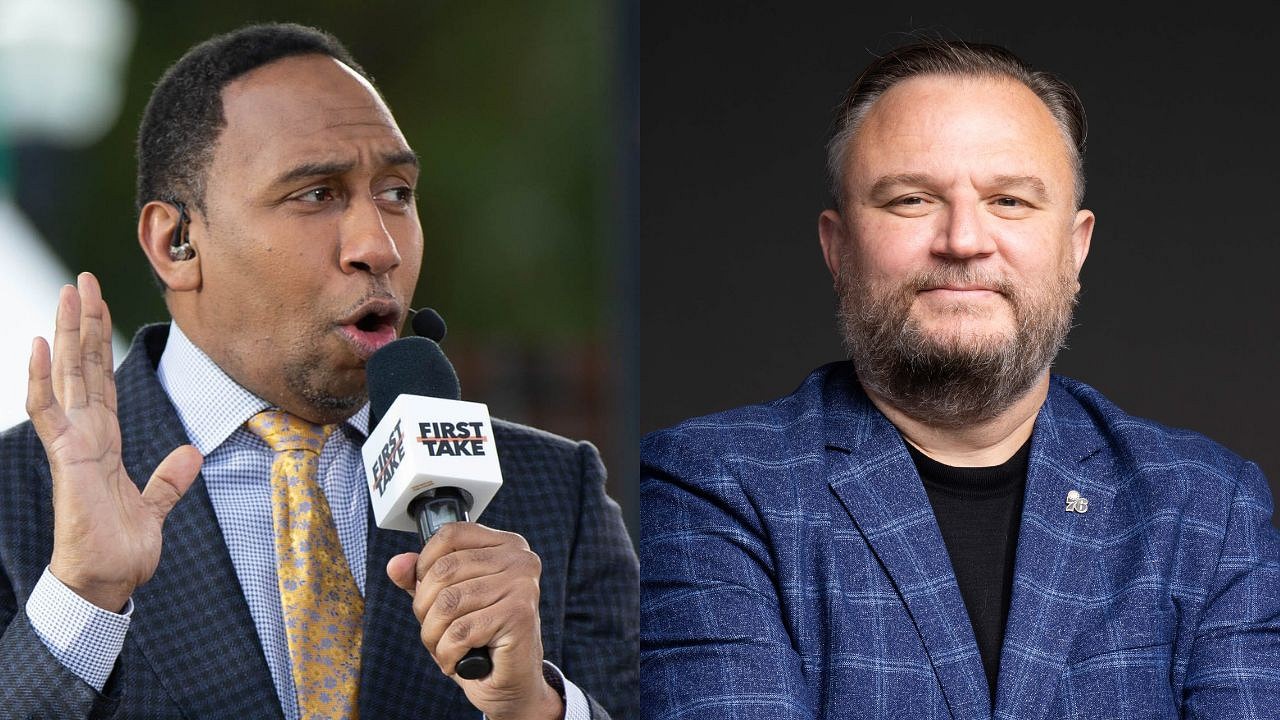 basketball
"Kissed James Harden's You Know What": Stephen A. Smith Viciously Slams Daryl Morey For Avoiding Confrontation and Favoring Star Players
Stephen A. Smith in recent weeks has been one of the most avid commentators on the James Harden-Daryl Morey saga at the Philadelphia 76ers. Recently speaking about the situation alongside Brian Windhorst on ESPN's First Take, Smith went out against the 76ers President of Basketball Operations. Morey had been part of the Houston Rockets back during Harden's stint at the franchise.
However, he left in 2017 in a controversial fashion, leading to the Rockets' refusal to allow Harden to follow Morey to the 76ers. According to Smith, that was the reason Harden eventually wound up at the Brooklyn Nets instead. Claiming that Morey has a habit of siding with his star players, Smith said that he was avoiding confrontation despite having effectively been kissing Harden's behind during their time in Houston.
Stephen A. Smith accused Daryl Morey of avoiding confrontation
The controversy had begun earlier in the offseason when James Harden publicly called Daryl Morey a liar. While Smith has since questioned a range of Harden's antics as well, he himself seemed to be accusing Morey of lying during his time on First Take.
Furthermore, Smith claimed that Morey had allowed the controversy to continue simply due to his tendency to avoid confrontation with his star players. This, according to the NBA analyst, is no surprise considering the time they spent together at the Houston Rockets:
"If you are Daryl Morey, who I have not called yet, but I will. James Harden is not the only dude that felt lied to by you. Morey is known as a dude that caters significantly to his star players, sometimes while alienating lesser players. He also can't stand confrontation. So when James Harden went out and said that he was lied to, he called Daryl Morey, the guy who was there at Houston Rockets for 9 years and gave him a manicure and a pedicure, he did everything but kissed James Harden's you know what. And that is why he went to Brooklyn, because Daryl Morey left Houston like a thief in the middle of the night, and they did not want to deal with them."
Stephen A. Smith firmly believes that the entire controversy is down to not just Harden, but Morey's refusal to confront his star players as well. The two's history, which Smith claimed involved Morey doing everything but "kissing Harden's behind," meant that Harden looked at him as "his man." Now, however, with Morey significantly changing his approach, Harden is bound to feel unsupported and alienated.
Stephen A. Smith is not sure what lie James Harden was told by Morey
Speculation suggests that the reason Harden exercised his player option for last season was because he wanted a maximum deal this off-season. Harden took a $15,000,000 pay cut which might have been because Morey promised him a maximum contract.
On the other hand, it might also be that Harden was promised that he would be traded, something which the 76ers also refused to do. This was because the franchise simply did not find a favorable trade package, which is also understandable considering Harden's sketchy recent form.
Loading embed tweet https://twitter.com/frankmikesmith/status/1691185572931383296?ref_src=twsrc%5Etfw
Regardless of what lie James Harden was alluding to, there is little doubt that a range of details have not been released. As things stand, 76ers fans will simply be worried about the unsettled way in which the season appears to be tipping off for them.