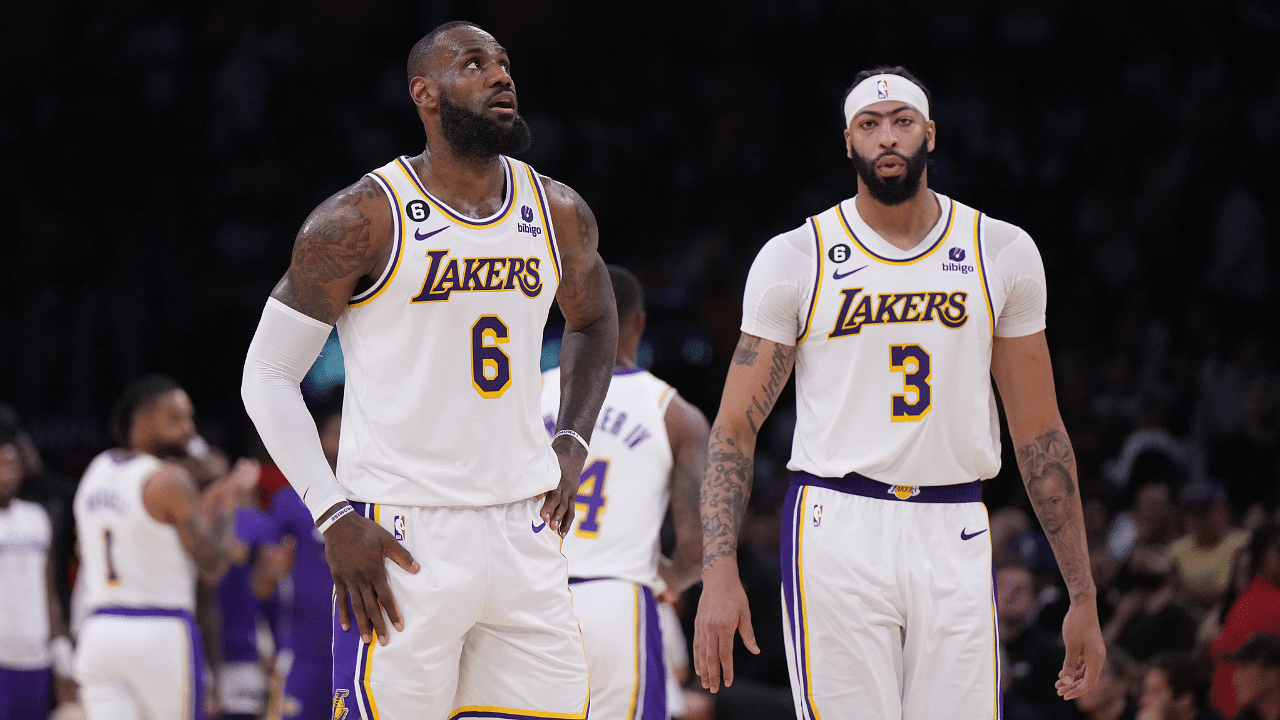 basketball
LeBron James' 'Star Studded' Skill Academy in 2010 Inadvertently Paved the Way For Anthony Davis' $62,000,000 Paycheck 13 Years Later
 LA Lakers superstar LeBron James has been heavily involved with Nike right from the start of his career. The global giants have partnered with James for the yearly "LeBron James' Skills Academy" which regularly sees a host of top college stars participate. Over the course of its existence, the event has seen a range of future NBA stars. This includes some bonafide legends, along with LeBron's current teammate Anthony Davis, according to Brian Windhorst's LeBron James Inc..
James, who partnered with Maverick Carter and multiple other friends for the initiative, was in his own way involved in Davis making his way to the NBA. AD attended the academy in 2010, back when he was still in school. His exposure eventually led to Davis being signed by super-agent Rich Paul. 13 years later, he will now be earning $62,000,000 once his new extension kicks in.
LeBron James and Maverick Carter were heavily involved in Skills Academy
Both Carter and James were heavily involved in the initiative. Using James' reach and influence, they would attract a range of top stars every year.
This includes the likes of Kemba Walker, DeMar DeRozan, and DeMarcus Cousins. Walker was joined by Warriors' legend Klay Thompson as an instructor at the camp. A number of other stars, including Anthony Davis attended the LeBron James skills academy, according to Slam.
James and Carter even gave players advice about their future, and would leverage their potential for the benefit of their company:
"One year, the high school roster had future All-Stars DeMar DeRozan and DeMarcus Cousins as well as future Rookie of the Year Tyreke Evans. And the college counselors included future pros Ty Lawson, Wesley Matthews, and twins Brook and Robin Lopez. Another year, future All-Stars Klay Thompson and Kemba Walker plus Chandler Parsons were there as counselors, and one of the campers was future number one overall pick Anthony Davis. Dozens of other players who ended up as major college talents and NBA draft picks came through the camp over the years. It was a first-class event that included a high-end banquet, where LeBron would get even more face time with the young players. Sometimes there would be more private meetings at LeBron's home. By the end of the week, he'd often established relationships with some of the top players. He might see some at his camp two or three times by the time they entered the draft. It was all part of the Nike machine aimed at recruiting the top players and trying to ensure they would be wearing Nikes when they became pros. But it was also part of a multistage plan that LeBron, Carter, Merritt, and even Wesley were involved in. It was actually rather shrewd."
AD eventually became one of the best big men in the NBA. His potential eventually led to a move to the LA Lakers, in addition to being signed by Rich Paul, back in 2019. Recently, AD signed a 3-year, $177 million deal with the Lakers. The contract sees him earn the highest ever annual salary ever registered in the NBA.
Rich Paul is one of NBA's most notable agents
Rich Paul has a, rich list of clients, with LeBron James associated with the super-agent since the early 2000s. He has negotiated over $500 million worth of contracts in his career, according to HoopsHype
This has resulted in a net worth of a whopping $120 million. Additionally, Paul's set of clients includes Fred VanVleet, Zach LaVine, De'Aaron Fox, and a range of other superstars.
With Anthony Davis, Paul has been able to negotiate what is the biggest contract in the history of the NBA, in terms of annual salary. There is little doubt that simply being associated with the agent represents a high level of success for an NBA star.
The post LeBron James' 'Star Studded' Skill Academy in 2010 Inadvertently Paved the Way For Anthony Davis' $62,000,000 Paycheck 13 Years Later appeared first on The SportsRush.