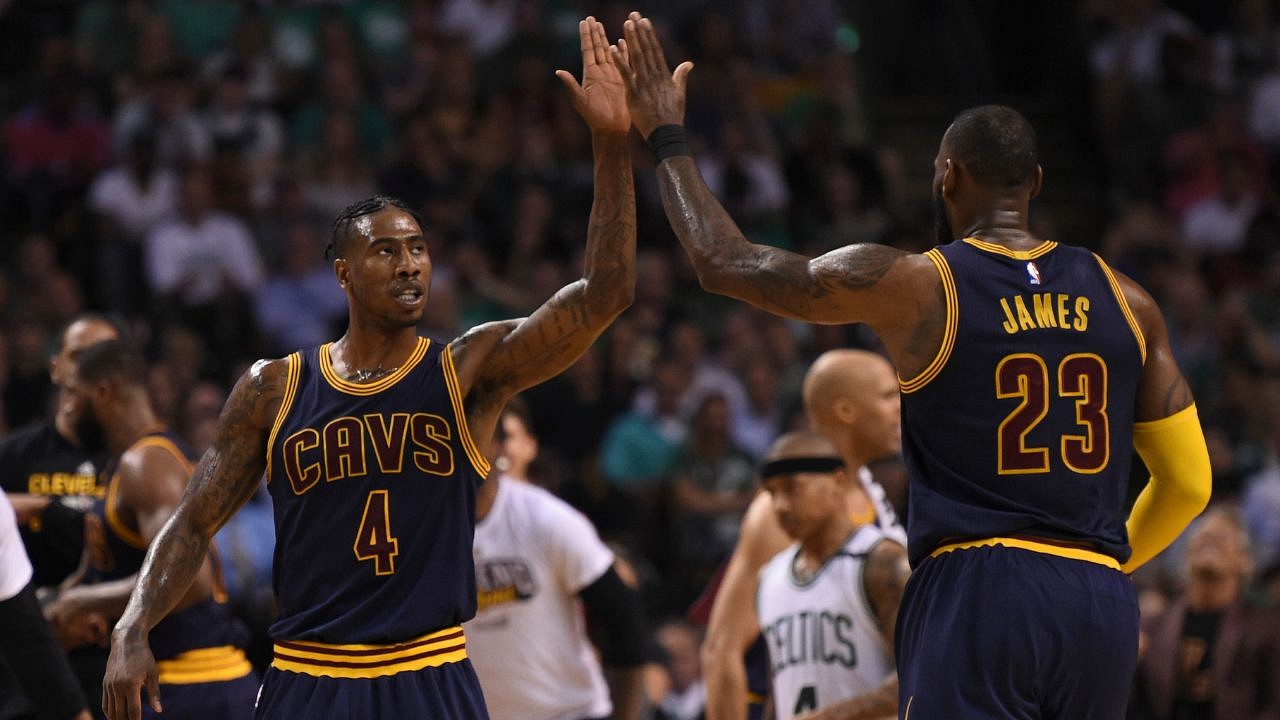 basketball
"LeBron James Was Too Vicious!": Having Made 3 Straight NBA Finals With LBJ, Former Teammate Makes Surprising Pick For 'Scariest' Version of 19x All-Star
Over the course of his 20-year NBA career, LeBron James has treated fans to countless incredible moments. Many fans even argue that his tenure in the NBA is akin to four hall-of-fame-worthy careers, all rolled into one. During his second stint with the Cavaliers however, is when many believe 'the King' was at his finest, with the highlight of the era being his 3-1 Finals comeback against Stephen Curry and the Warriors. Yet, when his teammate was asked about his thoughts on the best version of the players, he did not bring up the Cavs. Instead, shockingly enough, he chose the version of James that showed itself during the 2011-12 NBA season.
Iman Shumpert and James were teammates on the Cavaliers from 2015 to 2017. During this time, they made it to three NBA Finals together and won one ring, their famous 2016 NBA Championship. To this day, most fans believe that version of LeBron is the scariest the NBA has ever seen. However, as mentioned previously, Shumpert wasn't in the mood to be predictable during his recent appearance on All the Smoke.
Iman Shumpert chooses 2011-12 LeBron James as the scariest version he has ever seen
While LeBron James has been great throughout his NBA career, some seasons do stand out more than others. Picking the 2011-12 version of James as the scariest version he has ever seen, here is what Shumpert said on All the Smoke.
"I think the best version of I saw of (LeBron James) is… you remember the year that Dirk (Nowitzki) won (2011)? Yeah. That next year, they (the Heat) came back. When him and (Dwyane Wade) vowed to not shoot, not settle, and they played that whole season, and they wasn't shooting no threes? They was just attacking. (LeBron James) was vicious. I was like 'Bro, what the f**k are we supposed to do with that?!' I was looking at the league like, 'What am I going to do about that?!' Like what is that?!" 
Loading embed instagram https://www.instagram.com/reel/Cvfla1IpfLV/?utm_source=ig_embed&utm_campaign=loading
While it may not be the popular opinion, it is difficult to deny Shumpert's opinion. The 2011-12 NBA season was undeniably one of James's best ever. And with the then-Heat star winning his first-ever championship back then as well, it was a special season, all things considered.
Shumpert revealed the difference between Carmelo Anthony and James
Having played in the NBA for 10 years, Iman Shumpert had the chance to play with and against the greatest players of this generation. At different points in time, he was also on the same team as both LeBron James and Carmelo Anthony. So, with him being the greatest person to ask, Gilbert Arenas questioned the man on what made James and Anthony so different as players. Here is what he said.
"What I learned so quick playing with Bron, is actually like the opposite of Melo. With Melo, Melo will find your weakness immediately…and he'll keep it in his pocket to use it when he need to use it…LeBron will make it till you're not allowed to play…you can't even be on the floor right now. We gonna expose it now, can't keep it in pocket…"
James can often get flack for the way he plays, and 'the lack of a killer instinct'. However, if he can influence a game to the point where an opponent can do nothing about it, it is no wonder he is so often included in the GOAT conversation.