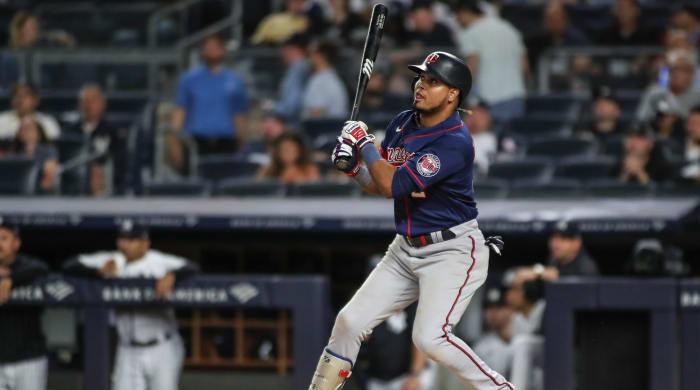 baseball
Luis Arraez Trade Is Smart for the Twins, Puzzling for the Marlins
With top free agents off the market, it's time for the hot stove to seek alternative fuel in the form of trades, and we got an interesting one on Friday. The Marlins are sending pitcher Pablo López (plus a pair of prospects) to the Twins in exchange for reigning batting champ Luis Arraez. It's the first time a player has been traded the winter after winning the batting title since Rod Carew in 1978. Let's dive in:
The Deal
Twins acquire: RHP Pablo López, infielder Jose Salas and outfielder Byron Chourio
Marlins acquire: Infielder Luis Arraez
For the Twins
The Twins' biggest area of need was their starting pitching. They've now addressed it. No, López isn't an ace, but he's a solid option for the middle of the rotation and a critical piece of depth.
The 26-year-old righty has found his footing over the last three seasons. In that time, he's posted a 3.52 ERA (119 ERA+), plus 9.2 K/9. He's coming off a season with a career-high 180 innings—the first time he finished a year with more than 25 starts—though his overall performance represented a slight step backward from his breakout 2021. In short, López is just the kind of rotation addition that was needed in Minnesota, putting a quality, dependable arm in the middle of this group. Per Roster Resource, he'll slot in as the No. 2 starter behind Sonny Gray, ahead of Joe Ryan, Tyler Mahle, Kenta Maeda and Bailey Ober. (Chris Paddack should be able to rejoin the rotation in late summer after recovering from Tommy John surgery.) That's still not a particularly awe-inspiring group. But López makes it immediately better and offers some flexibility. That's not to say the Twins wouldn't still benefit from even more—is any team ever fully set on pitching depth?—but that's something they can keep pursuing at the deadline if their season goes according to plan.
The prospects Minnesota added here are promising but clearly long-term bets. Salas is a 19-year-old infielder who consistently ranked among the top five in Miami's system; Chourio, an outfielder, is still just 17.
After a lackluster 2022, Minnesota's had a great month, (re-) locking down Carlos Correa and now getting some needed rotation help through López. The Twins will miss Arraez, but they needed to bolster their pitching far, far more than they needed his bat. It doesn't take much to gain a foothold in the squishy AL Central, and for the Twins, these recent moves could go a long way toward getting them where they want to be.
Wendell Cruz/USA TODAY Sports
For the Marlins
On the one hand, Miami obviously needed offense, and trading from its deep pitching staff looked like the best way to go about getting some. On the other… this was a curious way to do it.
Arraez is (clearly) a great hitter. If you're interested in someone who can hit for contact—and that's an explicit interest of this team!—you can't do much better. But there are a few big question marks here. One is whether it really makes sense to add this kind of contact hitter to a roster that could so desperately use some power. (Miami's .363 slugging percentage last year was dead last in the NL.) Yes, Arraez has a career batting average of .314, with bat-to-ball skills that have been almost unmatched since he debuted four seasons ago. He's one of just seven players to hit over .300 with at least 1,500 plate appearances since 2019. But his lack of power is so striking that it stands out even among this small group of contact hitters: His .410 slugging percentage is not just the lowest of the seven but the only one to come in under .455. Arraez's home run total over the last four seasons is 14. The other six players to hit .300 here each have at least 40. (They are, in order of batting average, Tim Anderson, Trea Turner, Freddie Freeman, Michael Brantley, Jeff McNeil and Xander Bogaerts.) Arraez is among the best in the game for his specific skill set. But those skills are highly specific.
Another question mark is Arraez's positional fit. He started a plurality of his games at first base in 2022, after starting the most at second in '21 and the most at third in '20, and did not exactly cover himself in glory at any one of those positions. Marlins general manager Kim Ng announced on Friday that he would primarily play second base in Miami, which means shifting previous second baseman Jazz Chisholm, Jr. to center field, presumably with Joey Wendle at short and recent acquisition Jean Segura at third. It's… an interesting way to set up an infield defense. (Not least because these four players are better described as "four second basemen" than as "three-fourths of an infield and a center fielder.") But there might not be a better way to arrange this particular set.
Yet the biggest question here is something different. The Marlins should have theoretically been in the driver's seat: All the solid rotation additions are off the market now, which means there's a lot to be said for a trade chip such as López, particularly one with two seasons of team control. That should have created plenty of decent options for Miami. To end up dealing López plus multiple prospects for a hitter like Arraez who, though talented, is a questionable fit for this roster? It's hard to believe that was the best path forward.