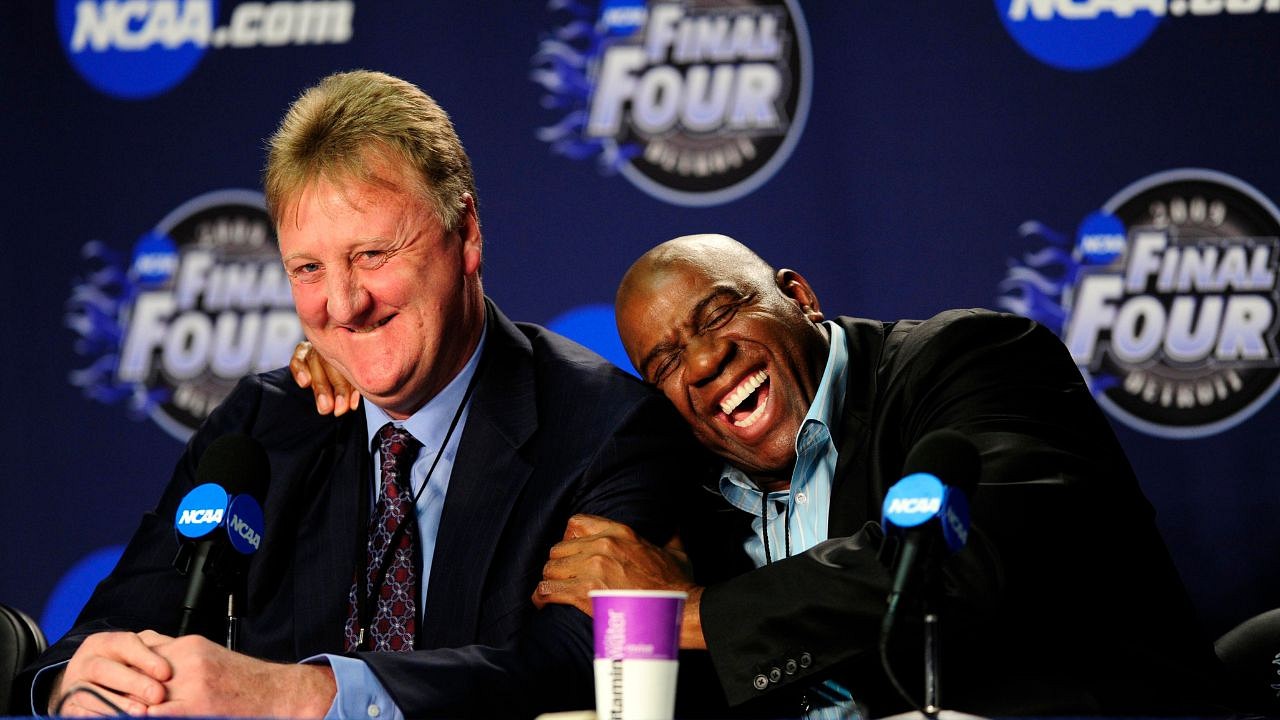 basketball
"Magic Johnson is Going to Be a Billionaire": Lakers Legend Reveals Larry Bird Predicted His Net Worth a Year Before Forbes Report
Magic Johnson and Larry Bird went from having a legendary rivalry on the basketball court to becoming the best of friends off it. While they both enjoyed a lot of success in their career, Johnson has recently been termed a billionaire by Forbes. To commemorate his success, talk show host Jimmy Kimmel invited him to talk about the feat and also probed on how his rival felt about it.
Playing for the NBA's two most successful franchises – the Los Angeles Lakers and the Boston Celtics, both these players are credited for making the league successful. With fame came riches for both these players, but Magic always had the more entrepreneurial mind, and Bird knew it. When Kimmel asked him about rubbing it in his rival's face, he said "Let me tell you what Larry said a year ago, 'Magic is going to be a billionaire, and he likes to go through the front door'."
The Lakers' superstar was pleasantly surprised when Bird predicted it a year ago and said, "But he called it. It's so crazy that he said, I know that's what you're going for, and you are going to reach that goal." There is no animosity between the two NBA legends, and Bird's prediction of Johnson's success shows how much they cherish each other's achievements.
Jimmy Kimmel also predicted Magic Johnson's Billionaire status
As host of one of the most watched late-night talk shows – 'Jimmy Kimmel Live!', Jimmy Kimmel is known to joke around with his guests while having a conversation about their achievements. It was no different when it came to the five-time NBA champion. When Magic talked about Bird predicting his billionaire status, Jimmy said "Here is when I knew you were going to become a billionaire." and pulled out a photo of the player wearing a fur coat.
In his typical style, he then proceeded to bring out that same coat for Johnson to wear. This had the NBA player rolling with laughter. He decided to put on the coat for old time's sake and looked as good as his young self. To entertain the live audience, Kimmel and Guillermo also joined in the action with their fur coats. Absolutely hilarious to the end.