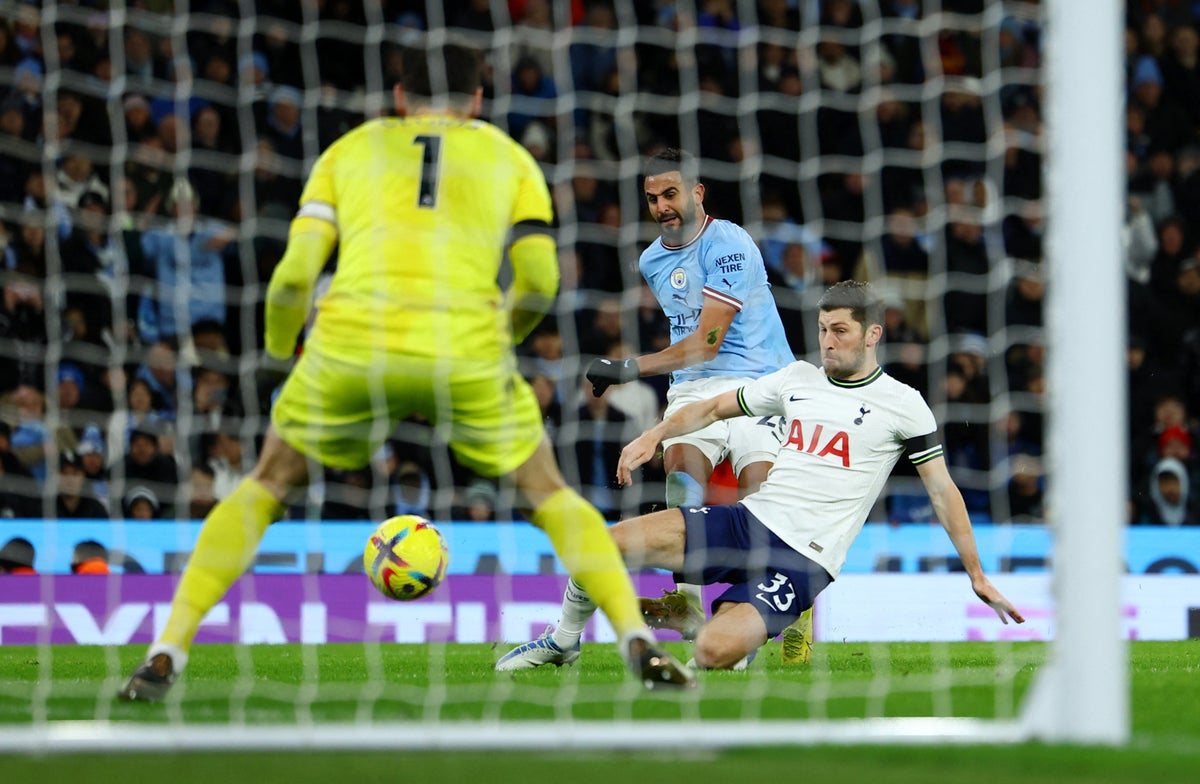 Football
Man City vs Tottenham LIVE: Premier League latest score and goal updates as Mahrez completes comeback
'Conte has beaten me a lot' Pep looks forward to Spurs
Manchester City and Tottenham are both hoping to shake off derby defeats and get back to winning ways as the two Premier League sides clash at the Etihad Stadium tonight. City are looking to close the gap on Arsenal whilst three points for Spurs would see them move ever closer to the Champions League spots.
Pep Guardiola's team lost 2-1 to Manchester United last time out after Bruno Fernandes and Marcus Rashford both beat Ederson to complete a comeback victory for the Red Devils. That loss drop City eight points behind league leaders Arsenal meaning a win against Tottenham is a must if the champions want to regain their title.
Tottenham meanwhile were clearly second best when they lost 2-0 to Arsenal at home in their own local derby last Sunday. Bukayo Saka forced a mistake out of Hugo Lloris before Martin Odegaard drilled one home from range to give the Gunners the victory. Antonio Conte's men looked bereft of ideas and not even the in-form Harry Kane could salvage them something. Who will be victorious tonight?
Follow all the action as Manchester City host Tottenham:
Man City vs Tottenham
Show latest update
1674164529
Man City 3-2 Tottenham
83 mins: There's a case for Man City to be awarded a penalty after Richarlison seemingly brings the ball down with his arm inside his own box.
There's a VAR check but nothing comes from it.
Kyle Walker replaces Rico Lewis.
Michael Jones19 January 2023 21:42
1674164307
Man City 3-2 Tottenham
79 mins: Clement Lenglet and Richarlison are introduced for Tottenham to replace Emerson Royal and Ben Davies. It's an attacking move from Antonio Conte who must believe that his team can salvage at least a point here.
Bernardo Silva replaces Ilkay Gundogan for Man City.
Michael Jones19 January 2023 21:38
1674164044
Man City 3-2 Tottenham
76 mins: This is Rodrigo Bentancur's first game back from injury and Antonio Conte takes no chances with him. He brings the midfielder off with 15 minutes or so to go and replaces him with Yves Bissouma.
Can Tottenham get an equaliser to set up a blockbuster finish?
Michael Jones19 January 2023 21:34
1674163859
Man City 3-2 Tottenham
73 mins: Oh close! Rodrigo Bentancur wins a free kick for Spurs that Son Heung-min curls into the box. Harry Kane breaks away from Ilkay Gundogan and looks to bring the ball under control.
It bounces up and strikes his arm though and the referee blows the whistle for handball.
Michael Jones19 January 2023 21:30
1674163737
Man City 3-2 Tottenham
70 mins: Antonio Conte is the first manager to look to the bench with Ivan Perisic getting hooked in place of Ryan Sessegnon. It's not been a good night for Perisic whose mistake lead to the third City goal just after he missed a great chance to put Spurs in front.
Michael Jones19 January 2023 21:28
1674163609
Man City 3-2 Tottenham
67 mins: Manchester City will make sure that they see the game out now. The best way they can do that is to score again and give themselves the biggest lead possible.
Tottenham have been rocked but there's enough quality in their line-up to get back in this game.
Michael Jones19 January 2023 21:26
1674163404
GOAL! Man City 3-2 Tottenham (Mahrez, 64')⚽️
64 mins: Manchester City complete the comeback! Jack Grealish works the ball across the pitch and finds Riyad Mahrez. Ivan Perisic commits to a tackle but misses the ball allowing Mahrez to carry the ball into the box.
He opens up his body and drills one towards the near post, beating Hugo Lloris after a short deflection and sending City ahead.
Michael Jones19 January 2023 21:23
1674163292
Man City 2-2 Tottenham
63 mins: Spurs have kicked back into life now. Harry Kane sends the ball inside to Pierre-Emile Hojbjerg who switches the play out to Dejan Kulusevski on the right.
Kulusevski fizzes a pass across the penalty area and picks out Kane who takes a touch then drills his effort wide of the back post!
Michael Jones19 January 2023 21:21
1674163177
Man City 2-2 Tottenham
60 mins: Chance! Spurs should be back in front!
Dejan Kulusevski gets in behind on the right hand side and drives into the penalty area. He cuts the ball back across the middle of the box to pick out Ivan Perisic who drills a low effort at goal only to be denied by Rico Lewis' last ditch block!
Michael Jones19 January 2023 21:19
1674162965
Man City 2-2 Tottenham
57 mins: This has been a blistering start to the second half from Manchester City. Mahrez has another shot from range fly just wide of the near post and there's a collective sigh of letdown anticipation from the home crowd.
Pierre-Emile Hojbjerg gives his teammates a good telling off before the ball gets back in play. Spurs have been sleeping since the second half kicked off.
Michael Jones19 January 2023 21:16