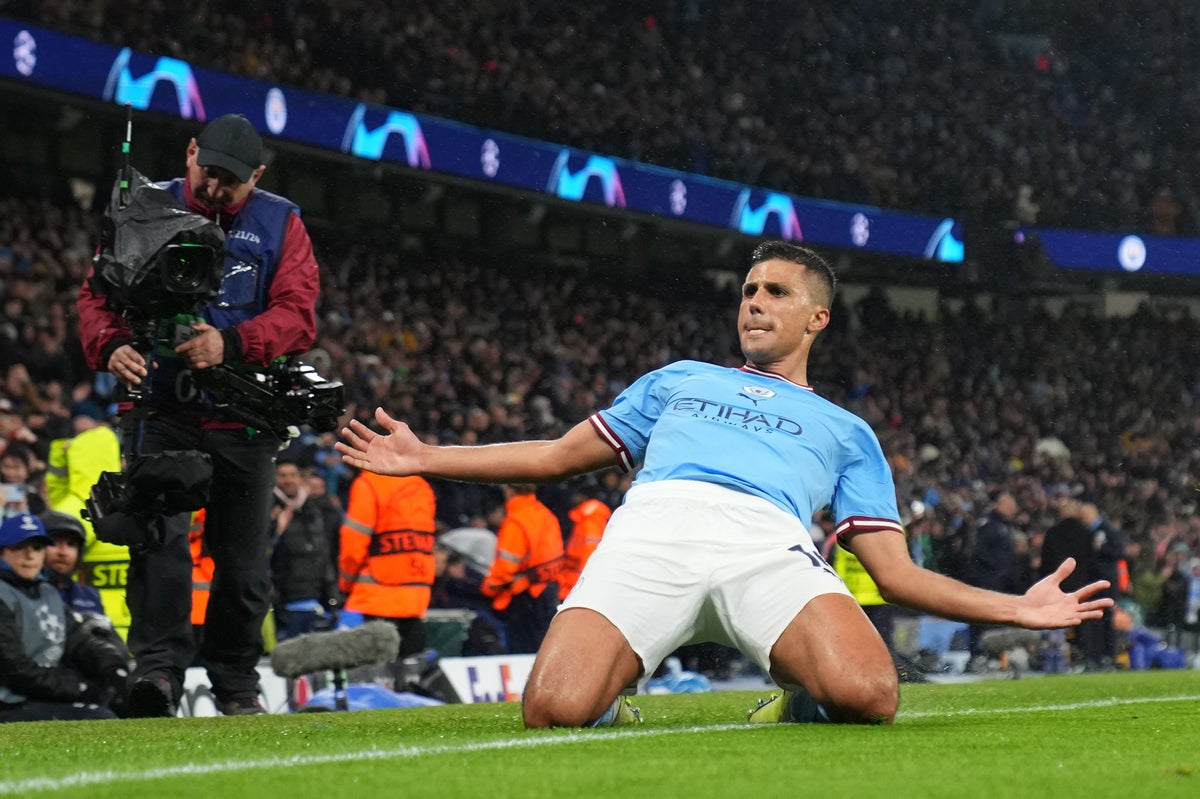 Football
Man City's Champions League rout shows how close they are to the trophy
Sign up to Miguel Delaney's Reading the Game newsletter sent straight to your inbox for free
Sign up to Miguel's Delaney's free weekly newsletter
A scoreline that doesn't so much reflect the truth of the game but a wider reality. There is a chasm between Manchester City and the rest of Europe, and certainly to Bayern Munich. They are the continent's best team. Despite the frustration that Pep Guardiola has long faced in the Champions League, Abu Dhabi's lavishly-funded political project – of which the manager is the key part – has in truth made success an inevitability, and it is impossible not to feel like it might be this year. It might even be a treble, further reflecting that total superiority.
Thomas Tuchel can fairly argue that this 3-0 first-leg defeat would have been nowhere near as bad had some of his key defensive players done their jobs properly at key moments, but that was still just looking to reduce the margins; to bring it a bit closer. The mistakes were really an illustration of how stretched Bayern were. City's superiority was still evident even when the game was tight. By the end, as Erling Haaland slotted the third for another of the season's inevitabilities, it was abundant.
The line that will be made after a game like this, when it all looks so close, that Guardiola has now over-thought it so much that it has come full circle – he played a relatively conventional XI. The truth is he may now be at a point where he has a complete XI, the focal point of Haaland forcing out some of the remaining edges.
That might be saying a lot for a stage as early as the quarter-final first leg but it was difficult not to think it after a performance this good, amid a field this open. Only Real Madrid look anywhere close to City's quality. The season's revelations in Napoli have been capable of playing like that on any given day in this campaign, but it still feels so fragile, borne of a desperate and defiant momentum to constantly keep it going. City have no such trouble. The waves just keep coming, as Bayern found out.
So much for Tuchel being the coach to outthink and outdo Guardiola, as happened in the Catalan's most painful Champions League season at City yet, that 2021 final defeat. Even if there is an argument it can still be true, the point was it didn't matter here. It certainly didn't matter when his team weren't capable of carrying out his gameplan to the level required.
Really, though, City's speed and special qualities probably ensured such errors were inevitable, too.
Tuchel clearly tried to do what he had in the past against Guardiola, setting up two blocks in front of his goalkeeper in order to force City wide and slow the pace of the game before looking to drastically pick it up as they drove through the centre.
Rodri curled home a stunning opening goal
(AP)
It was working, until key parts just stopped doing their jobs. That was to be a trend.
Although Leon Goretzka and Joshua Kimmich were specifically put in the area in front of the goal to congest it and slow City down, they suddenly vacated it on 27 minutes. Rodri just strolled through to then curl the most delicious effort into the top corner.
Tuchel, having watched Kimmich turn his back on the ball, could only turn his own back in anger while furiously throwing his arms into the air.
Bayern now had to open out. It made it a more entertaining game, and one that was in the balance for some time. It was just that Yann Sommer's newly exposed defence were totally unbalanced by every City attack.
For one moment early in the second half, Tuchel could only stand there motionless shaking his head, as his backline frantically attempted to clear after a bad Dayot Upamecano back pass.
Bayern now had to open out, and it made it a much better match. There was a constant back and forth, both goalkeepers beating away shots, both areas facing moments of chaos where the ball looked like it could go anywhere. For one, Tuchel could only stand there motionless other than slowly shaking his head, as his defenders frantically attempted to clear one bad back pass.
That was almost like a football equivalent of Chekhov's gun, except it involved Bayern shooting themselves in the foot. Such hesitation reflected the danger, the tension.
Bernardo Silva scored City's second goal, from a terrible Dayot Upamecano mistake
(Action Images via Reuters)
It was within that mood that Upamecano inexplicably tried to take the ball out of defence with a rash surge. He had his pocket picked, and Haaland – illustrating this wider team play Guardiola has wanted from him – picked out Bernardo Silva for the second.
It was a moment of completeness, but there was still more to come. It looked like it could be far worse for Bayern. City's attack was rampant, their defence so strong in every challenge.
More space gave way. There was Haaland to fill it. It was again inevitable, perhaps like this season's ending.
There was still a telling moment within all that. Just before Bernardo's goal, the Bayern fans held up banners calling for the Glazers, Sheikh Mansour and "all autocrats" to be kicked out of the game. "Football belongs to the people", it read. The City fans responded by singing Mansour's name. It goes some way to explaining the difference between the cultures and the difference between the teams, as well as, maybe, the difference this Champions League season.