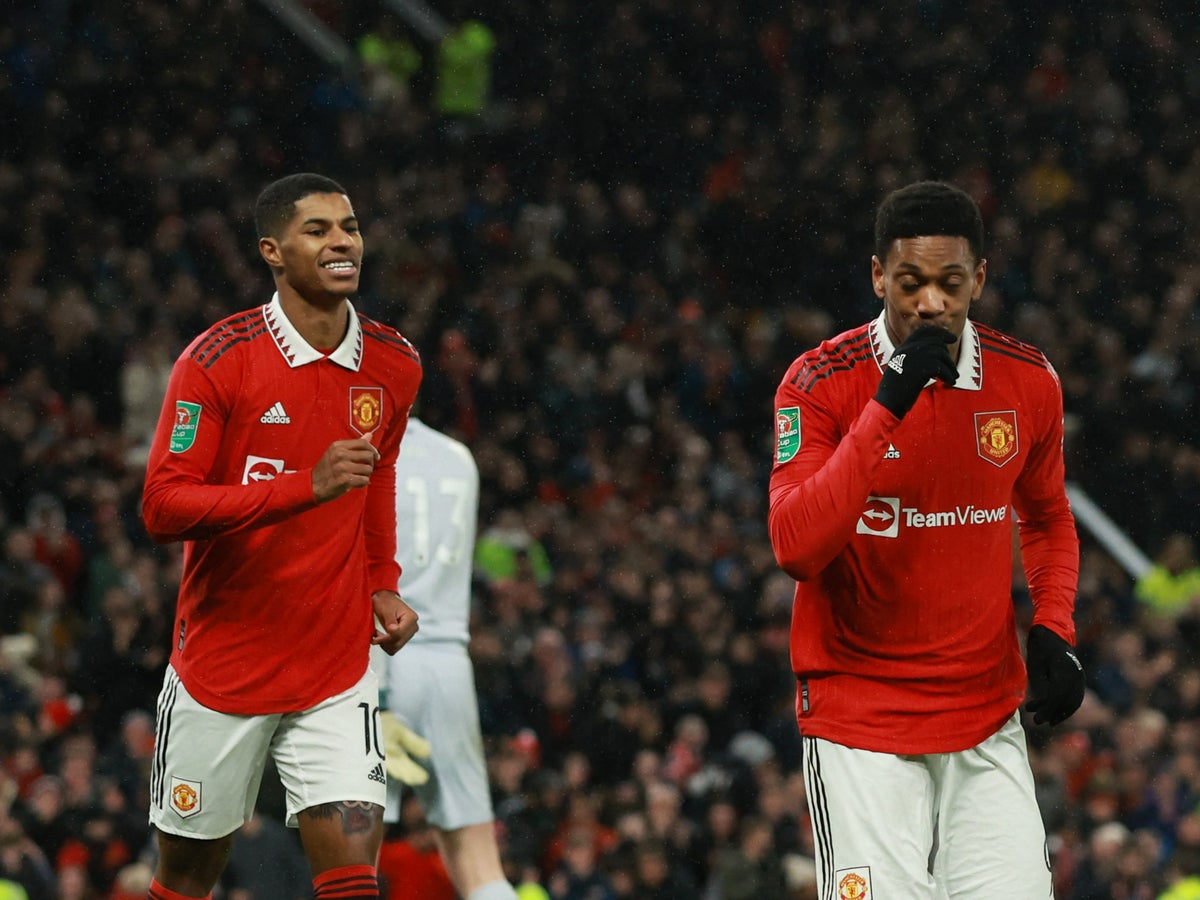 Football
Man Utd vs Nottingham Forest LIVE: Carabao Cup result and final score after Anthony Martial and Fred goals
Ten Hag confident Manchester United can cope without Christian Eriksen
Manchester United will book a place at Wembley if they avoid losing to Nottingham Forest in the Carabao Cup semi-finals tonight. The Red Devils did the damage in the first leg thanks to goals from Marcus Rashford,Wout Weghorst, and Bruno Fernandes who helped Erik ten Hag's men to a 3-0 win.
The manager has been quite vocal about his desire to bring silverware back to Old Trafford and the Carabao Cup is United's best chance at winning a trophy for the first time since 2017. Attempting to stop them are Nottingham Forest but it would take a remarkable comeback from Steve Cooper's side to get back in this tie.
It remains to be seen whether Ten Hag will rest his key players but Anthony Martial and Jadon Sancho are expected to be in the matchday squad and could make their return for the Red Devils. The winner of this semi-final will play Newcastle at Wembley after Eddie Howe's side defeated Southampton to reach their first cup final since 1999.
Follow all the action from the Carabao Cup semi-final at Old Trafford:
Man Utd vs Nottingham Forest
United lead 3-0 on aggregate after first leg at the City GroundMan Utd XI: Heaton, Wan-Bissaka, Varane, Martinez, Shaw, Casemiro, Fred, Fernandes, Antony, Garnacho, WeghorstNottm Forest XI: Hennessey, Williams, Boly, McKenna, Lodi, Freuler, Mangala, Scarpa, Johnson, Dennis, Surridge36' CHANCE! Johnson with a brilliant run and shot to force Heaton into a save (MUFC 0-0 NFFC) 38' WHAT A HIT! Antony with a sensational effort on the volley that whistles just over (MUFC 0-0 NFFC) 42' CHANCE! Dennis looks poised to slot into the corner, but Surridge deflects his effort wide (MUFC 0-0 NFFC)73' GOAL! Martial sweeps home the opener to put United in the clear, tie over? (MUFC 1-0 NFFC)76' GOAL! Fred taps home from Rashford's volley pass, game over! (MUFC 2-0 NFFC)Show latest update
1675288645
FT Man Utd 2-0 Nottm Forest (5-0 agg)
Anthony Martial and Fred both got on the scoresheet to earn Manchester United a 2-0 victory. They progress to Wembley 5-0 on aggregate over these two legs.
(REUTERS)
(PA)
(PA)
Michael Jones1 February 2023 21:57
1675288405
FT Man Utd 2-0 Nottm Forest (5-0 agg)
Michael Jones1 February 2023 21:53
1675288247
Full-time: Man Utd 2-0 Nottm Forest (5-0 agg)
90+1 mins: The final whistle goes and Manchester United win the match and the tie. They've beaten Nottingham Forest in both legs of this Carabao Cup semi-final and are heading to Wembley.
There they'll take on Newcastle in a dogfight for the trophy. It's United's 10th league cup final and Erik ten Hag's first as a Premier League manager.
Can he bring some silverware back to Old Trafford?
Michael Jones1 February 2023 21:50
1675288021
Man Utd 2-0 Nottm Forest (5-0 agg)
86 mins: Marcus Rashford lays the ball off to Fred, who hooks it into the box first time. Forest manage to head it away but only to Bruno Fernandes.
He then fizzes it dangerously across the face of the goal.
Michael Jones1 February 2023 21:47
1675287733
Man Utd 2-0 Nottm Forest (5-0 agg)
82 mins: Chance! Nottingham Forest should have scored! They break down the left through Emmanuel Dennis who squares the ball across to Danilo.
He gets past Luke Shaw and smashes a shot at goal only for Tom Heaton to come to the rescue. He palms the ball away but it drops to Sam Surridge.
The goal is wide open but Surridge lifts his hurried effort over the top!
Michael Jones1 February 2023 21:42
1675287530
Man Utd 2-0 Nottm Forest (5-0 agg)
79 mins: The match and the tie is over now. Manchester United are heading to Wembley to take on Newcastle in the Carabao Cup final.
They've dismantled Nottingham Forest over two legs and have more than 10 minutes to add to their goal tally.
Harry Maguire and Victor Lindelof come on to replace Raphael Varane and the superb Casemiro, what a signing he has been for the Red Devils.
Michael Jones1 February 2023 21:38
1675287293
GOAL! Man Utd 2-0 Nottm Forest (5-0 agg) – Fred, 76'⚽️
76 mins: One brings two! Jadon Sancho, playing centrally in the number 10 role, swings the ball out wide to Bruno Fernandes who whips a cross over to the far side of the box with the outside of his boot.
The ball drops to Marcus Rashford who volleys it across the six-yard area and Fred is wide open. He holds his ground and taps the ball home with his thigh.
Michael Jones1 February 2023 21:34
1675287211
GOAL! Man Utd 1-0 Nottm Forest (4-0 agg) – Martial, 73'⚽️
73 mins: Manchester United lead! Casemiro meets a clearance from Willy Boly and plays a quick forward pass into the feet of Anthony Martial to start United flying up the pitch.
He slips the ball into the box for Marcus Rashford but Scott McKenna makes a sliding attempt at an interception. The ball hits him and bobbles back to the Frenchman who guides it into the bottom corner!
Michael Jones1 February 2023 21:33
1675286897
Man Utd 0-0 Nottm Forest (3-0 agg)
70 mins: Casemiro gets booked. He comes flying across the pitch and slips as he tries to tackle Emmanuel Dennis. The forward leaps above the midfielder and avoids contact but it was a heavy lunge from Casemiro and he's shown a yellow card for dangerous play.
Michael Jones1 February 2023 21:28
1675286773
Man Utd 0-0 Nottm Forest (3-0 agg)
67 mins: Brennan Johnson, Remo Freuler and Renan Lodi are all replaced for Nottingham Forest. Alex Mighten, Danilo and Serge Aurier have replaced them.
Close! Luke Shaw swings a corner into the middle of the box. Casemiro breaks away from Aurier and wins the header but nods his effort wide of the target.
Michael Jones1 February 2023 21:26