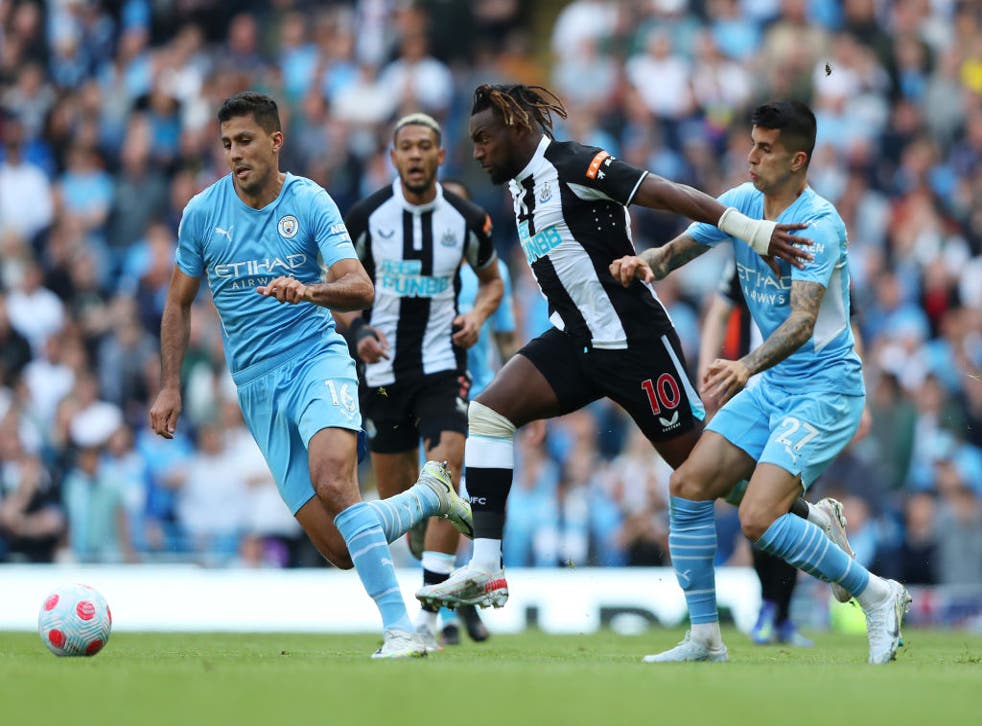 Football
Manchester City vs Newcastle prediction: How will Premier League fixture play out?
(Getty Images)
Manchester City host Newcastle in the late game in the Premier League with the chance to regain top spot and take a three-point lead over rivals Liverpool.
Pep Guardiola's side were left devastated after Real Madrid's shocking late comeback at the Bernabeu to eliminate them from the Champions League in the semi-finals midweek, but the Cityzens have been gifted a boost by rivals Liverpool, who slipped up at home to Tottenham, droping two precious points in the 1-1 draw to hand them the initiative in the title race. Newcastle will look to cause an upset and another twist in the title race though, with Eddie Howe's side long-since safe from relegation, but pushing to end the season strongly and carry momentum into next season, when expectations and ambitions will rocket, meaning the current squad are playing for their places next season ahead of another big window in the market for the Magpies.
"Always I am starving," Guardiola said after suffering a bitte defeat midweek to Real Madrid. "I know people outside of here demand Champions League, Champions League, Champions League. We know it. The moment we win the Champions League it will be because of the money we spend. It is difficult to win it. I tell you this is good for us. I would love to be in the final in Paris, live it and be better in the future."
Follow all the build-up to the big game at the Etihad, live minute-by-minute updates, analysis and reaction from the Emirates as Arsenal host Leeds in the early kick-off in Premier League.
Manchester City vs Newcastle
16:30 BST kick-off at the Etihad Manchester City XI: Ederson; Cancelo, Dias, Laporte, Zinchenko; Gundogan, Rodri, De Bruyne; Grealish, Jesus, SterlingNewcastle XI: Dubravka; Krafth, Lascelles, Burn, Targett; Longstaff, Joelinton, Guimaraes; Almiron, Wood, Saint-MaximinKieran Tripper and Callum Wilson return to Newcastle bench Show latest update
1652024477
Newcastle spurn a big chance on the counter
9' – Manchester City 0-0 Newcastle United
Newcastle have made their first foray forward and in truth should be ahead.
Allan-Saint Maximin breaks free on the right-hand side after a swift counter-attack but his ball across towards Miguel Almiron is blocked. City have the chance to reset themselves in defence but fail to deal with the Frenchman's second delivery and Chris Wood wastes a glorious opportunity as he nods a team header low and directly into the arms of Ederson from about eight yards out.
An enormous chance for Wood.
Dan Austin8 May 2022 16:41
1652024250
De Bruyne hits free-kick wide after good Grealish work
6' – Manchester City 0-0 Newcastle United
Jack Grealish wrestles the ball back excellently from Bruno Guimaraes on the edge of the Newcastle penalty area and draws a foul from the Brazilian just before he makes his way into the penalty area.
Kevin de Bruyne lines up the resultant free-kick but sends a dipping shot comfortably wide of the near post. Dubravka never troubled in the visitors' goal.
Dan Austin8 May 2022 16:37
1652024073
City targeting left of Newcastle defence
2' – Manchester City 0-0 Newcastle United
No clear-cut chances for Manchester City in the opening couple of minutes, but they have worked a couple of dangerous-looking positions on the left-hand side of the Newcastle Unietd defence with Matt Targett looking isolated.
Nothign comes of either bit of pressure but those are the kind of templates City will be targeting all afternoon.
Dan Austin8 May 2022 16:34
1652023873
Kick-off! Manchester City 0 – 0 Newcastle United
We're underway at the Etihad!
Manchester City have kicked things off at the Etihad as they look to take a three point elad over Liverpool at the top of the Premier League table. Newcastle United have taken only two points here in 16 previous visits, but can they throw a spanner in the works today?
Follow here to see how things play out.
Dan Austin8 May 2022 16:31
1652023612
Special Aguero training shirts for Manchester City
Manchester City are wearing special training shirts before this afternoon's game in order to make the tenth anniversary of former striker Sergio Aguero's late strike against QPR which snatched the 2011/12 Premier League title away from rivals Manchester United on the last day of the season.
The Argentine forward was forced to retire from football earlier this season after a heart defect was discovered while he was playing for new club Barcelona.
Jack Grealish was one of the City players wearing the commemorative shirt in the pre-match warm-up.
(Getty Images)
Dan Austin8 May 2022 16:26
1652023270
Recovery from Real Madrid defeat a "question of time", says Guardiola
Pep Guardiola says that recovering from the pain of defeat to Real Madrid in midweek will take time for Machester City, but insists that Liverpool's draw with Tottenham Hotspur has changed nothing for his team-mate ahead of this afternoon's match against Newcastle United.
"[The mood is [much better than yesterday by far," he told Sky Sports before kick-off. "It's normal, it's a question of time. It's football, it's life. We did many good things, it happened and that's all."
"[Liverpool's draw] doesn't change anything," he added. "We still have to win all our games. Nothing changed."
Dan Austin8 May 2022 16:21
1652022974
Newcastle preparation disrupted by Saint-Maximin comments
Newcastle United's preparations for their trip to face the champions this afternoon were disrputed by midweek comments from mecurial forward Allan Saint-Maximin.
The Frenchman gave an interview in his homeland blaming his profligate team-mates for his lack of assists this season, and said he believes he is as good as Sadio Mane.
'The day I get a team-mate who is able to convert the chances I create, I will have 10 to 15 successful assists every season,' Saint-Maximin told French publication So Foot. 'That will change people's minds.'
'Those who have played alongside me know full well that when it comes to pure quality, I have no cause to be jealous of [someone like] Sadio Mane. But the difference between these great players and me is that they show a lot of things on the pitch.'
Saint-Maximin has onyl made four Premeir League assists this season.
(AFP via Getty Images)
Dan Austin8 May 2022 16:16
1652022585
Manchester City vs Newcastle United line-ups
Next up then it's a big one in the title race as Manchester City look to take full advantage of Liverpool's Saturday night draw with Tottenham at Anfield as they come up against Eddie Howe's Newcastle United.
A reminder of the two line-ups for the fixture at the Eithad:
Manchester City: Ederson; Cancelo, Dias, Laporte, Zinchenko; De Bruyne, Rodri, Gundogan; Sterling, Jesus, Grealish.
Newcastle United: Dubravka; Kraft, Lascelles, Burn, Targett; Guimaraes, Longstaff, Joelinton; Almiron, Wood, Saint-Maximin.
Dan Austin8 May 2022 16:09
1652022175
FT Arsenal 2-1 Leeds
(REUTERS)
(Action Images via Reuters)
Arsenal's manager Mikel Arteta celebrates
(AP)
Jack Rathborn8 May 2022 16:02
1652022033
FT Arsenal 2-1 Leeds
Arsenal hold on, a huge step towards a top-four finish.
Nketiah further building his case for a big contract extension.
A late scare will give Mikel Arteta some concern following Llorente's strike.
Now attention to the north London derby, victory over Spurs will secure Champions League football.
Jack Rathborn8 May 2022 16:00