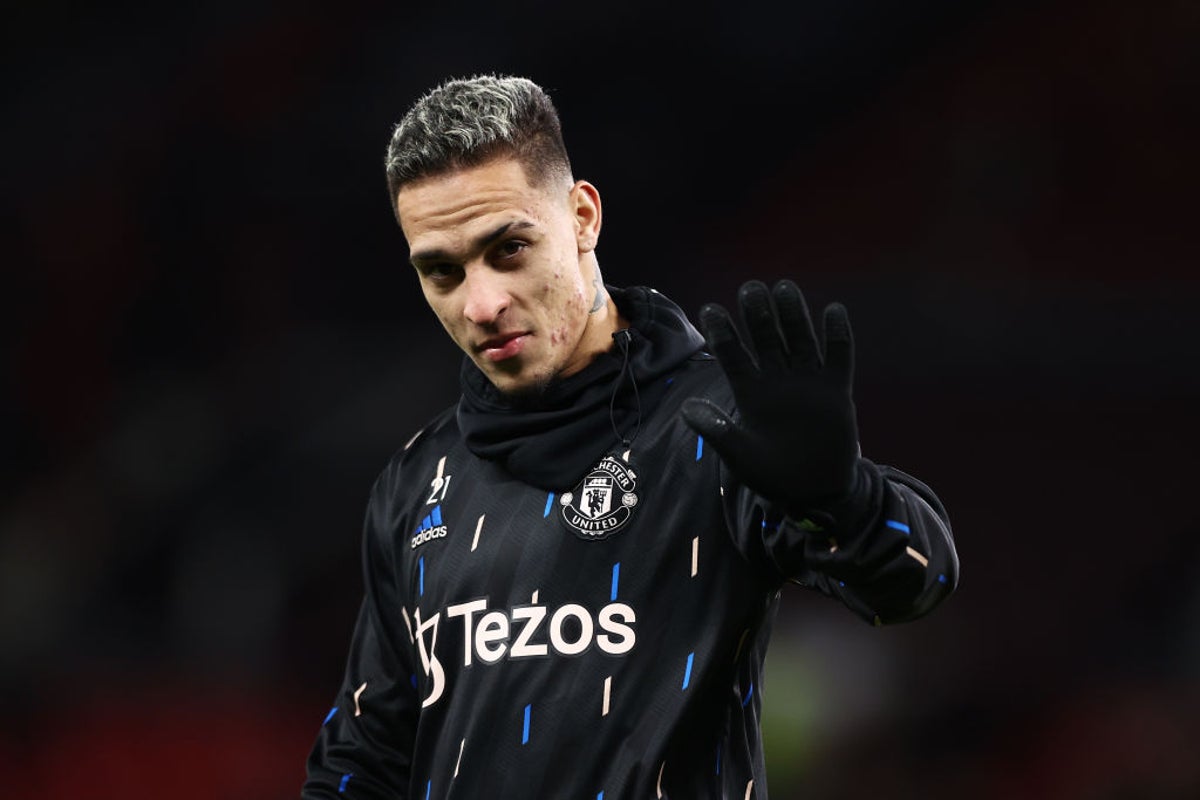 Football
Manchester United vs Everton LIVE: FA Cup team news and confirmed line-ups as Erik ten Hag names strong side
Everton boss Lampard: "I don't need re-assurances over my job"
Follow live updates as Manchester United host Everton in the FA Cup third round tonight. Frank Lampard is under pressure following a dismal run of form that has seen Everton drop into the Premier League relegation zone, but the Toffees boss will hope the FA Cup brings a change of fortune.
Everton face a tough task against a resurgent and in-form Manchester United team, however. Erik ten Hag's side have won their last six matches in all competitions and have kept four clean sheets in a row, a run that continued with Tuesday's 3-0 win over Bournemouth at Old Trafford.
United have not won the FA Cup since 2016 and Ten Hag will now be hopeful of lifting silverware this season given his side's recent form. For Everton and Lampard, meanwhile, they will aim to pull off an upset that would lift the mood around Goodison Park following the disastrous defeat to Brighton this week.
Follow live updates from Manchester United vs Everton in the FA Cup, below.
Manchester United vs Everton LIVE: Latest FA Cup updates
FA Cup third round underway with kick off at 8pm at Old Trafford, live on ITV 1 Hosts looking for seventh straight win in all competitions under Erik ten HagFrank Lampard under pressure following disastrous 4-1 defeat to Brighton Manchester United: De Gea; Dalot, Varane, Shaw, Malacia; Casemiro, Eriksen, Fernandes; Antony, Martial, Rashford Everton: Pickford; Coleman, Coady, Tarkowski, Godfrey, Mykolenko; Onana, Iwobi, Gana; Gray, MaupayShow latest update
1673035308
Kick off! Manchester United 0-0 Everton
The FA Cup third round is underway!
Jamie Braidwood6 January 2023 20:01
1673035275
Manchester United vs Everton LIVE: Latest FA Cup updates
Frank Lampard is also wearing a black armband out of respect to Gianluca Vialli as he takes his place in the dugout. There's a noisy crowd of over 9,000 Everton fans in the corner of Old Trafford. Kick-off is next!
Jamie Braidwood6 January 2023 20:01
1673034887
Roy Keane 'not convinced' by Manchester United resurgence after 'cushy' run of games
Roy Keane insists he is "not convinced" by Manchester United yet despite Erik ten Hag's side producing an excellent run of form to move into the Premier League's top four.
The Red Devils are currently enjoying a run of six consecutive wins and have now moved ahead of Tottenham into that coveted fourth spot after a 3-0 win over Bournemouth.
But Keane is cautious about United's progress and the challenge to turn them back into title challengers.
"I'm not convinced," Keane told ITV Sport. "I think the problems are there at the back, the goalkeeper, the Ronaldo situation has been cleared up.
"I think they have had some cushy games since the World Cup. He won't be playing Shaw against Arsenal. As I say, I'm not convinced yet.
"They're doing well, Rashford is in good form, the two midfielders are doing well.
"They're much stronger, good options going forward, the manager is on the look out for a centre-forward, it won't be easy in January."
Jamie Braidwood6 January 2023 19:54
1673034666
Manchester United vs Everton LIVE: Latest FA Cup updates
Frank Lampard on the pressure of the past few days: "Maybe Crystal Palace last season was the hardest it's been, because of the jeopardy of the game. That's the situation I came into. Of course there has been pressure this week and noise and that happens in Premier League football and at Everton. Fortunately I'm tough to that and I get on with my job. Tonight my job is to get a result against a really strong team and hope to get through to the next round.
On Dominic Calvert Lewin's fitness: "Dominic felt some fatigue during the Brighton game and then specifically the morning after. Yesterday we had a long chat – the medical team's advice and Dom's feeling was that to start and play 90 minutes was probably a personal risk for him, so we had to consider that."
"It's the FA Cup where there is pride and history and we are Everton. Tonight I want to see a performance. You come to Old Trafford and it's Manchester United and you respect that. They've been on a great run, great players, great coach, but we have to worry about ourselves."
Jamie Braidwood6 January 2023 19:51
1673034246
Manchester United vs Everton LIVE: Latest FA Cup updates
An emotional Frank Lampard on the passing of former Chelsea player and manager Gianluca Vialli: "It's a really sad day, I've been watching a lot of the outpouring of words of people who knew him, I didn't meet him that much, but when I did meet him as a player and a manager at Chelsea, he stood out as a man of class, warmth and dignity, an incredible footballer. It's a tough one today."
Jamie Braidwood6 January 2023 19:44
1673034074
Manchester United vs Everton LIVE: Latest FA Cup updates
Erik ten Hag, speaking to ITV about what Manchester United need to do to maintain their good form: "Always with attitude. You have to focus and have energy and bring it onto the pitch every three days. We have to provide that again tonight.
On Luke Shaw and his selection at centre-back: "He's done really well as a centre-half and also Tyrell Malacia at left back, along with Raphael Varane, Diogo Dalot and David De Gea in the back five, the co-operation has been good. That's why we chose them."
On the pressure facing Frank Lampard: "That's the opponent and it's never for managers to be under pressure but we focus on ourselves. We have to play our game and I have to focus on my team."
(Getty Images)
Jamie Braidwood6 January 2023 19:41
1673033471
Manchester United vs Everton LIVE: Latest FA Cup updates
Frank Lampard's defiance will not be enough to save Everton from their plight
The way Everton's plight was described bluntly. Some, it was put to their manager, would think they didn't need "this s**t". Frank Lampard, with the ready grin that can interrupt the serious points he makes in interviews, smiled and said: "Yeah, and I'm in it."He may not be for much longer: with five points from the last 30 available in the Premier League, with Everton in the relegation zone, after losing 4-1 at home to Brighton, he goes to Old Trafford. Lampard scored in a Champions League final against Manchester United; his latest meeting with them could have a finality of a different kind.
It is the kind of fixture that beleaguered managers are sometimes given to finish them off. For Lampard, whose Chelsea reign began with 4-0 defeat at Old Trafford and ended after an FA Cup tie, whose surge to safety with Everton last season was powered by victory over United, a couple of days after seeing headlines that his job was under threat, it is a tie laced with history and significance. Lampard was not being immodest when he termed himself "a big man working for a great club".
Rather, one of the great players of his generation was arguing that he can cope with the pressure. He has two decades of experience at the business end of the game, albeit most as a player. He has also been sacked by a club with a high turnover of managers and institutionalised impatience after a promising start to a season gave way to a troubled spell. Now he has not sought out Everton's often capricious owner Farhad Moshiri or their rest of the board to ask if he will still be in charge for a potentially defining league game against Southampton. "I don't need a vote of confidence, I genuinely don't," he said. "I don't think it would mean much. I am also a big boy, I know how this world works, I am not presuming anything."
Manchester United vs Everton big match preview, by Richard Jolly
Jamie Braidwood6 January 2023 19:31
1673033033
Manchester United vs Everton LIVE: Team news!
Frank Lampard was always likely to go strong given the importance of tonight's match to his Everton future. He switches to a back five with Seamus Coleman replacing the injured Nathan Patterson and Ben Godfrey returning. Neal Maupay starts alongside Demarai Gray in attack.
Jamie Braidwood6 January 2023 19:23
1673032882
Manchester United vs Everton LIVE: Team news!
Very interesting. Both Erik ten Hag and Frank Lampard have named strong teams for the FA Cup third round, despite a hectic return to the Premier League after the World Cup. Ten Hag makes four changes from the team that started against Bournemouth on Tuesday.
Harry Maguire drops out, with Raphael Varane returning and Luke Shaw moving to centre-back as Tyrell Malacia starts at left back. Antony and Diogo Dalot also return.
Jamie Braidwood6 January 2023 19:21
1673031924
Manchester United vs Everton LIVE: Team news!
Manchester United: De Gea, Dalot, Varane, Shaw, Malacia; Casemiro, Eriksen, Fernandes; Antony, Martial, Rashford
Everton: Pickford; Coleman, Coady, Tarkowski, Godfrey,Mykolenko; Onana, Iwobi, Gana; Gray, Maupay
Jamie Braidwood6 January 2023 19:05