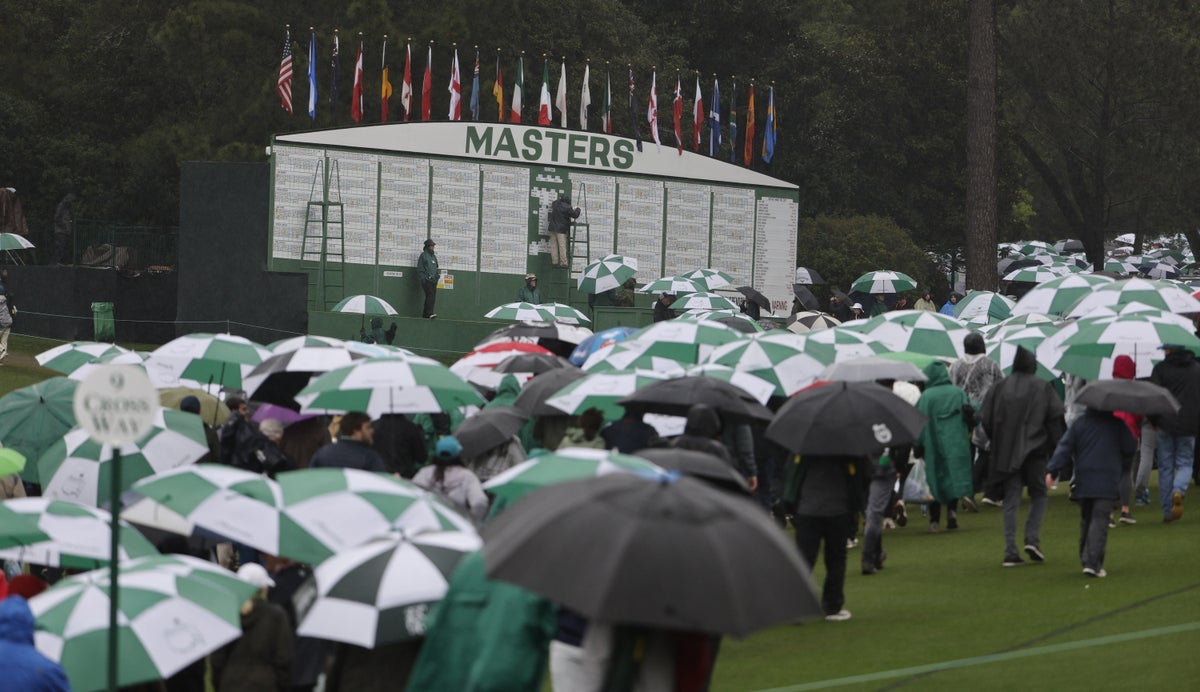 Golf
Masters TV debacle leaves fans disgruntled – has tradition gone too far?
Sign up to our free sport newsletter for all the latest news on everything from cycling to boxing
Sign up to our free sport email for all the latest news
The course siren that echoed around a soggy Augusta National on Saturday evening signalled the end of play for the day. It also concluded a sorry episode for golf fans trapped by an antiquated tradition behind the Masters and its television coverage.
Brooks Koepka and Jon Rahm, alongside amateur sensation Sam Bennett, ensured a captivating final group for viewers after the third round groups were hastily pushed out following the unrelenting downpour. It was due to provide both magnificent golf alongside the theatre of LIV Golf vs PGA Tour, which has consumed golf for more than a year. The final players began their round shortly after 6pm BST, but fans were denied a conventional way to watch until after 8pm BST.
Many imagined scenarios such as Wimbledon denying fans a chance to watch one of its finals until several games into the first set. A sheepish Nick Dougherty pleaded for patience during the excellent Sky Sports coverage in the UK, desperately trying to fill time, even if some coverage was available via the red button.
The situation was then exacerbated after approximately 17 minutes. A miserable experience compounded after television coverage was abruptly ended due to the weather as puddles masked the steep slopes around the greens. It left the patrons on site with a sad march away from the property and many disgruntled at home.
Despite this particular incident, Augusta National should be largely applauded for embracing innovation with the organisers making a number of smart decisions to elevate its coverage in recent years, while confirming record prize money for 2023.
The creative walk-and-talks seen so far between Rory McIlroy and Justin Thomas and the US broadcast team add an interesting wrinkle between shots. Even if both players were largely disgruntled by the standard of their play at the time.
The Augusta National Women's Amateur has provided a wonderful appetiser to the week, while the official app has proven extremely popular. Users can curate their own highlight reel of almost-live Masters highlights by starring their favourite players to watch individual shots. Yet when it comes to the start of moving day and the third round, it's a pity to be forced to endure yawning spells between the majestic strokes of Koepka and Rahm.
Patrons make their way past the leaderboard following the suspension of play in the third round of the Masters Tournament
(EPA)
The Masters' broadcast rights afford partners to show select groups, but not as part of the main broadcast until set windows of coverage open. It helps Augusta drive traffic to its website and the official app. And while this is frustrating, it is arguably refreshing for an event not eager to prioritise profits, with their one-year rolling deal with long-time American network partner CBS further evidence of its desire to retain ultimate control.
The tradition and restrictions would be more palatable though if the leaders were not completely hidden, including Koepka, Rahm and Bennett in the featured groups immediately would have certainly turned the volume down on the growing discontent. A ban on phones and other quirky rules are fine, yet this rigid approach to broadcasting feels like an act of sabotage.
But clearly Augusta is doing just fine with the current system, even if it's not perfect for fans. See Scottie Scheffler's 2022 win and an average of 10.17 million viewers in the United States, according to Sports Media Watch. The largest audience for four years since Tiger Woods' miraculous victory in 2019 (10.8 million).
Brooks Koepka leads the Masters on Sunday
(Getty)
And the Masters is on another level in terms of appeal compared to the other two US-based majors with the PGA Championship on CBS and NBC's US Open each attracting approximately 5.27 million viewers last year, while NBC's Open coverage trailed further behind on just 4.725 million viewers.
ANGC may bemoan the exceptional weather experienced in recent hours, but a simple fix and greater flexibility to next year's broadcasting agreements can further enhance the Masters brand, endearing itself to a loyal fanbase.
Jon Rahm of Spain plays his shot from the 18th tee
(Getty)
Augusta's famous SubAir system, used to artificially extract moisture from the course and adjust the speed of the greens, was not enough to resist such a deluge this week. Mother Nature appears to have exposed a vulnerability to the Masters machine and provided a painful lesson.
Veteran broadcaster Jim Nantz famously remarked that the tournament was "a tradition unlike any other". That commitment will now be tested after such disappointment.