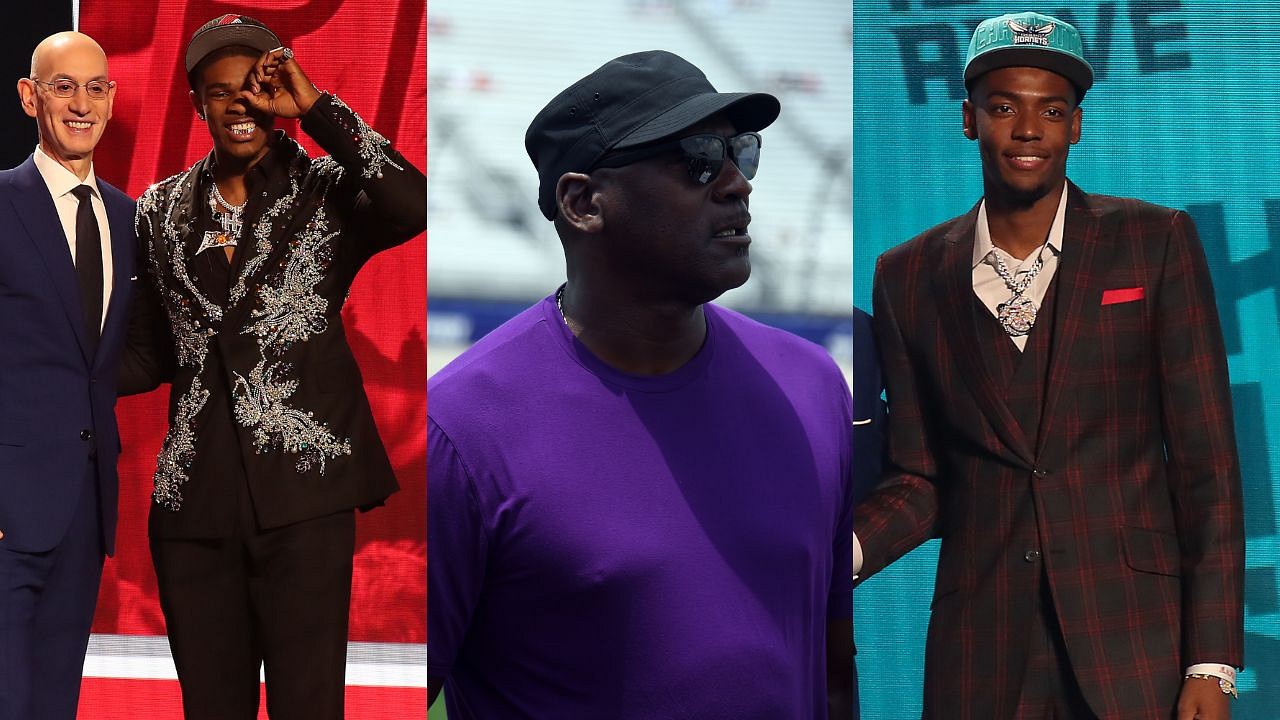 basketball
"Michael Jordan, You've Affected My Mental!": 'Emotional' Fan Rants About NBA Legend After Hornets Pick Brandon Miller Over Scoot Henderson
In the recently concluded NBA Draft, we saw Victor Wembanyama go as the number 1 pick to the San Antonio Spurs, as expected. However, to many fans and experts' surprise, Scoot Henderson wasn't picked next by the Charlotte Hornets, and actually went to the Portland Trail Blazers at #3. In fact, Brandon Miller went to the Hornets as the 2nd overall pick. It was probably the last major decision Michael Jordan made as the owner of the franchise. And much like his every front office decision before this one, Hornets fans were left heartbroken after it.
The Bulls legend is set to sell the franchise he has owned for 13 years for about $3 billion. Hornets GM Mitch Kupchak recently revealed that MJ would have the final call about the pick. Recently, Jordan assessed Miller as "just a shooter" during his workout with the team. However, he still decided to pick him over Henderson, who has been touted as a generational talent by many analysts.
'Emotional' fan says Michael Jordan picking Brandon Miller has 'affected his mental'
The AT&T Center was all about Victor Wembanyama Thursday night. However, Michael Jordan still managed to make headlines after his decision to pick Alabama's Brandon Miller with the 2nd pick. The shocking decision upset many Hornets loyalists.
"Michael Jordan, you've owned the Hornets(previously the Bobcats) since I've been a fan, man. And every time I think you're about to do something, like, bad, you do something worse," one fan of the North Carolina side went on a rant at the AT&T Center. Watch it in the following Tweet by DubNation.
Loading embed tweet https://twitter.com/dubs3000/status/1672150142827331585?ref_src=twsrc%5Etfw
"Hornets have been through it all since Day 1. We have drafted more busts than any franchise. We have to put up with so much stuff, it has affected my mental, to be fan of this team. And the moment I think, okay this it, this is our moment, we draft Brandon Miller," the fan added.
Not only has Jordan drafted a lot of busts, his overall decision-making during trades has haunted the franchise as well. Just a year after his takeover in 2010, MJ drafted players like Kemba Walker and Tobias Harris, but couldn't make it work with them.
Some young players like Cody Martin and Malik Monk, who balled out in the recently concluded NBA playoffs were also drafted by the Hornets. Even Shai Gilgeous-Alexander was drafted by Jordan in 2018 but was dealt to the Clippers later on. That's just the players who were discounted and underestimated by His Airness. The list of busts he has drafted since his takeover is much longer.
Miller trash-talked MJ before the Draft
Nobody in their right mind would dare to trash-talk Jordan, even if the latter starts it by saying you're 'just a shooter'. But if we are to believe the 20-year-old, Miller told MJ to his face that he saw him air-balling a free throw.
Maybe even the 6tf 9in forward did not want to be in Charlotte. And it was only his way of stopping 'His Airness' from drafting him. But as it stands, he'll be playing with LaMelo Ball and Co next season. Fans now ardently hope that things will change under the new ownership.