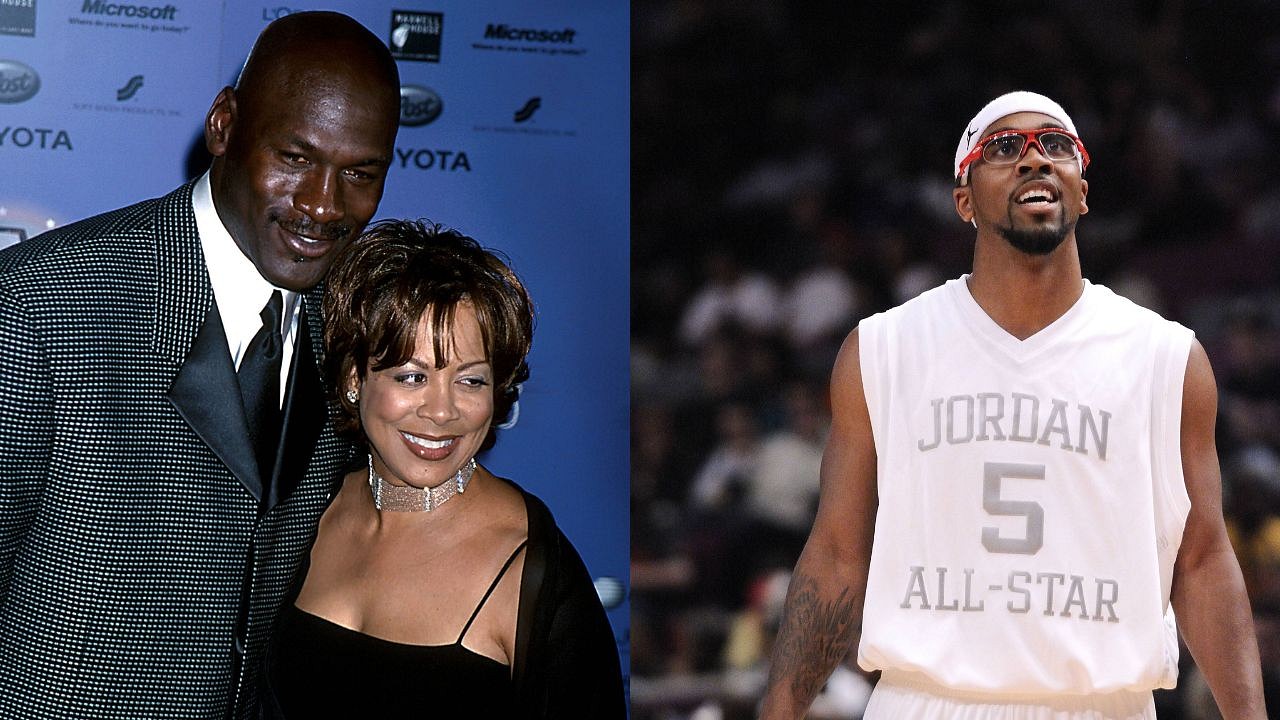 basketball
Michael Jordan's Ex-Wife Juanita Vanoy 'Sets' Son Marcus and Jeffrey Straight By Digging Up a Video of Jimmy Butler's Teammate
Michael Jordan's ex-wife Juanita Vanoy has increased her social media presence with a private Instagram account. In one of her recent posts, she dug up a heartwarming video of Jimmy Butler's Miami Heat teammate Bam Adebayo talking to his mom during a press conference. Perhaps this reminded Juanita of her sons Marcus and Jeffrey, whom she had with Michael Jordan. This was probably a hint for her sons to answer and respect her calls.
Juanita recently increased her social media activity by making a public Instagram account. However, for unknown reasons, she seems to have shifted to a private account, where she posts more frequently and freely. Her old account has also vanished from the social media platform.
Juanita Vanoy used Bam Adebayo's example to remind her sons Marcus and Jeffrey to answer her calls
Juanita Vanoy, in her most recent IG post, slyly reminded her sons to prioritize and answer their mother before anything else. Amusingly, she dug up a video of Jimmy Butler's Miami Heat teammate Bam Adebayo in a press conference. The video showed Adebayo in the middle of an interview receiving a call from his mother. Adebayo picked up the call and answered his mother like his obedient son.
The video's caption on her account read, "Never decline a call from your mum!" It's highly likely the mother was sending a message to her two adult sons, who are now quite busy and involved in their adult lives.
Juanita Vanoy talking about the importance of picking up mom's call.
(Via IG: iamtheonlyonejuanita) pic.twitter.com/k2pQp37rVG
— What are NBA Celebs Upto? (@NBACelebsUpdate) July 27, 2023
Marcus and Jeffrey are close to their mother, despite their parents' $168,000,000 divorce. Both of Michael Jordan and Juanita Vanoy's children chose an alternative career to basketball, making their mark as successful entrepreneurs and socialites. Perhaps, behind all this hustle and bustle, we must not forget our parents, especially our mothers, who have helped their kids reach their current success levels.
Marcus Jordan's girlfriend Larsa Pippen has started bonding with Juanita Vanoy
Larsa Pippen and Marcus' relationship has been through a lot of storms. The most recent one started when Michael Jordan said no to approving their relationship. Marcus and Larsa later clarified MJ was only joking.
But amid this confusion created by Michael, Juanita seems to be a saving grace for Larsa. She has apparently shown her son's girlfriend support. Moreover, Larsa is also doing her best to get on Juanita's good books.
She recently posted a story on Instagram, asking her followers to follow Juanita's new Instagram account. Moreover, she even included a link to Juanita's new IG profile on that story. Perhaps, Larsa is trying her best to impress Marcus' mother, right after the couple addressed MJ's disapproval of their relationship.
The post Michael Jordan's Ex-Wife Juanita Vanoy 'Sets' Son Marcus and Jeffrey Straight By Digging Up a Video of Jimmy Butler's Teammate appeared first on The SportsRush.