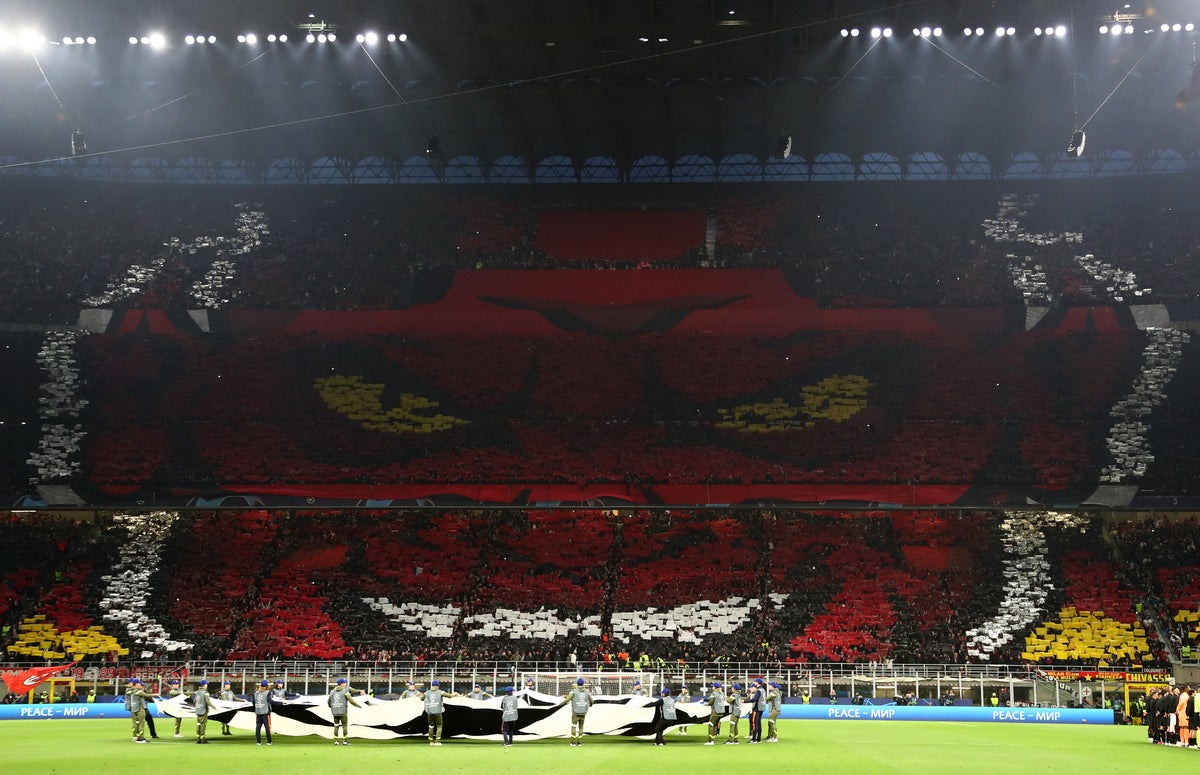 Football
Milan derby creates thrilling sensory overload that shows how football should be
Sign up to Miguel Delaney's Reading the Game newsletter sent straight to your inbox for free
Sign up to Miguel's Delaney's free weekly newsletter
On a night of thrilling sensory overload, it is Internazionale left with the feeling that matters most: victory, and in the match that matters most. That it was 2-0 at the San Siro, from the most thrilling of starts, went some way to finishing this Champions League semi-final when it had barely begun, putting Simone Inzaghi's fine cup team on the brink of the grandest final in club football. It still could have been much worse for AC Milan, who badly missed their best player in Rafael Leao. It meant they had no answer – either at the back or front – to Inter's individual stars. Edin Dzeko and Henrikh Mkhitaryan plundered lightning bolts of early goals.
One of a few remaining hopes for Milan is that Leao's return can spark a comeback that had some embers in that second half. There was also the almost irrational manner that Inter started the game, as much borne of the emotion of everything that was happening as any imposed idea.
The same can happen in the second leg, especially since Milan were the "home" side here. Stefano Pioli at least has to ensure they believe that. That's what much of this came down to, as the entire occasion ratcheted up to something that went beyond a sporting spectacle.
These two teams didn't just come together for a historic derby in the most prestigious of competitions. They came together for something bigger.
This was in truth a deeply rich cultural occasion as much as a sporting fixture, the profound history of the latter context enriching the former. It was also a truly sensory experience. The noise and colour were of another plane, vintage sights and sounds like those huge Italian banners being waved like battle flags amid raucous chanting afforded a new air. There is something important to that.
These are two grand clubs who had largely been left behind by the forces enveloping the wider game, but who were still picked off by such interests. It was understandably cast as a semi-final that only happened due to the luck of the draw, with the prize for the winner being the misfortune to get well beaten by the victor of the "real" final in the actual final. Even some of the players had a Europa League feel, a combination of Premier League has-beens and Premier League yet-to-bes.
And it still produced an occasion unlike anything the Champions League has experienced in recent years. It was deafening. It was also, fittingly for something so sensory, entirely organic. The owners of major clubs – be they equity firms, states or industrialists – may be seeking to buy this but it is something that can only come from the history and context.
An incredible atmosphere inside the San Siro made for a remarkable occasion
(AP)
Imbued in that stadium-wide roar that greeted the final "champions" of the competition theme was the shared history of 10 European Cups each.
As to the present, and who will enjoy the prize of that next Champions League final, it was Inter who initially attacked with that atmosphere much better. They were going with the vivid flow of it all, actually playing to the occasion in a way that arguably better suited them.
The two opening goals were vibrant illustrations of this, Milan apparently unable to even impede a briefly unstoppable force. For the first, a Hakan Calhanoglu corner was acrobatically turned in by Dzeko in what felt like one unbroken move. For the second, the effervescent Federico Dimarco just surging through to set up Mkhitaryan for the finish to a flowing move that just seemed to sear through Milan.
It was at that point that Inter looked like they would score with every attack, the physical force of their individual stars looking better equipped for the occasion than Milan's more methodical system. That system was also frequently at the brink of breaking down, like when Simon Kjaer and Fikayo Tomori again got themselves into the most awful mess dealing with a Lauturo Martinez run. It was just as well the Argentine decided to go down, ensuring the penalty was ruled out, and Milan were not yet out of the tie.
Inter were irrepressible in a brilliant start to the match
(Getty Images)
Mike Maignan did a good enough job of that himself, producing at least two brilliant reactive saves.
The contrast between the approaches did condition the game further, though, and actually ensure Inter weren't far out of sight too early. With Inzaghi's side primed to respond to Milan with individual bursts, it was little surprise that Pioli's system began to assert itself more in general play – even if he did have to bring Junior Messias on for Ismael Bennacer to ensure that. Brahim Diaz started to run the game. Sandro Tonali hit the post. Messias shot when he should have passed.
This was where they were missing their own star in Leao. The Milan crowd behind Andre Onana's goal could sense something. They tried to draw with more sensory overload, the end glowing demonically with red flares, a firecracker loudly exploding.
There was no late eruption from Milan, though. They kept to the system without ever cutting through.
Their fans still roared encouragement at the end. Inter's players ran to theirs. This isn't over. It might just take a while for anyone watching to get over.